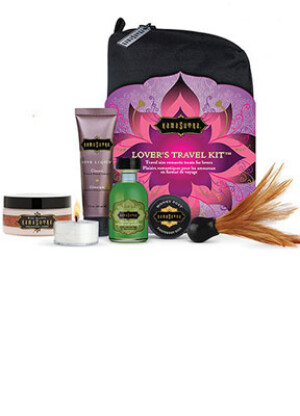 This is by far one of my most favorite items I take for travel, especially my romantic getaways! I love the Lover's Travel Kit by Kama Sutra because it gives me just the right amount of all my favorite Kama Sutra products in a cute carry case. It allows me to have all the pleasure I want, with no worries of forgetting anything. This really cute set of Kama Sutra products is perfectly sized to meet flight regulation standards and fits comfortably into your luggage or purse.
Market Appeal
Kama Sutra is the leader in luxury romance product. This kit is designed for a retail store or could stand alone well for a home party company. The packaging will catch the eye of most female or male shoppers. It comes with clear and concise instructions that are on the package. It is a must-have item for any toy box!
For more information, contact Kama Sutra:
Product Description:
Take love with you, wherever you go, with the ideal travel companion for lovers. A collection of petite sensual treats, perfectly portioned to meet TSA standards and fit easily into luggage. The set includes four petite romance products as well as a mini feather tickler and tea light candle neatly tucked inside a keepsake toiletry bag.