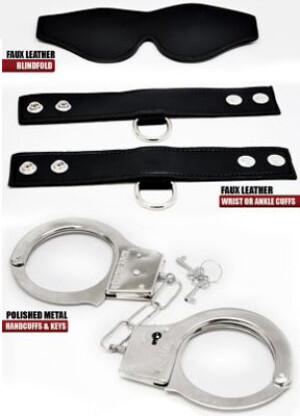 Product Description:
Cloud 9 Blindfold Tease and Please Kit Cuff Set, Bulk Consumer Packaging. Fun and Exciting - Sexually Enhancing Bondage adds a little extra to your foreplay. An incredibly fun starter kit for couples, the Tease and Please Kit from Cloud 9 contains everything you need to dominate the night. This collection of soft bondage items is made for versatility.
This Cloud 9 Kit includes (2) faux leather cuffs with snaps that are ideal for ankles or wrists. Each cuff features a D-ring for bondage play with simple snap closures. Included in this Tease and Please Kit you will find a soft faux leather blindfold, which, as any mischievous couple knows, is a must-have for adding excitement to playtime. Blindfolds or masks are sensory toys. When one of the senses are removed those remaining become heightened. The blindfold wearer will have a heightened sense of smell, touch and hearing. There is also a heightened sense of anticipation and suspense which can substantially increase the user's pleasure and satisfaction. This Tease and Please kit also includes a polished hand cuff set with keys to add to the excitement of your bondage experience.
Cloud 9 Tease and Please Kit contains: 2 faux leather cuffs, 1 faux leather blindfold. 1 set of handcuffs and release keys. Made in China. Weight .31 Pound.