Black Horizontal Striped Pantyhose
Baci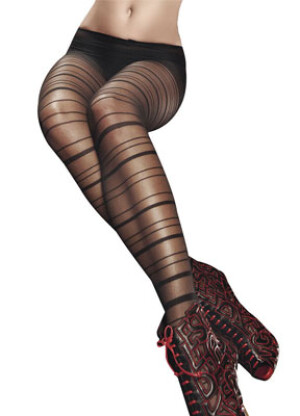 Sometimes all you need to ramp up your sexy is a great pair of pantyhose. Put this little baby on and you will have a whole new outfit. The horizontal stripes give it a fun and playful feel while still giving you a sleek look. Having different sized stripes gives it some contrast. Perfect to go along with your favorite cocktail dress or excellent to tantalize that special someone in your life. Want to get a little wild, let them rip them off you. Granted you will need a new pair but it will be well worth, it's hot!
For more information, contact Baci:
Product Description:
These sheer black pantyhose reveal themselves as a chic mix of patterns. Diamonds and waves create a sensual cross-stripe pattern, which are both seductive and frisky. The close-fit look is charmingly accentuated by the narrow cuffs.