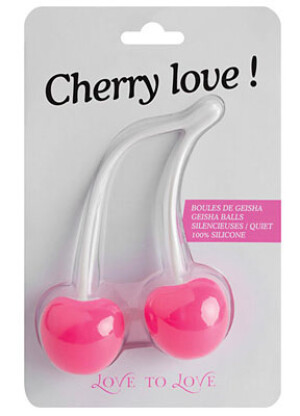 Ladies are always on the lookout for the next greatest thing to keep them tightened and toned down there. Have you ever thought "Man I wish I had some super cute benwa balls shaped as cherries to use." Well your wish has been granted. No they will not make your vagina taste like a cherry (that would be amazing) but they will provide you with stimulation while toning and tightening as you wear them. Perfect for a night on the town or when you want to make grocery shopping more exhilarating. They are 100 perfectn silicone and excellent to use every day. Great for any level of benwa user. Just don't mix them up with the real thing!
Product Description:
The cherry on the cake! Cherry love! from Love To Love. With these geisha balls, discover an endless array of new sensations while exercising your perineum to reach the utmost pleasure. Made of 100% silicone. Contains a metal ball and dotted texture on the inside for vibrations. diam 3.3-3.7cm x string 12 cm.