Shibari Silky Soft Pleasure Double Rope Wrist Cuffs
Shibari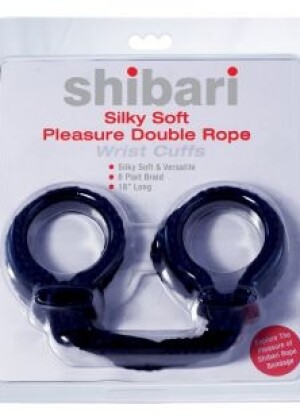 The cuffs are described to be "silky," "braided" and "adjustable." The cuffs themselves are soft and certainly comfortable. They are also exceptionally easy to use. You don't have to assemble anything, just slide your hands in and pull. The harder the bound user fights, the tighter they get. Much more practical than the silliness found in fake fuzzy cop cuff with release latches. At first impression these cuffs seem cheap and not all that special. In practice, they are a simple bind that holds. And man, do they hold. We have had lesser cuffs rain to the floor in pieces. These cuffs, as simple as they seem, have earned a place in our kit.

Market Appeal

The Shibari Silky Soft Double Rope Cuffs come in a standard, clear, plastic, molded package. All ready to be hung on the shelves of your standard, adult novelty store. What you see with this product is what you get. No flash, just a few descriptive sentences.
Product Description:
Shibari Silky Soft Pleasure Double Rope Wrist Cuffs. Silky soft and versatile with an 8 plait braid and 18" long. Comes in Black.