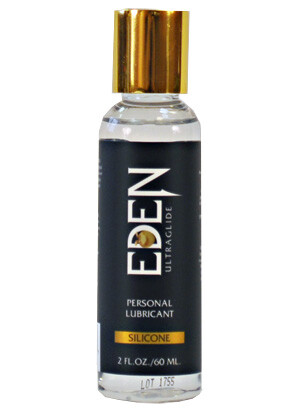 The Eden Ultraglide lube by Venus Labs — much like the name suggests — offers a long lasting, wonderful glide. It has no smell, no weird after-taste, which is nice. I really was very impressed with how long this lasted, and there was no skin irritation at all.
For more information, contact Venus Labs:
Product Description:
Ready for a lubricant ideally suited for your needs and for enjoying thrilling sexual practices? The world–renowned Eden Silicone lubricants provide you with the extremely glideable and long–lasting experience you have been looking for in a personal lubricant. Eden lubricants were developed by the world's leading sexual scientists, chemists and therapists for the ultimate hard–core love–making experience. Start your night with our rich, original and time–tested silicone formula. Combined with our ingredients this unique formula improves the suppleness of the skin in your erogenous zones while prolonging your enjoyment. Eden Ultraglide is ultra–pure and ultra–clean 100% pure silicone. Eden silicone stays slick and never dries, does not damage sex–toys, it is taste–free, fragrance–free, long–lasting, never sticky or greasy, and dermatologist tested. It does not contain glycerin or parabens and offers an intense, luxurious, slippery–smooth feel. Our formula is kind to your skin, leaving it beautifully smooth. Apply Eden Ultraglide gently to desired areas for a profound sense of bliss. Available in 2oz, 4oz, 8oz, 16oz bottles, 3ml individual sachets and 4ml glass ampules. Our consumers deserve and receive nothing but the best for their intimate needs. When you desire and need a quality silicone–based lubricant choose the very best, Eden Ultraglide lubricant products.