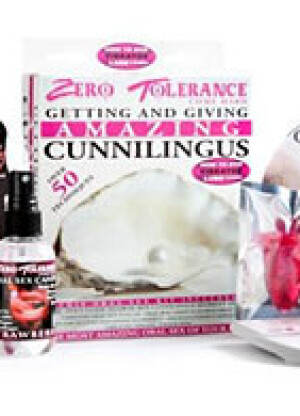 The Zero Tolerance Cunnilingus by Evolved Novelties is an oral-sex-on-a-woman for dummies kit. It comes in a small box but is packed with vagina-specific toys, a deck of instructional cards, and a DVD. The couple on the box is not having sex – not even oral. They are having dinner on the beach, and we think we know why. The DVD is every high school boy's dream, up close vagina shots with "elaborate" technique names. After watching this, your man can give you "the windshield wiper."
Product Description:
The Zero Tolerance Intro to Cunnilingus Kit with Instructional DVD. Experience the most amazing oral sex of your life.
This oral sex kit includes:
• Dr. Ava's Guide to Oral Sex Cunnilingus Segment DVD
• Vibrating oral tickler
• Zero Tolerance Oral Sex Candy flavored spray
• 2 tips for getting and giving ultimate cunnilingus instructional deck
• Vibrating tongue/finger ring. (Package Of 7)