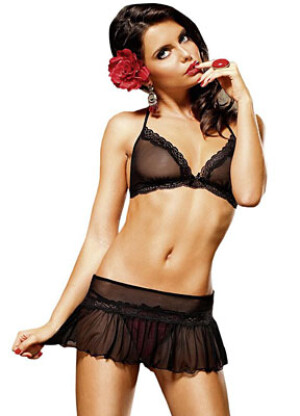 Lace is one of the sexiest things a woman can wear. And when the only thing she is wearing is lace, watch out! Just putting this outfit on got me in the mood. It also got my husband instantly in the mood as well, jackpot. Nothing is left to the imagination in this outfit, it's all on display. One size is said to fit all but the material is super stretchy which helps. It hugged my curves in all the right places. It is sure to make your admirers drool with anticipation.

For more information, contact Baci:
Product Description:
This close-cut, tight-fitting, black dress with narrow shoulder straps is the perfect example of pure eroticism.