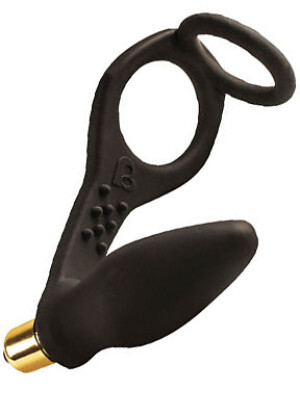 The RO-ZEN is an awesome combination of some of my favorite sex toys. The double cock and ball rings gave the perfect balance of firm support while still being flexible enough to easily put on and take off. The butt plug is the right size to give that full feeling but not too large to be painful. The base of the shaft is a little wide so you need to squeeze your cheeks together to keep everything in place. The removable bullet sends vibrations everywhere including to the little nubs against your perineum. This toy makes good sex great.
For more information, contact Rocks Off:
Product Description:
Life should be a happy balance of give and take and there's nowhere better then the bedroom for this to happen. Why not let the RO-Zen bring dual harmony to your intimate time, whether it's your guilty pleasure or shared with a partner, let RO-Zen take you higher. RO-Zen's strong tight double ring will support and hold you giving a larger, harder and more prolonged erection whilst its slender discreet shaft sends ripples of blissful vibrations to your bottom, while you reach the ultimate erotic state of pleasure.