HOLLYWOOD, Calif. — Exactly one year after the post-pandemic return to live award shows, and despite heavy rain showers, the industry gathered en masse at the Hollywood Palladium, Los Angeles' most storied showbiz venue, to celebrate adult's biggest night: the 2023 XBIZ Awards, presented by Chaturbate, BranditScan and Satisfyer.
The unusual Southern California rain could not deter virtually every single bright and beautiful star in the adult industry's firmament from filling the Palladium, a National Register of Historic Places monument built in the art deco sub-style known as "Streamline Moderne," whose storied stage has hosted, since 1940, the likes of Frank Sinatra, Jimi Hendrix, Megadeth, Jay-Z and K-pop stars The Roses.
It was to be a night of surprises, with a variety of the industry's worthiest being crowned the best among the best of this past year — from Casey Calvert, whose innovative storytelling in "Going Up" and "Sorrow Bay" scored her Best Director honors; to category Performers of the Year Vanna Bardot, Seth Gamble, Emma Rose and Reagan Foxx; to the evening's finale, bestowing the all-inclusive Performer of the Year honor upon much-admired industry icon Cherie DeVille.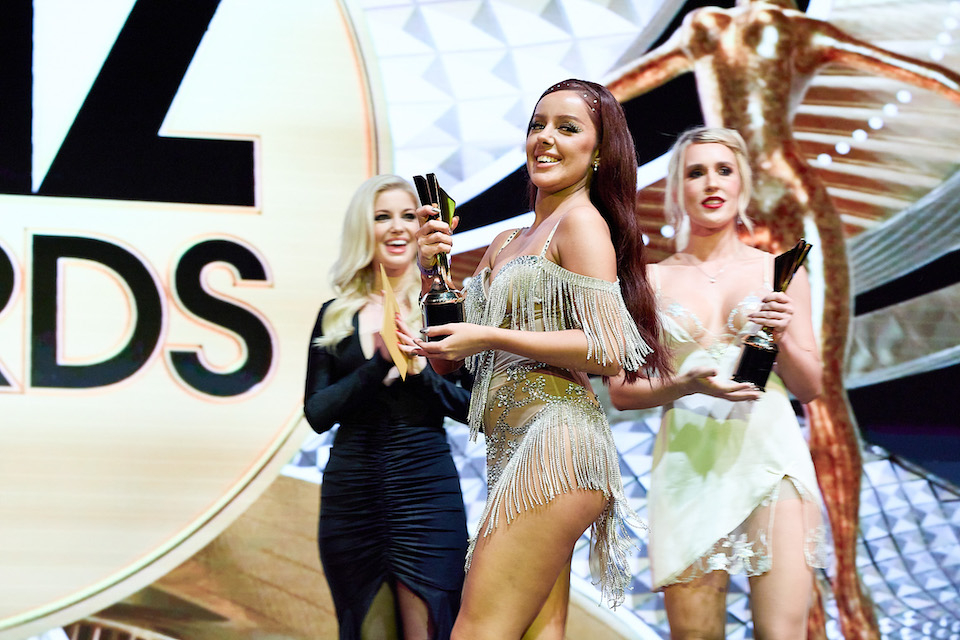 The show started with the now-traditional rousing intro roll, featuring a bird's-eye-view fly-through over the Los Angeles skyline accompanied by a Hendrix-and-KISS-inspired rendition of "The Star Spangled Banner," inviting the audience to rise up and honor its community by "hailing our best, saluting our heroes and raising a toast to 'one industry united for adult's biggest night.'"
Small Hands emerged on stage, dapper in a dark suit, and welcomed the crowd to the 2023 XBIZ Awards with the greeting, "Hello friends, hello Hollywood!"
"Some of you know me as Aaron, some of you know me as Small Hands, some of you don't fucking know me at all!" he continued, jocularly, specifying that he was referring to the "maybe 10 people in the room" with whom he had not engaged in intimate relations. "And that may need to change."
Small Hands declared the theme of the night to be "positive energy."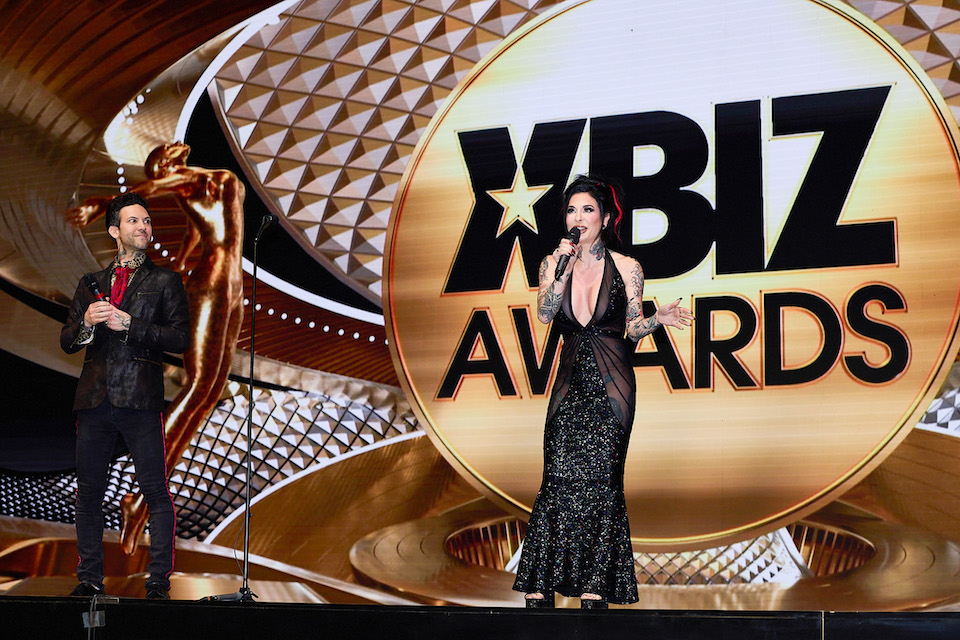 "This is gonna be a night of love — love for all performers, of all colors, of all shapes, of all genders, of all fucking sexual preferences. You're going to clap for your friends — you may even clap for your enemies, just to fuck with them. It's gonna all happen!" he exhorted.
Having set the tone, Small Hands then introduced his co-host.
"Before we go any further," he told the audience, "I want to bring out someone very, very special to me. Someone you all know. Someone you all love. A true, true pioneer — a visionary, some may even say — and honestly, I cannot picture being in this industry without this person. I cannot picture my life without this person. Please make the biggest applause you ever made for my best friend…"
Psych! Just as the audience was expecting Small Hands' partner in life and porn, Joanna Angel, to appear, he instead finished the sentence with, "…Owen Gray!"
Gray then strode forth from the wings, clad in a similarly dapper dark suit. Small Hands received Gray in a tender embrace, followed by a shy, tentative smooch, which quickly turned into a full-on steamy kiss — to the surprise, glee and abandon of the entire crowd — which quickly turned into vocal stans of one of the most anticipated ships in the porn world.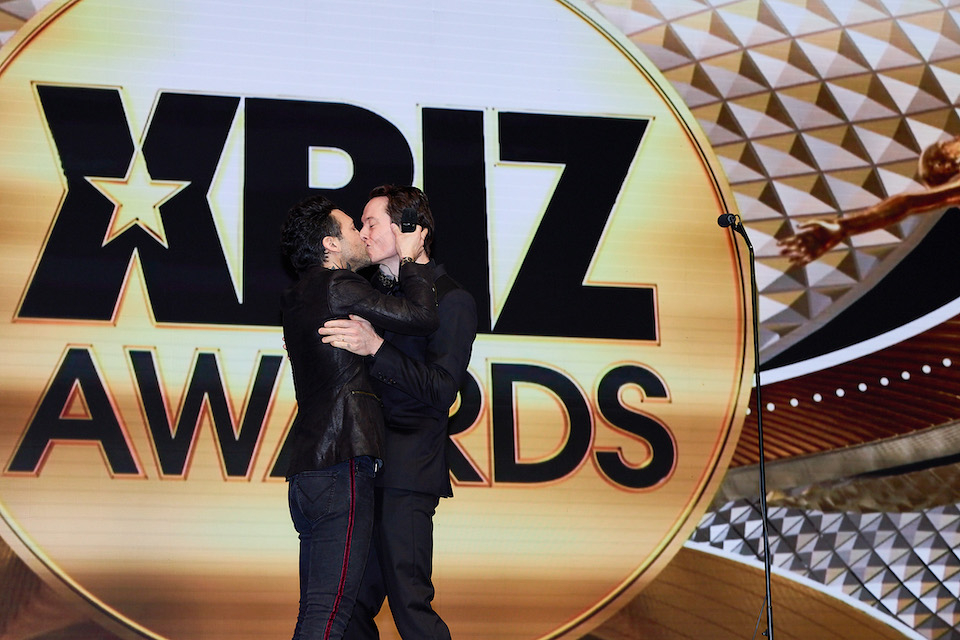 As this instance of slash fan fiction come to life continued with Small Hands lovingly cupping Gray's buttocks, a mock-indignant Joanna Angel emerged from backstage, "catching" the extremely popular gonzo-threesome twosome in flagrante delicto before the still-cheering crowd.
With Angel's little "Hey, I'm here" cough dissolving the tender boy-boy moment and Gray stepping aside, the two co-hosts smiled broadly and proclaimed, "Live from Los Angeles! It's the 2023 XBIZ Awards!"
Gray disappeared quietly into the wings, always the enigmatic man of few words, beloved by fans of his "Deep Lush" site — many of them top female performers in the industry — who openly simp for the tall, inked performer with the silent-movie-star looks they've nicknamed "Alphabet Leg Man."
"Hey, Owen — I'll see you later. We got shit to do," Small Hands quipped.
The hosts then reminisced about XBIZ Awards glories of the past, as when Small Hands won the 2018 Male Performer of the Year award, and when Angel won the nerdy Specialty Affiliate Program of the Year, "back in the 1700s."
"That was a time before Twitter," Angel added. "Back in my day, you had to physically go to set to talk shit about other people in the industry!"
After offering some sage advice to the "awards virgins" out there, Angel and Small Hands introduced the first two presenters of the evening, to kick off the part of the show everyone was waiting for: the awards presentations.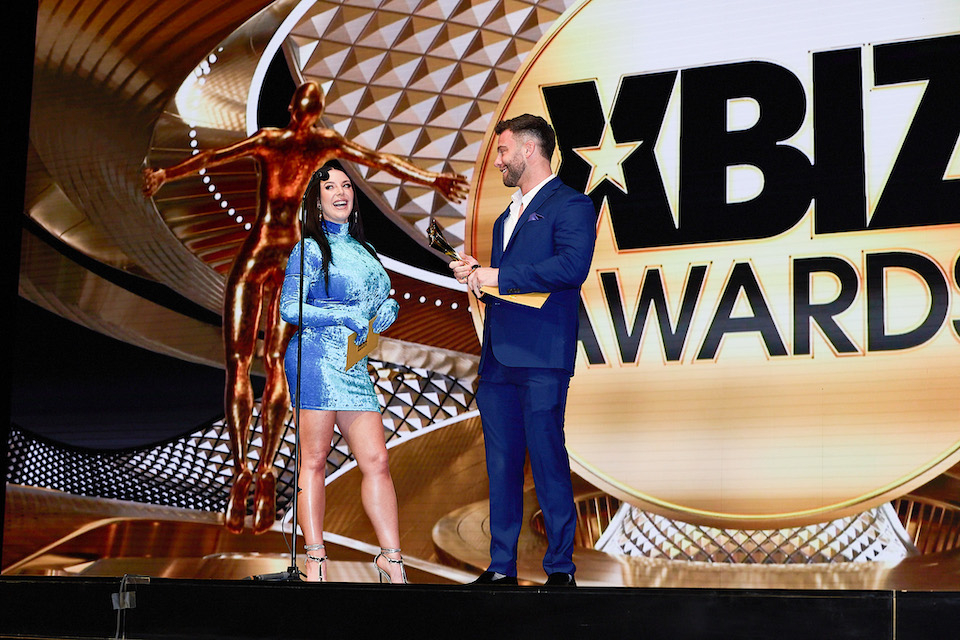 Angela White, in blue velvet, and Seth Gamble, open-shirted, tieless and proudly displaying his gold Star of David, started things off by announcing the winner for Performer Showcase of the Year: Evil Angel's "April Knows Best," starring April Olsen.
White and Gamble then moved on to All-Girl Movie of the Year. This category became the first of several major awards in the evening for director Casey Calvert. In this case, the Calvert-helmed, supernatural drama "Sorrow Bay" (Lust Cinema), co-starring Brooklyn Gray, Kira Noir, Victoria Voxxx, Lilly Bell and Aiden Starr, was hailed for its nuance and innovation.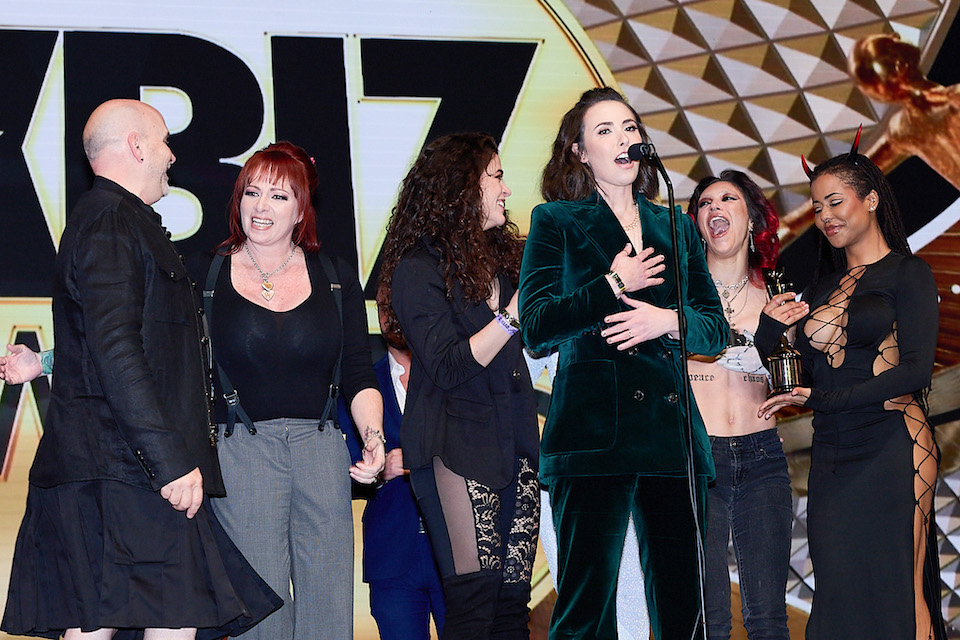 Calvert, in a green velvet power suit, took to the stage along with her cast and crew to accept, leading with a truly shocked "What the fuck?" that would only heighten as the evening went on. "I can't actually breathe right now. Thank you XBIZ. This was such a hard movie to make, so having everyone standing behind me is so important. And thank you, Erika Lust," she added, pointing at the renowned European director, producer and Lust Cinema studio owner who has supported Calvert's cinematic vision.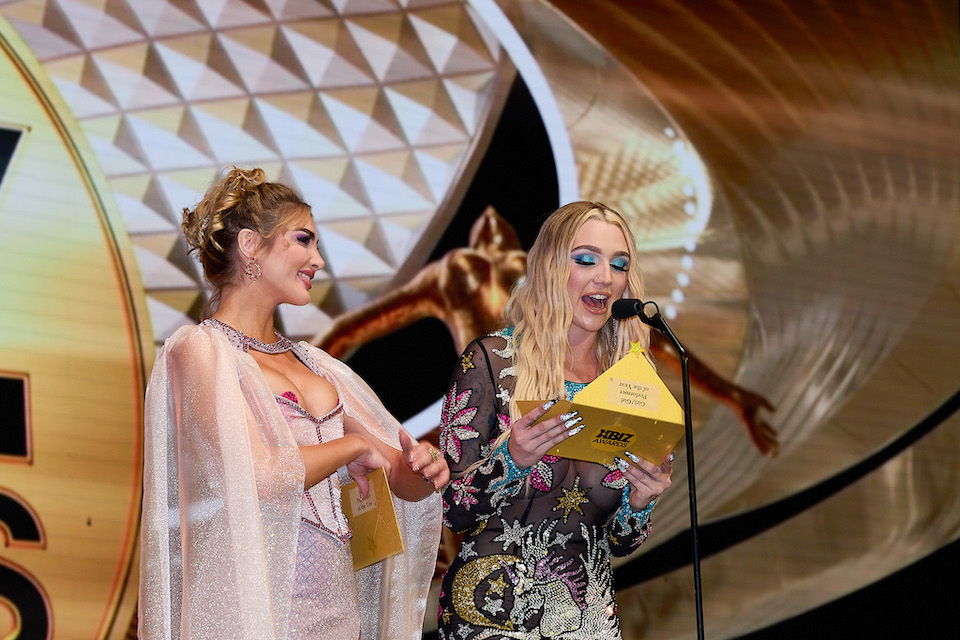 Two veritable "blonde bombshells," as the voice-of-God announcer proclaimed, then took the stage to announce two more major accolades. Kendra Sunderland and Kenzie Anne — both glamtastic in full gold numbers, matching the relentlessly auriferous background animation on the Palladium stage — first presented Girl/Girl Performer of the Year to one of the hardest-working performers and actresses in the business, Aiden Ashley.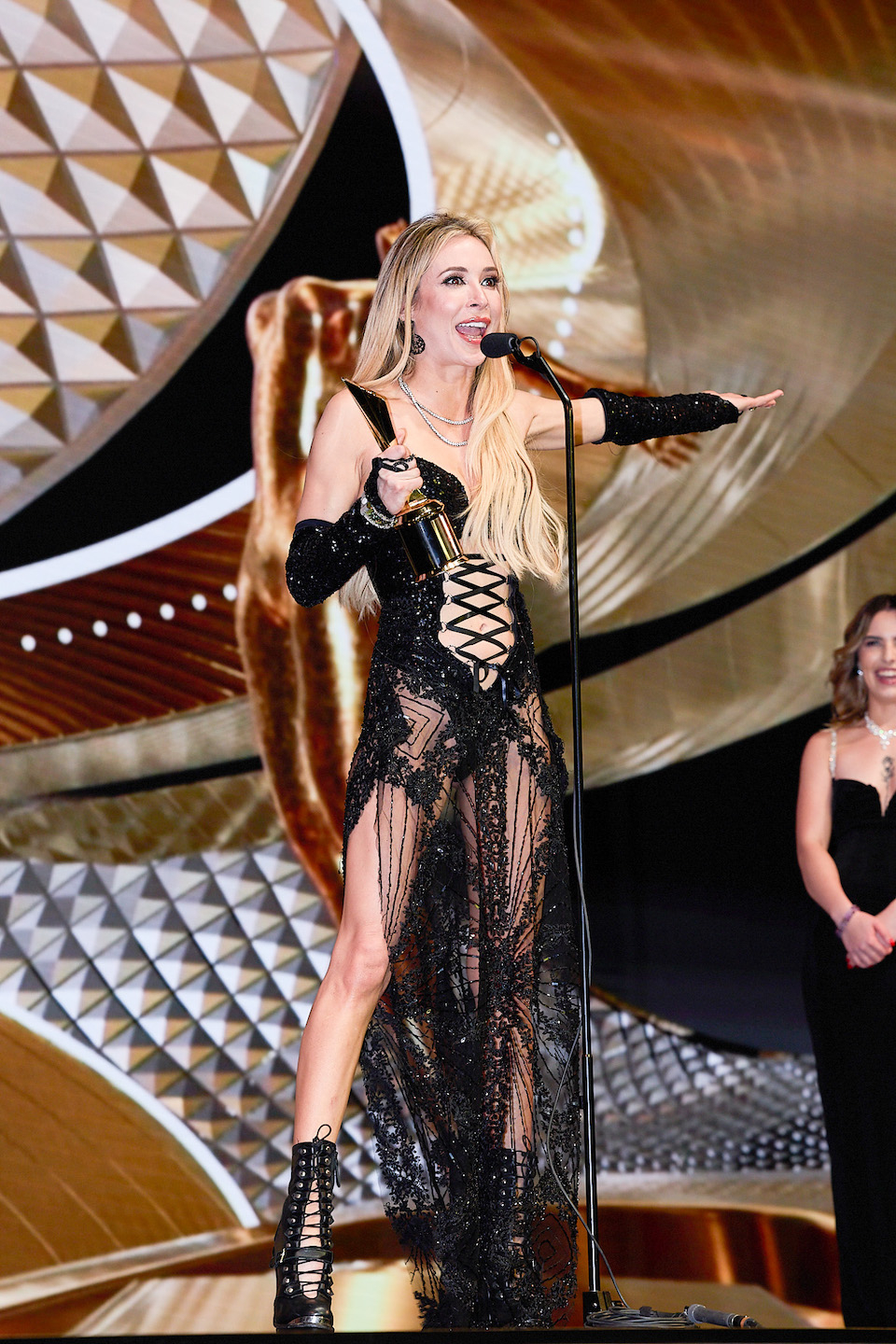 Receiving her first XBIZ Award, this one for her sapphic prowess, Ashley began with a full-chested "Oh my God!" not unfamiliar to the many fans of her orgasm-intensive pornographic oeuvre. "I want to thank every single person that I've licked her pussy in this entire crowd, which is most of you, right? Like, I fucked you all, right? And I fucked you good!" Ashley also thanked her agency, Motley Models, and XBIZ before being overcome by emotion and tearing up.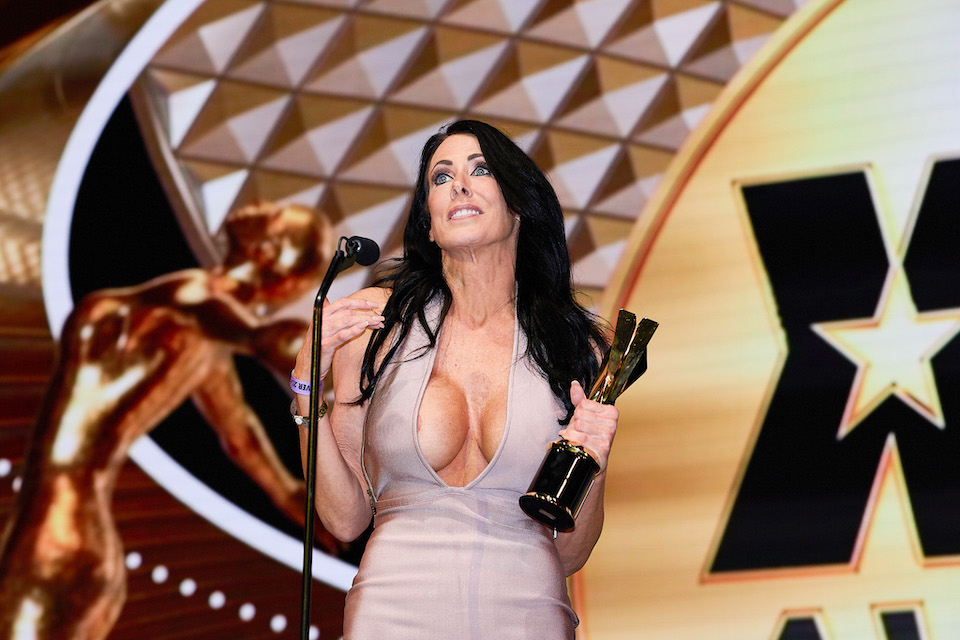 Kenzie Anne and Sunderland then revealed the new MILF Performer of the Year, beloved industry veteran Reagan Foxx. Impeccable in periwinkle, the always soft-spoken Foxx said, "You know me… I don't know what to say," before thanking her co-nominees and the people who supported her throughout, like agent John O'Byrne of East Coast Talent and her husband Chris.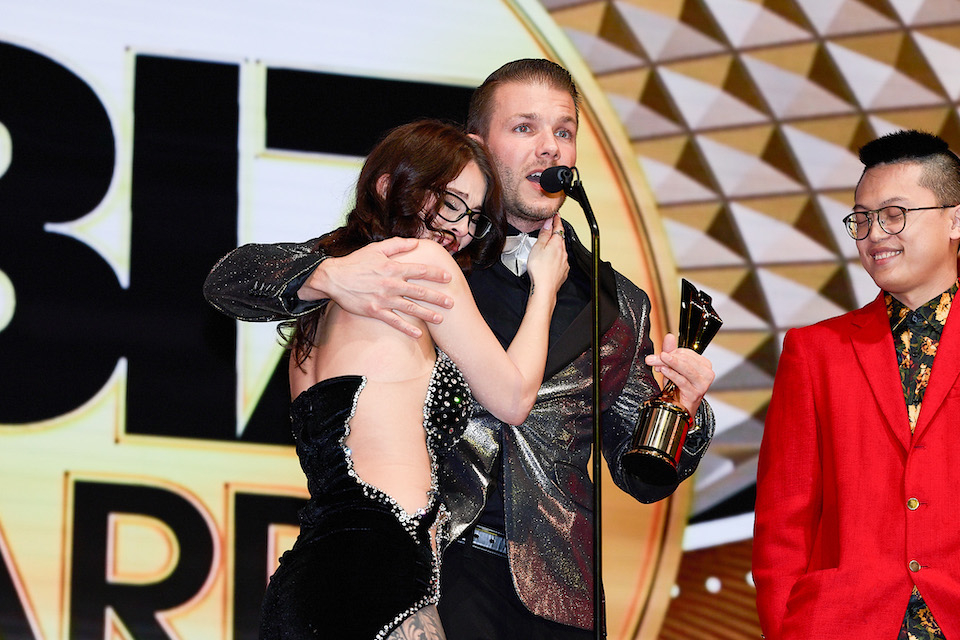 The wave of blonde presenters continued with red carpet hostesses extraordinaire Kenzie Taylor and Kenna James, who presented Best Sex Scene — Featurette to Delphine Films' "S.I. — Sexual Intelligence," a "Black Mirror"-style technofuturistic scenario co-starring Maddy May and Codey Steele.
Both performers accepted the award alongside Delphine's Bloomer Yang, and expressed gratitude for the opportunity to show their acting chops. "This was my first actual film that wasn't just a gonzo, getting-all-my-holes-stuffed-at-once scene," said a visibly moved and barely covered May. "I actually got to act. Thank you to all the people, and all the other sluts out there." Steele added that although as a male talent he's "used to being silent," he wanted to thank May for "being an amazing partner" and Delphine Films for giving them "the chance to make something like this." Yang also celebrated the first award for budding studio Delphine.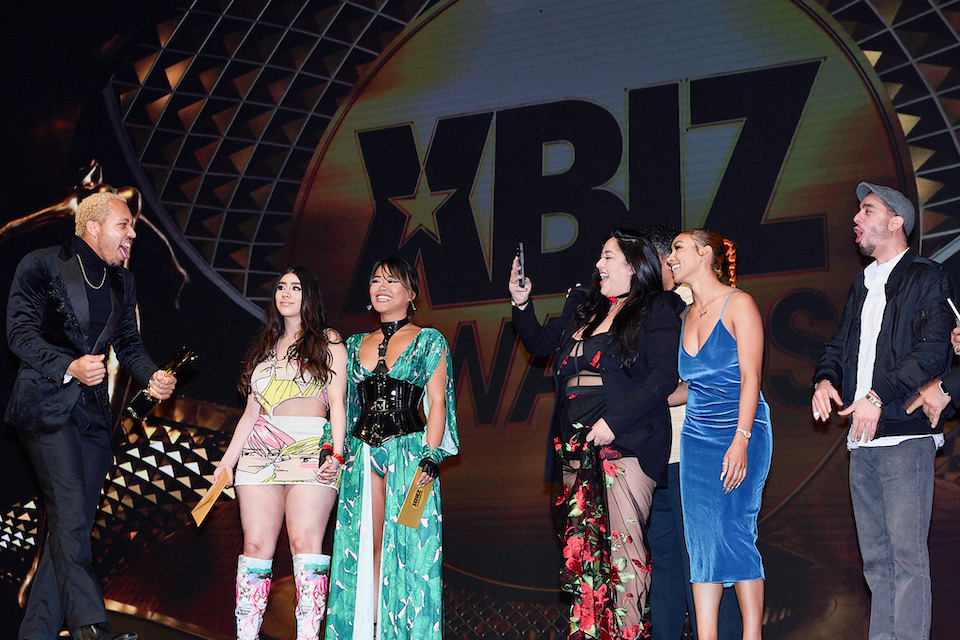 Two incredibly popular performers, creators and influencers, Violet Myers and Astrodomina, presented the award for Best New Site to Ricky Johnson's "Ricky's Room," a game-changing new initiative hosted by YourPaysitePartner and highlighting realistic hardcore sex scenes. Johnson gave a shoutout to his production team, whom he invited onstage, introducing each one to the audience.
"I encourage all the performers here to make a website," he advised. "Everybody has fans here, no matter how few or how many, you guys are all special, we are a community, let's all make money together."
Myers and Astrodomina then announced Chaturbate as the Cam Site of the Year, with a cadre of Chaturbate broadcasters and ambassadors led by the charismatic Lana del Bae accepting the award on behalf of the platform.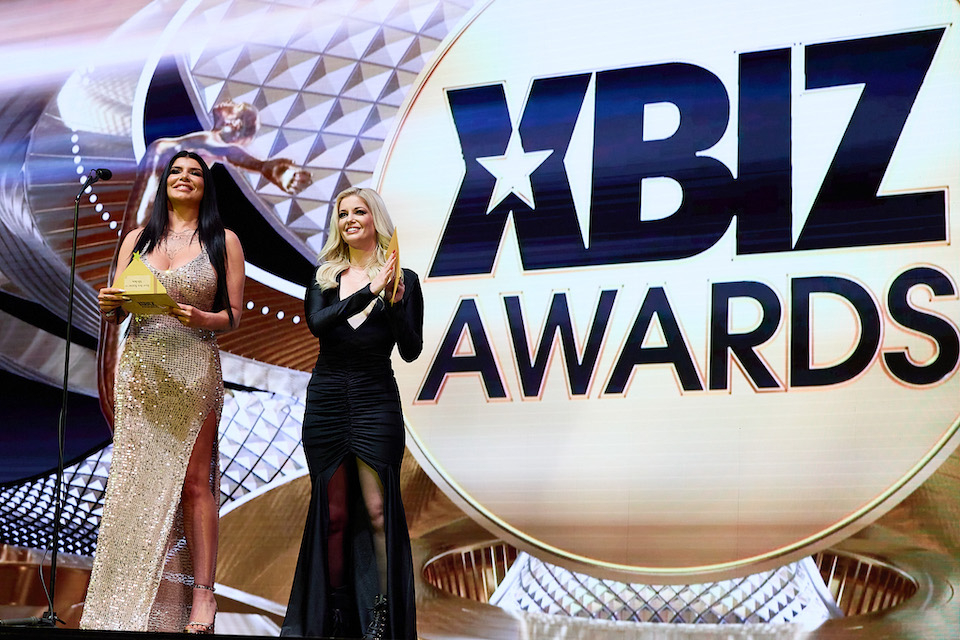 XBIZ Award-winning BFFs Charlotte Stokely and Romi Rain took to the stage next to present the award for Best Sex Scene (All-Sex) to Vanna Bardot and Seth Gamble for their intense pairing in Gamble's "Money" (Wicked Pictures). The award thus served as an appetizer for the main course later in the evening, as both scene partners would finish the night with two of the evening's top awards.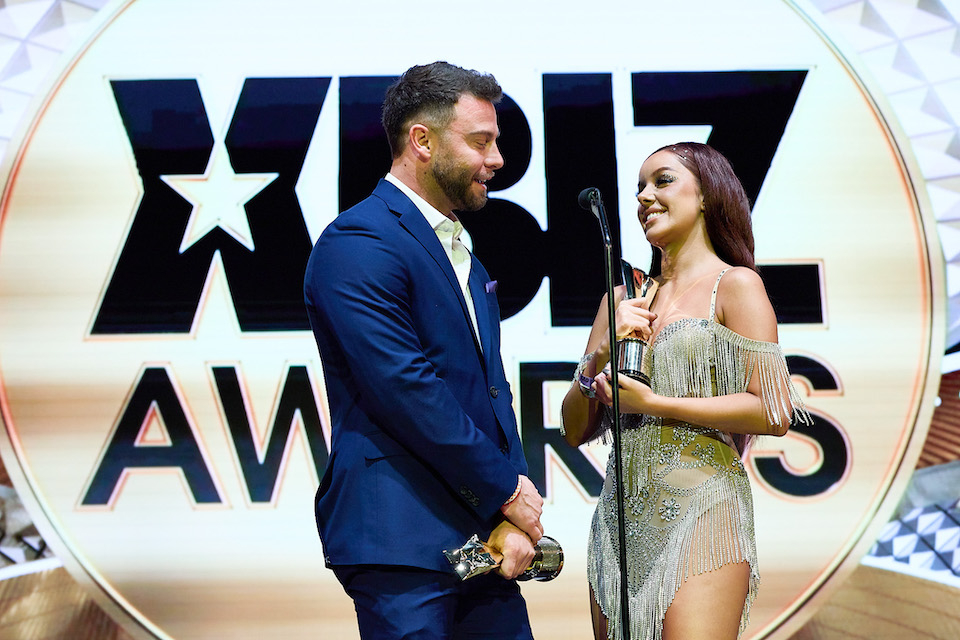 Bardot hailed her scene partner and director as "such a visionary."
"This is all Vanna," Gamble retorted. "She gave me the vision. This is actually the first award that's gone to a movie I've directed. Thank you for helping me bring this to light. I know I'm ambitious, but ambitious sometimes is good."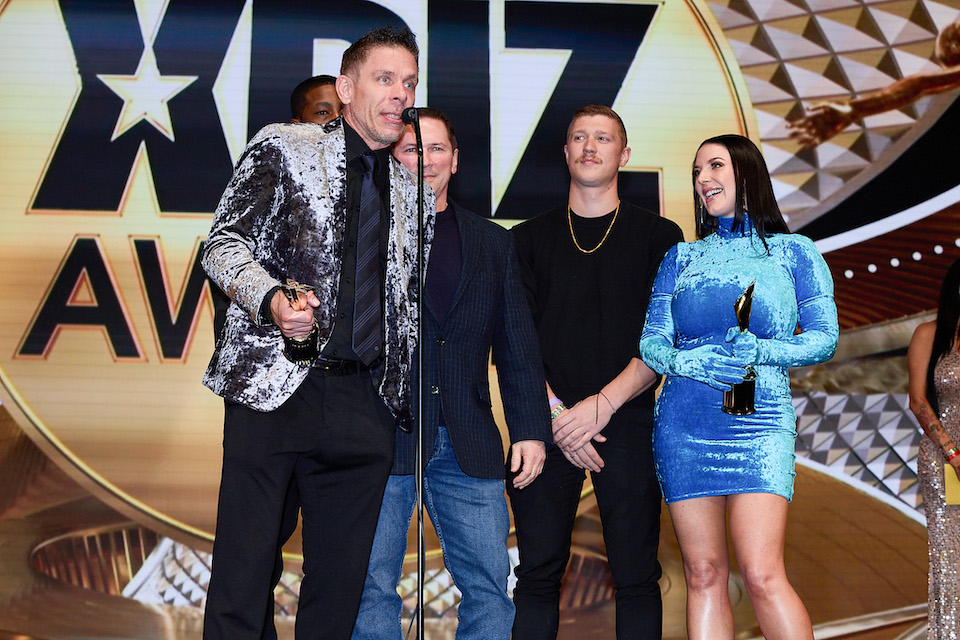 Stokely and Rain then presented the trophy for Best Sex Scene (Gonzo) to "Taking Control," an Angela White concept featuring Mick Blue, Oliver Flynn, Isiah Maxwell, John Strong and Zac Wilde. All but Wilde were able to join White onstage, where she praised them as "incredible."
"A gangbang is only as good as the male talent that is fucking you," said White. "And you guys are the best!" The group saved a special mention for Strong, whom White impromptu crowned "the best anchor in the industry."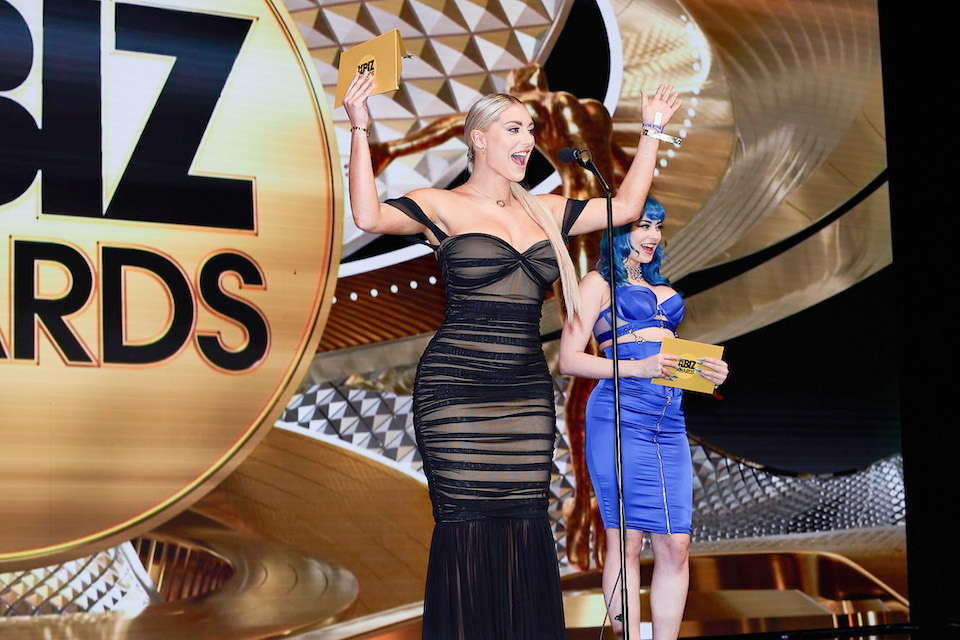 The next presenters, Jewelz Blu and Kayley Gunner, introduced the winner for Virtual Reality Site of the Year, SexLikeReal. The SLR team was represented by Alex Nash and Andy Zane, who thanked XBIZ and expressed appreciation to the performers.
"We love you and shit," Zane said. "And thanks, XBIZ."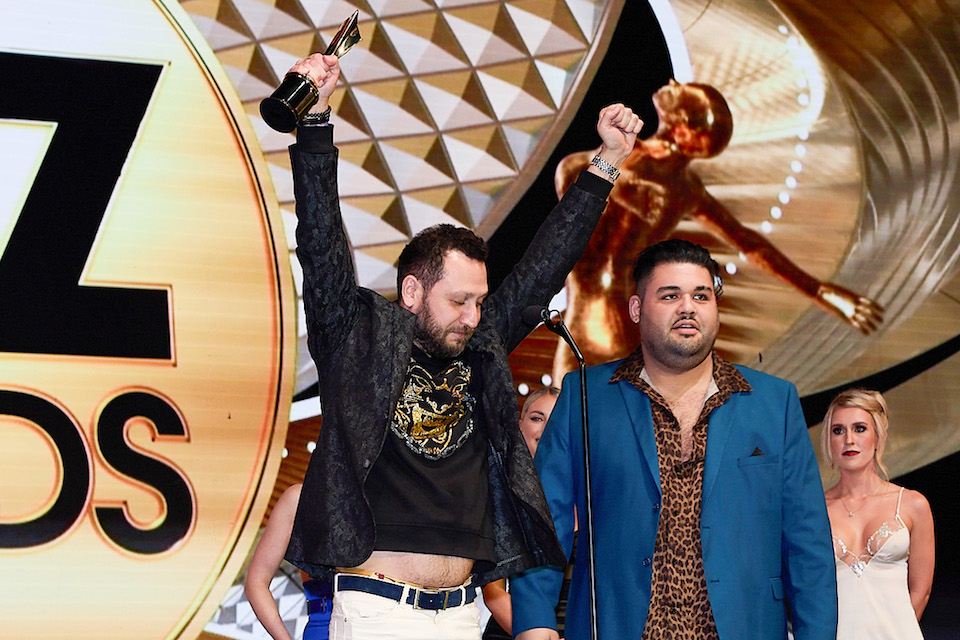 Blu and Gunner awarded the title of Paysite of the Year to Brazzers. The Brazzers team in full force accepted the award.
"This is incredible," said Brazzers' Lea Lexis. "The past few years have been pivotal to our culture and how to do things, and one of the things that's for sure an improvement is how we treat our talent. I'm very proud of being part of this team, I'm very proud of everything we've achieved, I'm very proud of where Brazzers is going. We love you guys so much, each and every one of you in this room."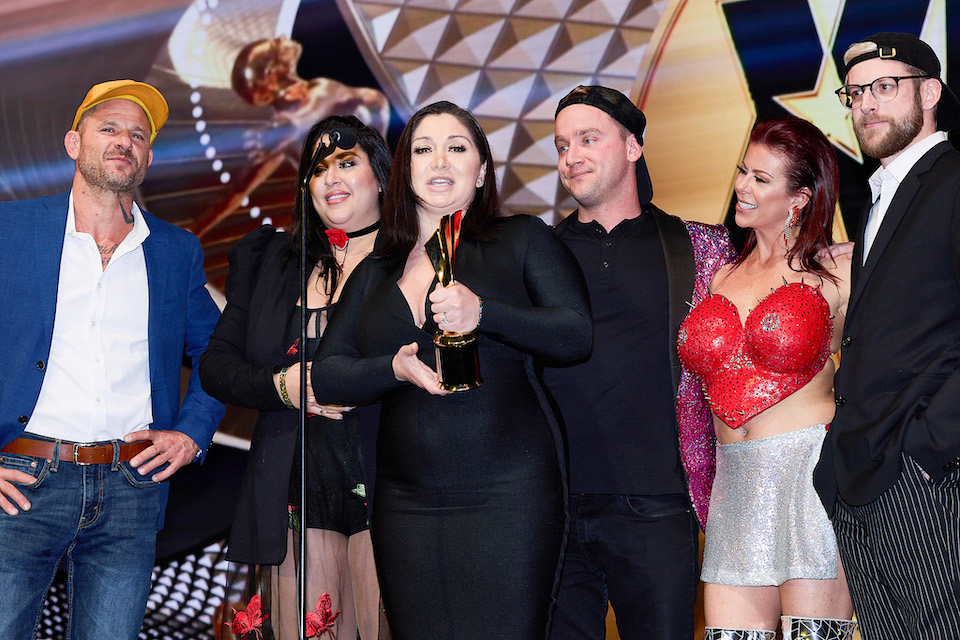 A short break led to another appearance by genial co-hosts Joanna Angel and Small Hands, who riffed on the latter's dual career as porn heartthrob and multifaceted musician, most recently with synth project Soft Faith. Small Hands, wearing a pajama onesie, then announced the time as "bad bitch o'clock, thick-thirty" adding, "Been through a lot but I'm still flirty."
The touching Lizzo tribute was interrupted by Angel, who tactfully reality-checked her partner with the reminder, "This is the wrong place to focus on your music. People here really just care about your dick."
The "Gotta Sing, Gotta Dance" routine continued, with Small Hands breaking into "Total Eclipse of the Heart" — obviously pandering to a hoped-for audience singalong — Taylor Swift's "Anti-Hero" and, quite fitting for the occasion, the Divinyls' "I Touch Myself."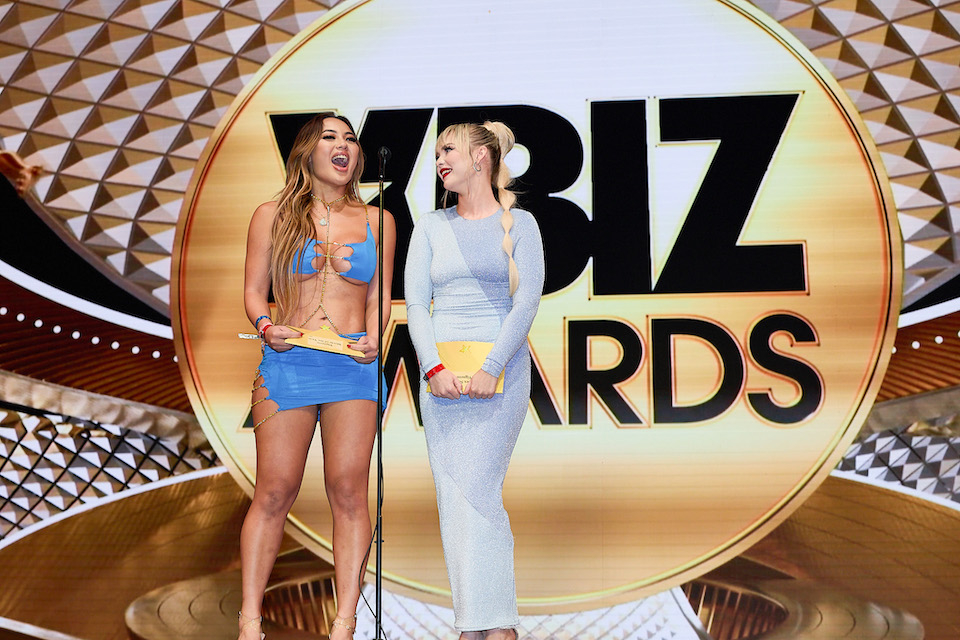 The comedy bit seamlessly segued into the introduction of the next presenters, performer-influencer phenomenon Kazumi and a resplandescent Lilly Bell. The pair presented the award for Vignette Movie of the Year to Deeper's dazzling, myth-infused "Goddess and the Seed." Multiple XBIZ Award-winning director Kayden Kross accepted the award and thanked the project's co-stars, Elena Koshka and Manuel Ferrara.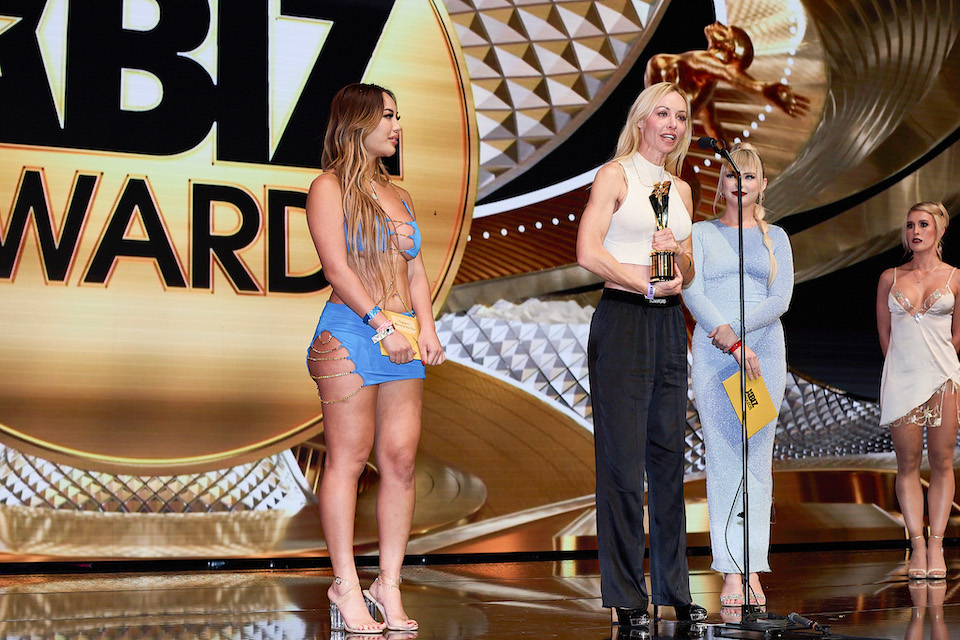 "You guys were both incredible inspirations of this film," she noted, before thanking her crew and the Vixen Media Group team.
The presenters then announced the winning entry for Best Sex Scene — Vignette: Blacked Raw's "High Gear," with Bell flawlessly and impressively going through each of the names on the massive list of group sex participants getting a trophy: Vanna Bardot, Savannah Bond, Vicki Chase, Nicole Doshi, Vic Marie, Violet Myers, Brickzilla, Garland, Anton Harden, Jay, Jonathan Jordan, Jamie Knoxx, John Legendary, Tyrone Love, Richard Mann, Isiah Maxwell, Stretch and Zaddy.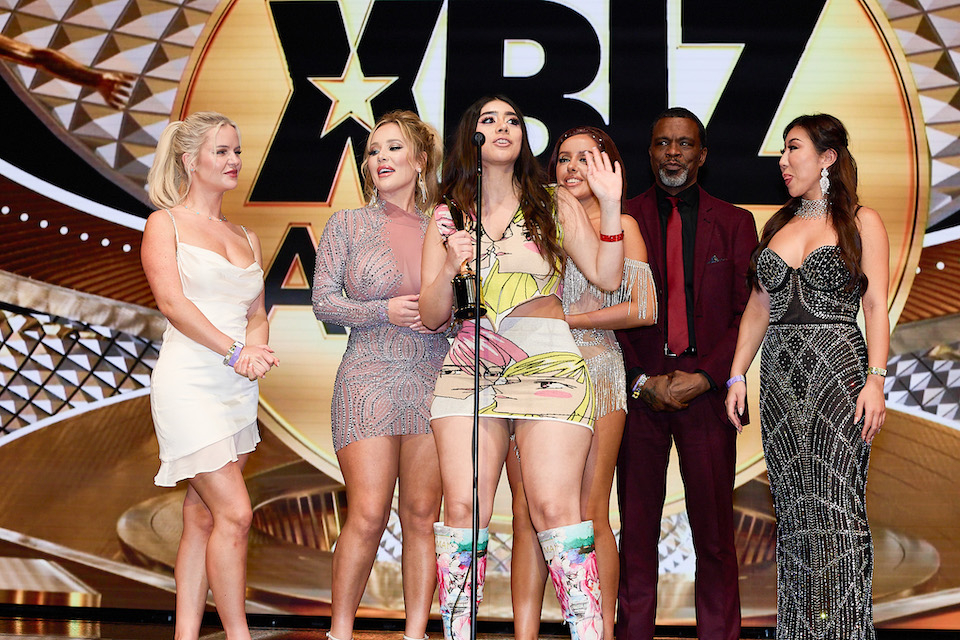 The group, led by Violet Myers, assembled onstage and paid tribute to the artistry of veteran Vixen Media Group director Derek Dozier.
"Oh my God, that day I took so much dick!" proclaimed Myers. "I couldn't have sex for three days."
Vanna Bardot agreed, adding "I've never seen so many genitals in one room."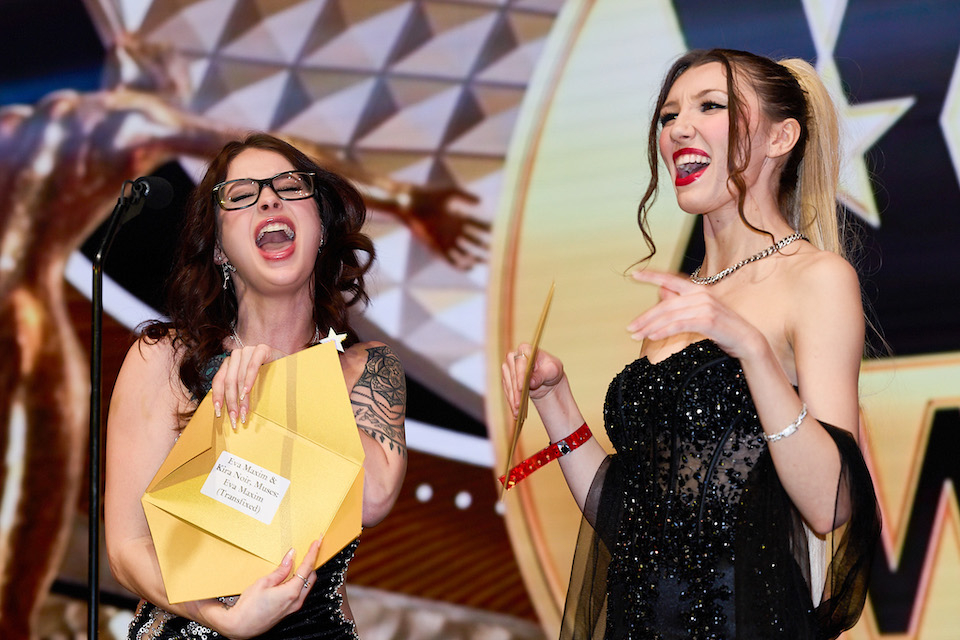 Maya Woulfe, in one of the most stylish, Old Hollywood-worthy gowns of the evening, was joined by Best Sex Scene — Featurette winner, the irrepressible Maddy May, to reveal the winners for Best Sex Scene — Trans, namely Eva Maxim and Kira Noir for Transfixed's lush Ancient Greece fantasy scene, "Muses: Eva Maxim." Noir accepted the award for the duo, along with director Stella Smut.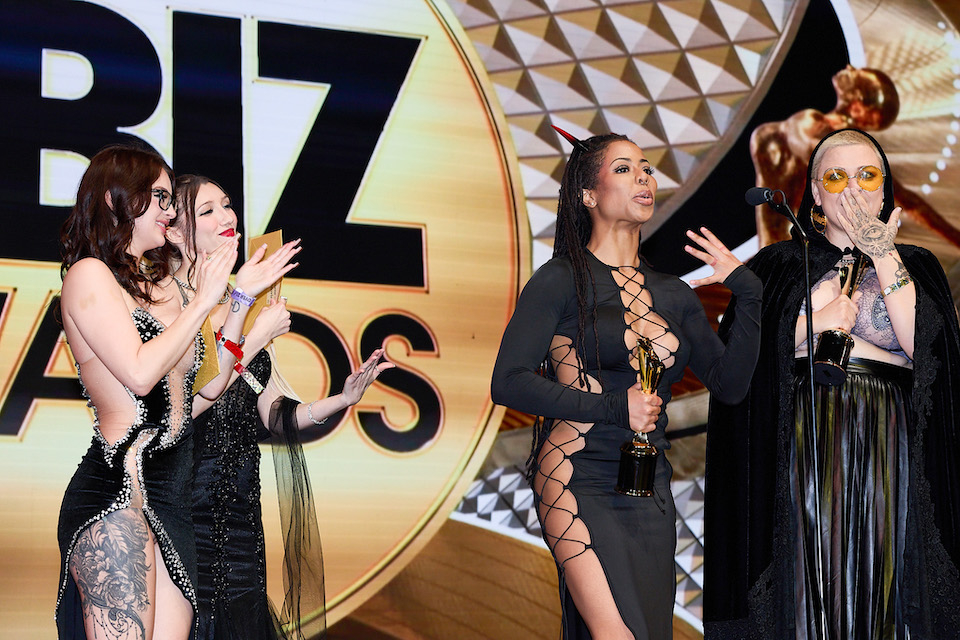 "We need to respect the trans performers we have in this community," said Noir. "You're are beautiful."
Smut added, "Eva Maxim is beautiful, she's hilarious, she's gorgeous, she's so talented — Eva, I love you." The pair thanked Adult Time and Bree Mills for creating the "Muses" series and supporting Transfixed.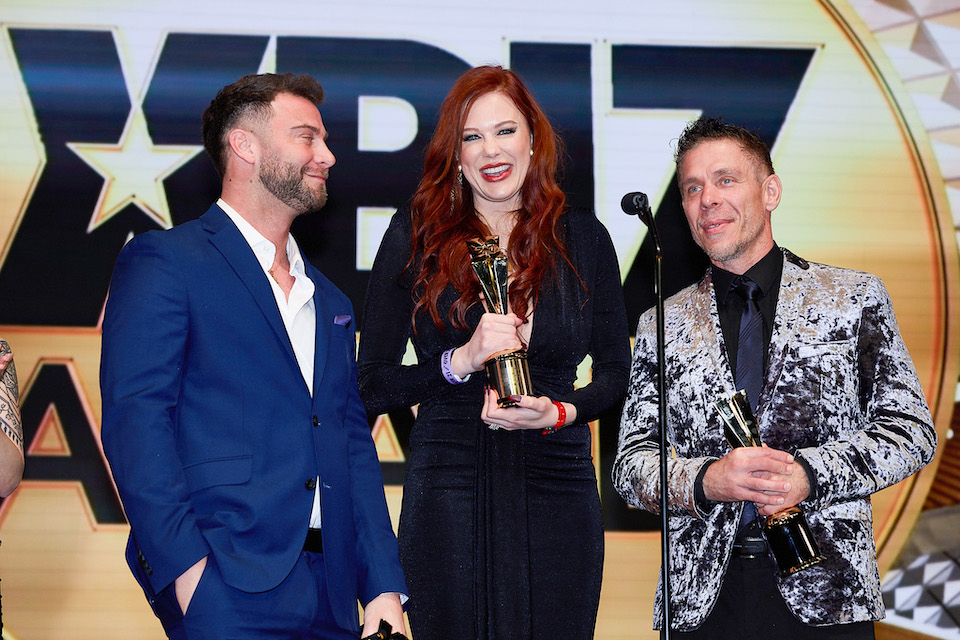 Woulfe and May returned to present the award for Best Sex Scene — Feature Movie to Maitland Ward, Mick Blue and Seth Gamble for their real-life-inspired sitcom BTS threesome in Kayden Kross' "Drift" (Deeper). Ward praised her co-stars and director with the customary charm of someone fully seasoned in the art of receiving accolades.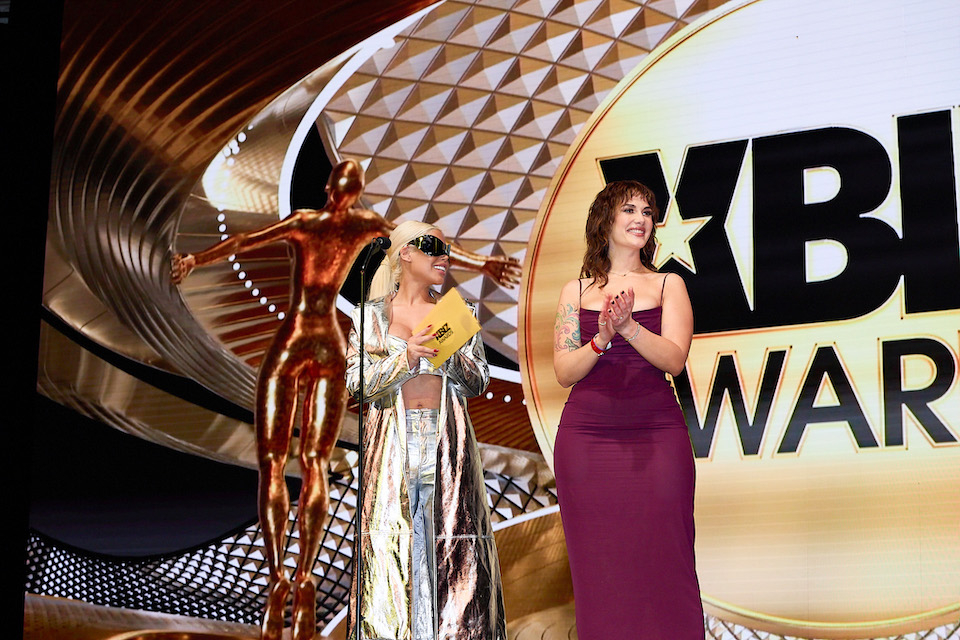 Acclaimed creator-performer Siri Dahl and a futuristically clad Bridgette B, wearing reflective sunglasses, presented the Best Acting — Lead award to Jane Wilde for Adult Time's "Stars," which Wilde co-wrote and co-directed with Bree Mills.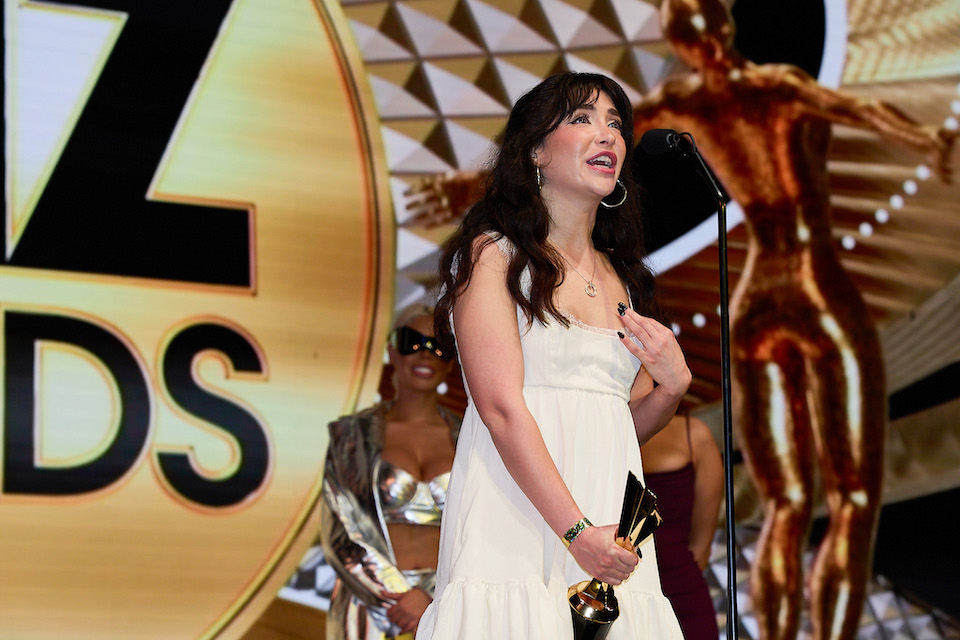 Based on Wilde's own life story, "Stars" gave the top gonzo performer an outlet to showcase her considerable acting talent. Wilde thanked Adult Time and Mills for giving her the opportunity to make a movie based on her life and play a character based on herself.
"It was very intense, and I'm so grateful for the experience and grateful for the honor," she said.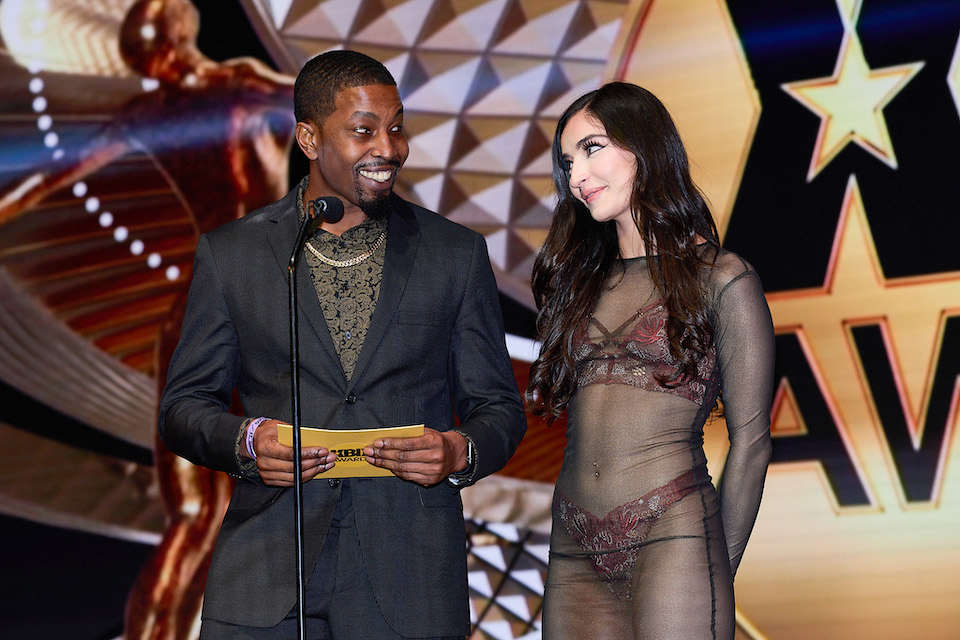 XBIZ Award-winning stars Emily Willis and Isiah Maxwell then presented the coveted and hyper-competitive Director of the Year — Feature award. The winner: Casey Calvert, for her work weaving believable, emotionally rich narratives as an exclusive contract director with Lust Cinema.
A stunned Calvert thank her agents, Mark Spiegler and George, Bree Mills for giving her her first directing job and Erika Lust for believing in her and the kinds of movies she wants to make, and for trusting her vision.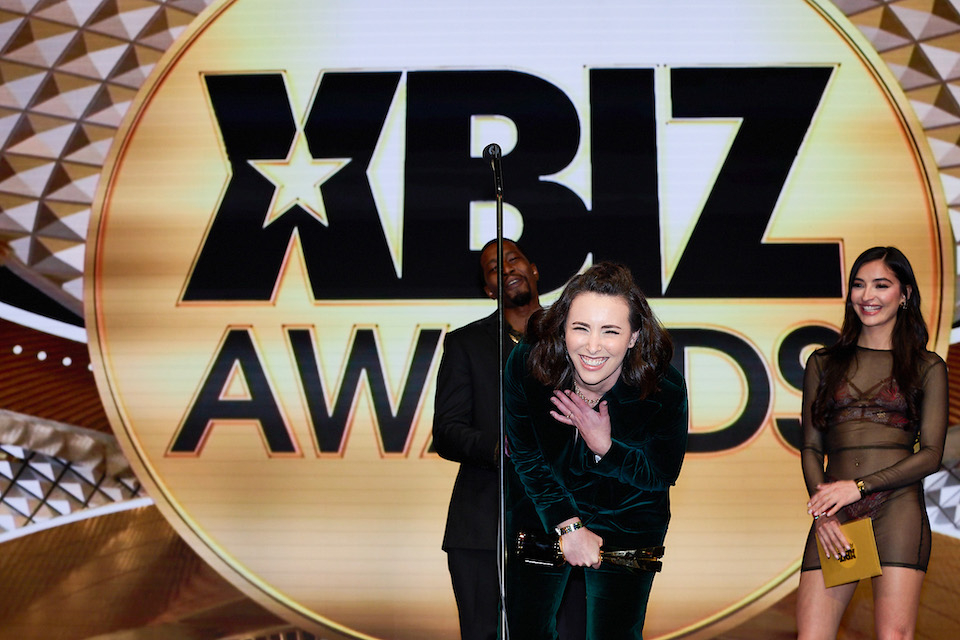 "If you've been directed by me, please stand the fuck up, because I wouldn't be standing up on the stage without you," Calvert said. "I love each and every one of you, so much. Thank you for trusting me and believing in my vision."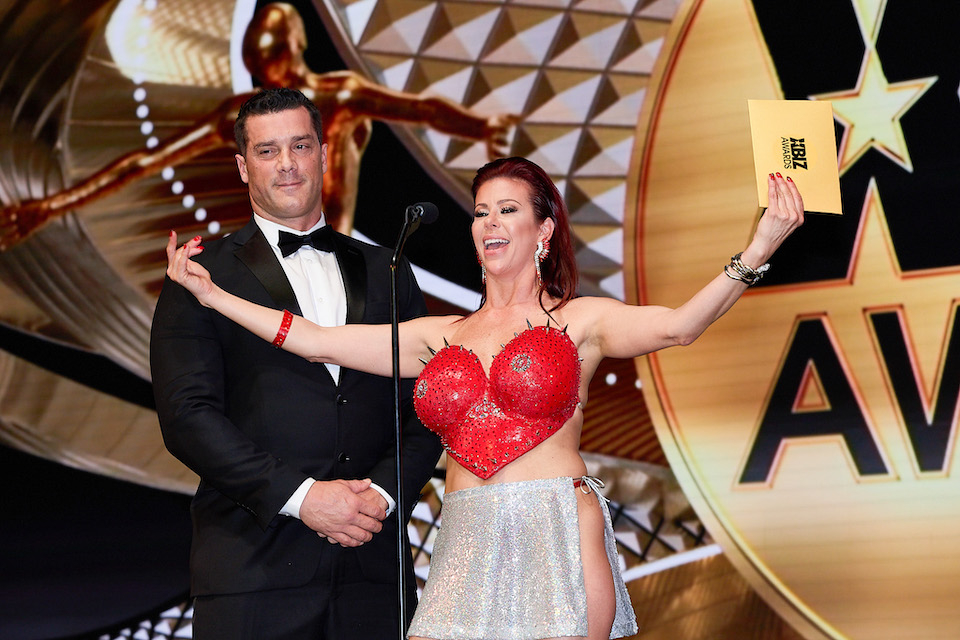 Veteran performers and multiple XBIZ Award-winning stars Ramon Nomar and Alexis Fawx — the latter wearing the most inventive garment of the evening, which could very literally be called a "breast plate" — announced the winner for Trans Performer of the Year. The incredibly popular, in-demand Emma Rose was greeted by loud acclaim from the Palladium audience as she went up onstage. Rose thanked her team including her publicist, Erika Icon, and reminded the crowd that "trans always sells."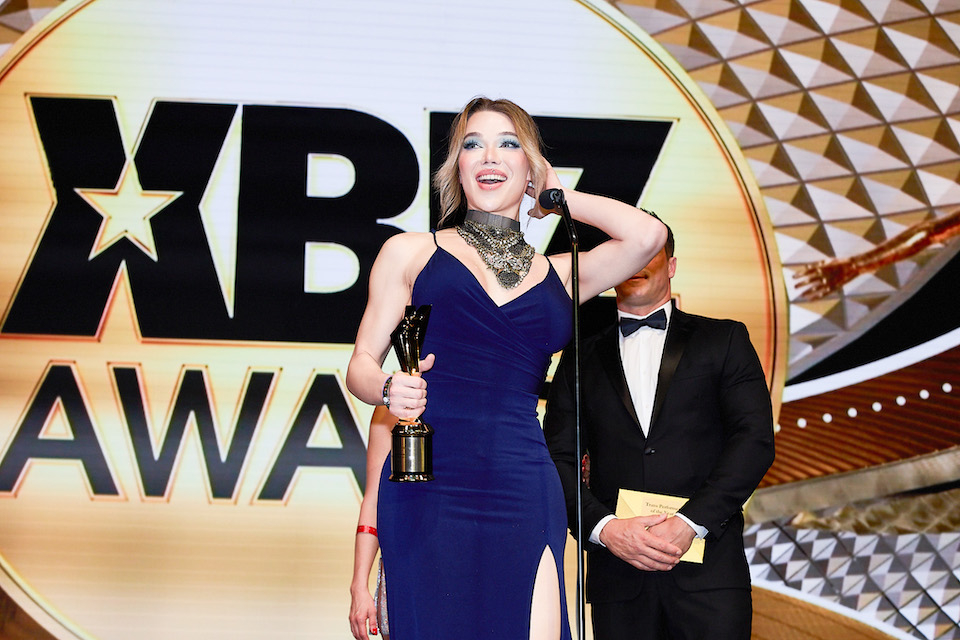 "We are not a fetish, we are not in the corner of the sex shop anymore," Rose avowed. "We are front and fucking center and I cannot wait to shoot with so many studios this year!"
After the always moving In Memoriam segment and another short break, Joanna Angel and Small Hands returned to kick off the final stretch of the show, recruiting the audience as accomplices in a brief attempt at creating a TikTok moment on the spot. They were aided by tech-savvy trophy girl Sarah Taylor, who, along with Chanel Camryn, performed their crucial stage duties impeccably.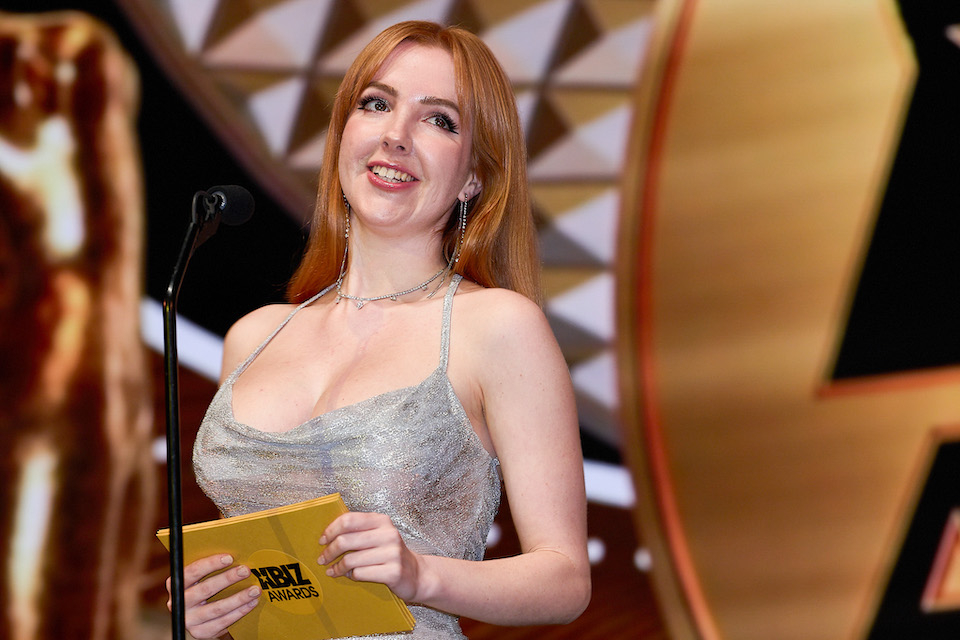 The first presenter of the final batch of awards was the ever regal, bodacious British newcomer Scarlett Jones.
Jones announced the Cam Model of the Year winner as Quincy, the ePlay cam star known for her playful shows inspired by her circus background. Quincy thanked he fans, the Quincy Gang and her friends in the industry.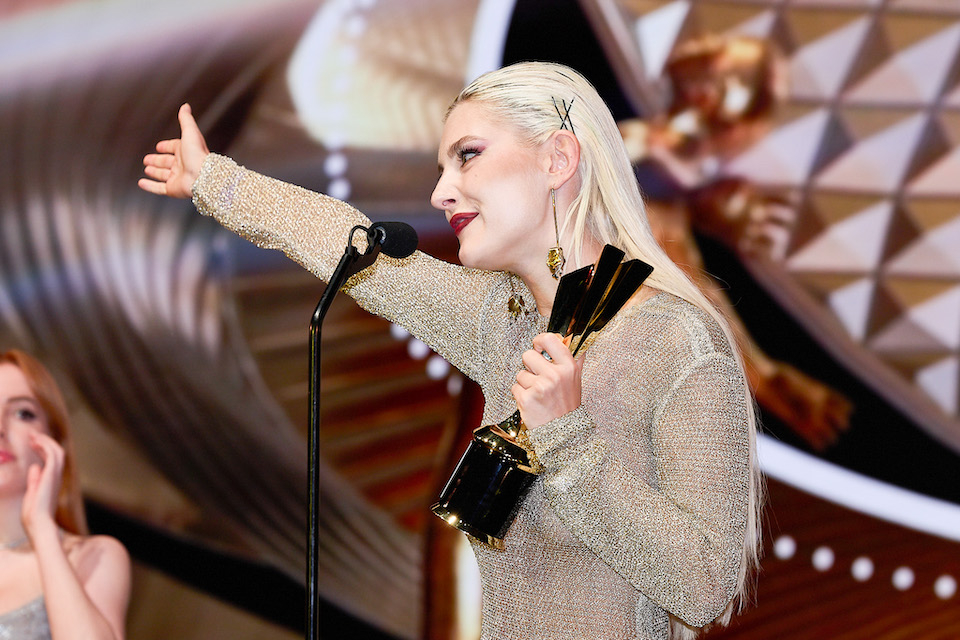 Jones next read the winner for Clip Artist of the Year, an award that went to really-super-top-tier Pornhub favorite Eva Elfie, the Russia-based creator who seems unstoppable in her success. Elfie thanked her husband and her friends, and left the stage with the uplifting message, "Make love, not war."
The Premium Social Media Star of the Year lineup was particularly stellar this year, but rising above all was online marketing sensation Kazumi, who has become an adult industry household name with accelerating speed.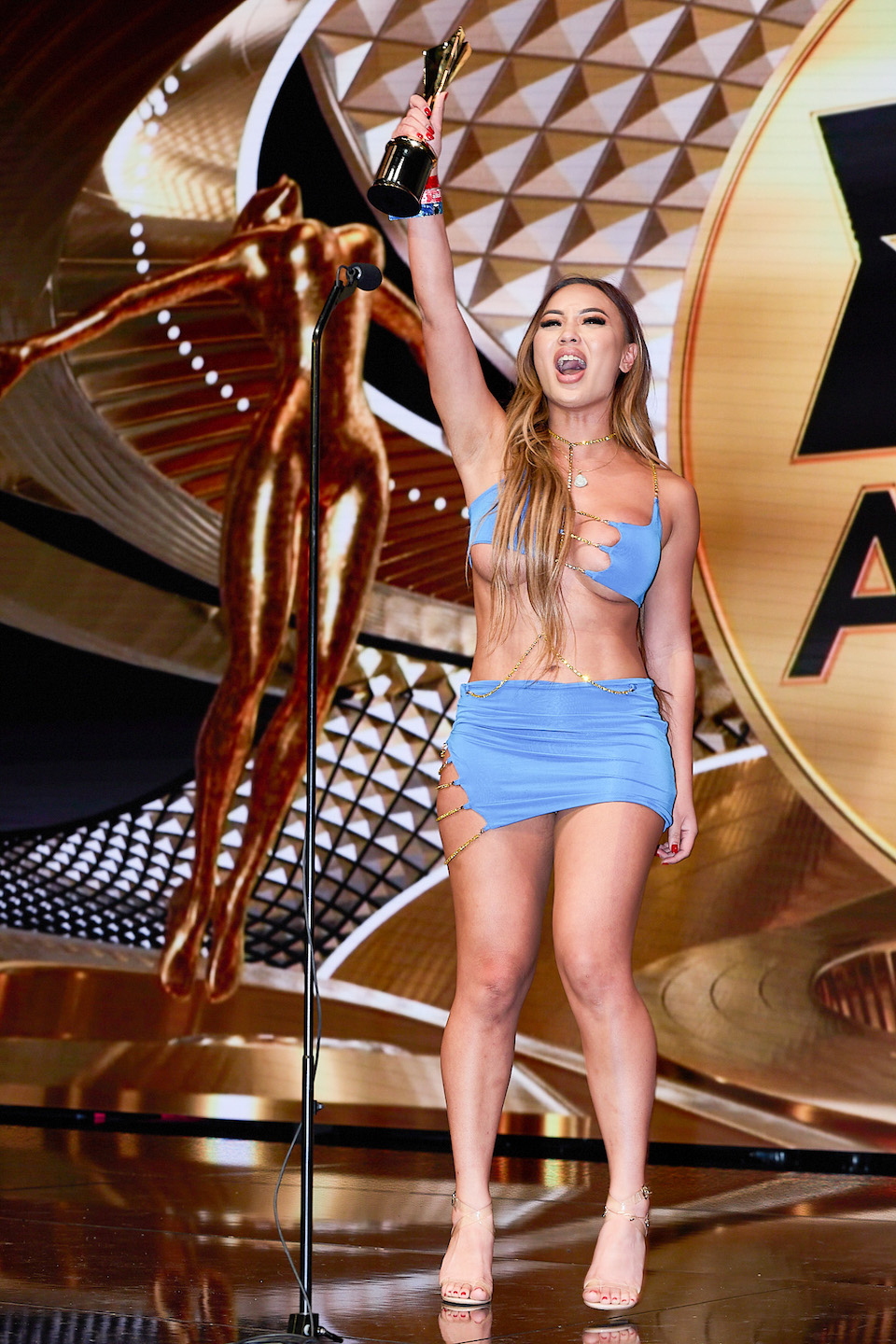 "I'm gonna shove this in my pussy!" she proclaimed, with a natural cheerfulness that lit up the room, demonstrating why she's queen of engagement. Wearing an impossibly-held-together, eye-grabbing blue number with gold chains, The Artist Currently Known as Zumi revved up the adoring industry crowd with one of the best speeches of the evening.
"Y'all are gonna make me cum, oh my God, I'm just a silly little guy and I make crazy stuff on the internet, and it resonates with a lot of you guys, and I want to inspire you guys to be more yourself. I wanna fuck everyone in the whole wide world in this room right now. I love you guys. Sorry I'm gross — actually, I'm not sorry I'm gross. Why can't we sluts change the whole fucking world?!"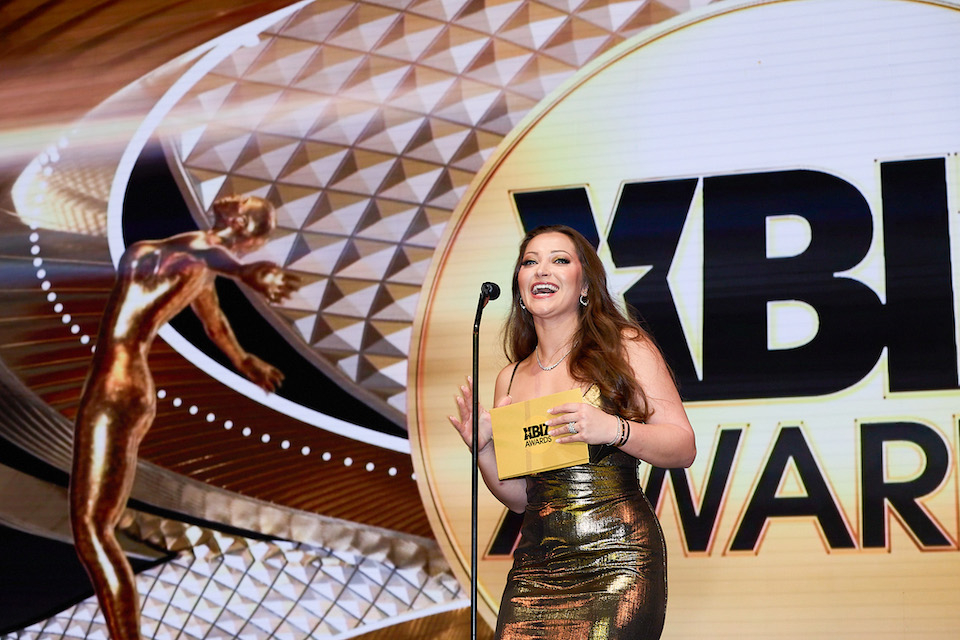 XBIZ Award-winning legend and serial entrepreneur Dani Daniels presented the award for Feature Movie of the Year to Lust Cinema's "Going Up," directed by just-crowned XBIZ Director of the Year Casey Calvert. Calvert returned to the stage with another of her ensemble casts, plus her crew and producers, to thank once again all her collaborators and XBIZ for the accolade.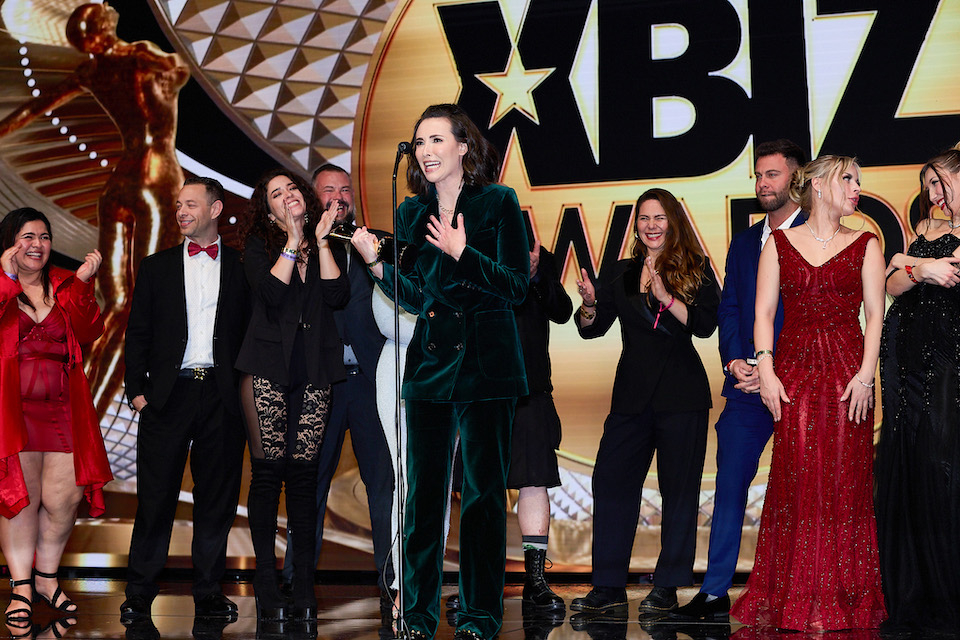 "I genuinely cannot believe I'm standing on this stage right now for making a movie," Calvert, choked with emotion, told the room. "I don't win things!"
Calvert's husband and artistic partner, Bryn Pryor, sporting a wine-dark kilt, noted that "Going Up" was shot in 18 days — an incredible amount of time for an adult feature these days — and had a cast of 24 and a crew of 30. "And we killed them all! We didn't mean to, it was a mistake," he joked.
Erika Lust addressed Calvert directly, telling her, "I'm so proud of you, I'm so happy, all the crew, all the performers. It's amazing that you are able to do all these wonderful films for Lust Cinema."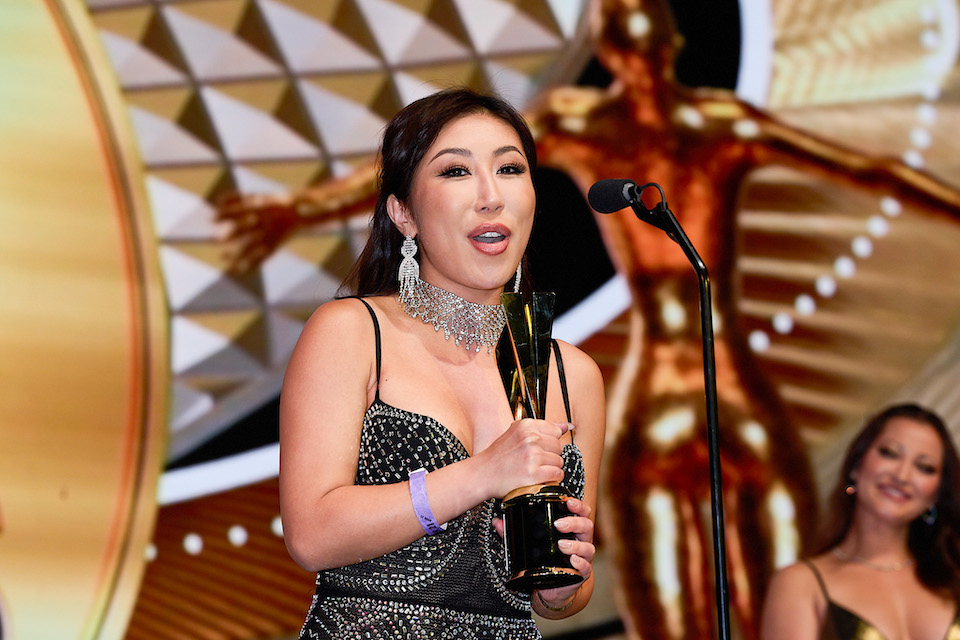 Daniels then presented the award to 2023's Best New Performer: Nicole Doshi, who had a breakout year as one of the stars most requested by fans and studios. The always enthusiastic Doshi thanked her agents, Motley Models' Dave Rock and Ryan Kona, and everyone in the crowd.
"I couldn't be here without you guys," Doshi told her assembled industry peers.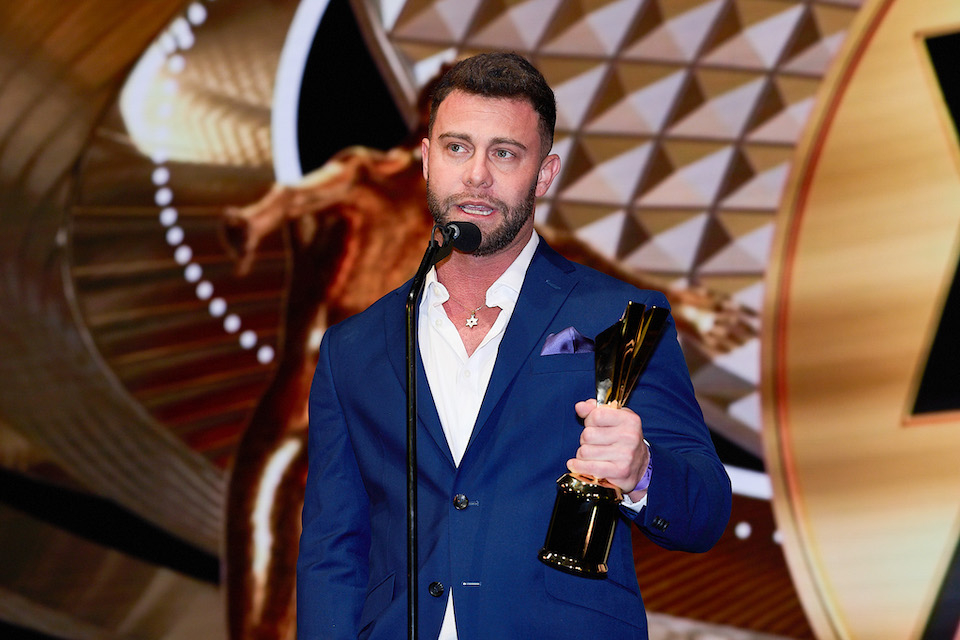 Director of the Year Casey Calvert then returned to announce the three remaining awards of the evening.
The choice of Seth Gamble for Male Performer of the Year was inarguable: dominating leading performances for several porn studios' high-profile features, directing and writing his own projects, and consistently delivering high-octane scenes both in gonzo and features in a variety of genres, Gamble has had an unbeatable year. Returning to the stage, Gamble thanked XBIZ and his wife, Kenzie Taylor.
"She calls me the Energizer bunny, cause I never stop," he revealed. "I want to thank every director I've ever gotten to work with in my career. Thank you so much — you make me a better performer. It means the world. Thank you for helping guide me throughout my career."
Gamble also thanked all of the performers in the room, especially the female performers. "You guys put your bodies out there, every single day. Thank you for trusting me to work with you and give you the best scene possible."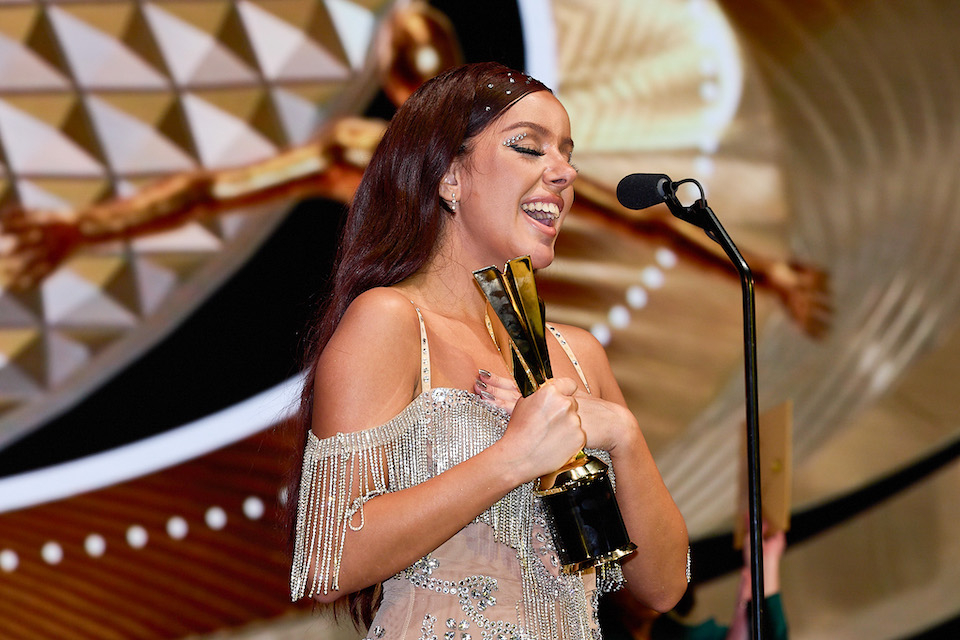 The Female Performer of the Year award went to the versatile, focused, hardworking Vanna Bardot, who in just a few years has achieved a reputation and respect among her peers that made her the standout choice in an always competitive field.
Bardot was stunned, slowly making her way towards the stage in a state of shock.
"What the fuck, guys," she blurted. "Holy shit. This is the kind of thing you only dream about when you first get in the industry."
Bardot thanked her agents at ATMLA, led by Mark Schechter, thanking them for "listening to all my hopes, dreams and ambitions when I signed with you guys." The new FPOTY also thanked all of the talents and directors she worked with, as well as her partner, fellow 2023 XBIZ Award winner Codey Steele.
It was time for the evening's grand finale: the overall Performer of the Year award. Instituted in 2021, the accolade is reserved for outstanding talent who excel as both performer and community figure, regardless of category. Casey Calvert stepped up to announce who would join past winners Dante Colle and Maitland Ward in this exclusive pantheon, the top of the top of the biz.
Calvert discarded the traditional envelope and spoke from the heart.
"Here's the thing, the person whose name is inside that envelope is someone who I'm so honored to call a friend," she said. "Someone who is a role model in this industry, someone who I look up to. Someone who's fucking killing it. And someone who is a ray of sunshine in this room. And it is my absolute honor, my absolute pleasure, to give Performer of the Year to Cherie DeVille."
The crowd erupted in a spontaneous outburst of applause that grew into a standing ovation for prolific performer, creator, writer, sex worker rights advocate and industry inspiration DeVille.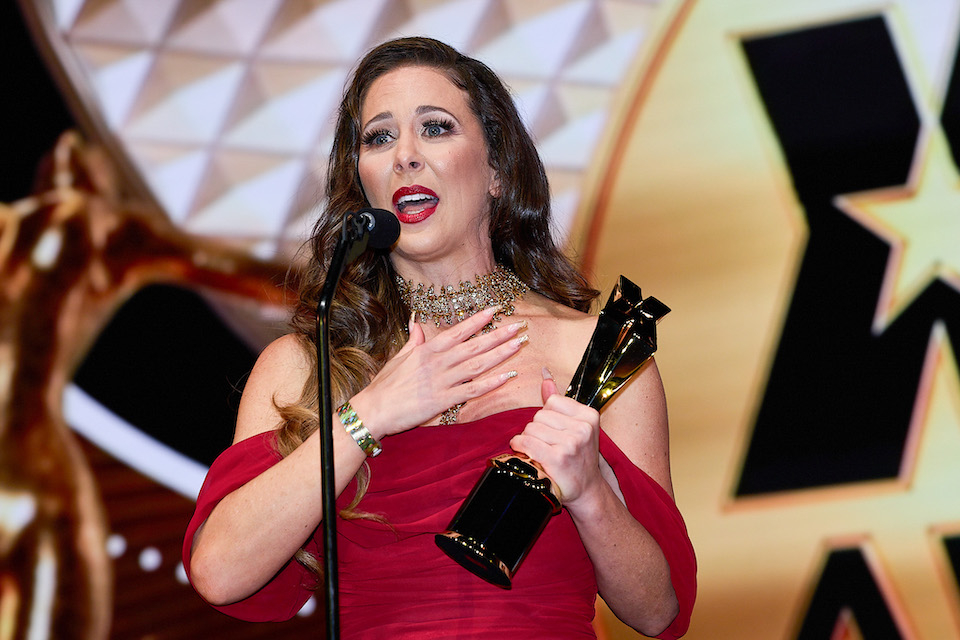 Radiant in a strapless, curves-hugging red gown and gold platform shoes, DeVille fought tears to take in the audience's admiration.
"I came into this industry at 32 years old," she shared, measuring her breaths, overcome by the moment. "Which was way too old to start, everyone told me, and I honestly cannot believe this is happening, not only for me but also for all the 'old ladies' out there in the audience. We still can fucking get it, and we can still bang like badass bitches, even in our 40s and 50s!"
Small Hands and Joanna Angel returned to close the show, reminding the audience, "You are all amazing, beautiful people and this is a fucking incredibly industry and I'm so proud to have been a part of it — since the 1700s!"
Before the scroll with the rest of the long roster of winners rolled, the hosts encouraged everyone to give themselves a big round of applause, and of course to hydrate — winking with sparkling cans of Liquid Death water in hand, a brand they represent.