LOS ANGELES — On Wednesday evening, the adult retail community across the globe tuned in to XBIZ.net for the retail edition of the 2022 XBIZ Honors, presented by Satisfyer, and shared in the excitement as their colleagues paid tribute to the success and accomplishments of the industry's leading brands and executives.
The evening featured an A-list roster of presenters that beamed in from all over the world to shower nominees with good vibes as they read off the names of executives, brands and products that were in the running for coveted XBIZ trophies. Standing before special landmarks, as well as from the comfort from their own homes, this year's presenters delivered heartfelt messages and some even went above and beyond with fun, creative skits all dedicated to the hard-working members of the adult retail community.
The livestreamed presentation kicked off with host Dr. Sunny Rodgers welcoming viewers to an evening that would honor the "innovative pleasure product creators, inspiring brand leaders and so many other MVPs that fortify this industry with their passion."
"We'd like to take a moment to acknowledge that 2021 was another life-changing year," Rodgers reflected in her intro. "We all had to quickly pivot again and find new ways to connect with one another and keep our brands growing and thriving. Our community remains as strong as ever despite having to overcome a barrage of obstacles such as limiting our beloved in-person training and ongoing supply chain issues that we continue to navigate. I am so proud of us and how we've all come together and support each other as we live through a challenging moment in history. The past couple of years have touched every aspect of our lives so we want all of you to know, we see you, we support you, and we are here for you when you need it."
The first presenter of the evening was Phoebe Grott, Nalpac's director of marketing and strategic partnership, who introduced the nominees for Luxury Pleasure Product/Line of the Year.
"Luxury pleasure products are known to be aspirational, design-forward and incorporating cutting-edge technology to elevate the user's experience," she said before Le Wand was named the winner.
COTR's Kim Faubel was on hand to accept the award, which she thanked retailers and distributors for.
"In a sea of endless options, including all of the amazing nominees tonight, it feels pretty damn great to be chosen," Faubel said. "Congrats to everyone winning tonight, everyone that is nominated."
With the city of Pittsburgh glittering in the background, Adult Empire's Chelsea McCain announced the nominees for Luxury Brand of the Year, noting the category's significance, "because, dammit, if we all don't need a little luxury in our lives," she said.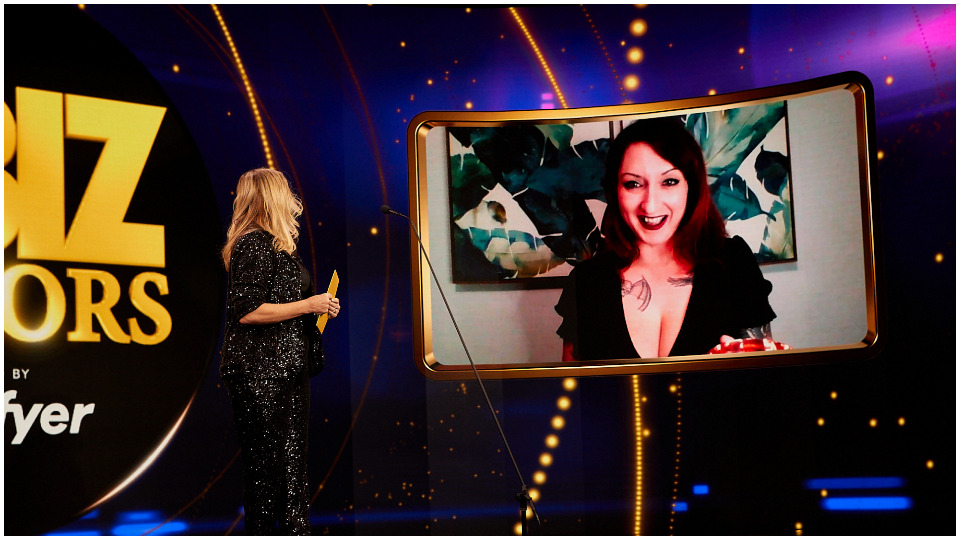 Na'ama Barson, LELO senior trade marketing and product education manager, accepted the accolade on behalf of the company.
"This is really quite an honor," she said. "Thank you XBIZ, thank you to all of our business partners that are out there, retailers, distributors and end consumers. We're grateful and this is an honor."
Showcasing a beautiful beachside Southern California sunset as her backdrop, 2020 Sexpert of the Year Ashley Manta announced the nominees for Retail Account Exec of the Year.
The winner, Museum of Sex's Kit Richardson, thanked her industry colleagues for their support.
"I could not do this without everyone's support," she said. "You mean the world to me, and you have been my biggest champions and I am eternally grateful for everything you have done for me — your mentorship and your support. Thank you so much this means the world."
Presenting the award for Pleasure Product Account Executive of the Year was Mason Luke, who wished for better weather "because it's freezing here in Harrisburg, Pennsylvania," he said.
The winner, Satisfyer's Mira Waidelich, noted that the win was especially significant as it is a first in her 16 years in the industry.
"I want to thank everyone that has helped me along the way, and I also want to thank Satisfyer for giving me a chance," she said.
All the way from France, Vincent Renou from Letsout presented the nominees for Boutique Pleasure Products Company of the Year. Clandestine Devices was named the winner as industry vet Lulu Shwartzer appeared on screen with her signature crimson-colored hair sleek and stylish over her sequined grey top.
"Thank you XBIZ, distributors and to our retailers," she said. "Thank you, Ashley, for bringing me onboard. We make such a great team and he's the best boss in the world. Also, to Kim and Jade, my predecessors. Thank you all, we are all so grateful."
The next presenters were a vibrant duo with a fun introduction to the nominees for LGBTQIA+ Pleasure Product Brand of the Year.
"I'm Tony, aka Mike, and this is my wife Shani and we're the owners of Hart's Desires Erotic Boutique in Washington, D.C.," Mike Hart said, explaining how they initially planned to announce the nominees from the Martin Luther King Jr.'s memorial, but the weather prevented them. Shani Hart said that the reason was because of "a lost segment of Martin Luther King Jr.'s 'I have a dream' speech" that went "a little something like this," she said impersonating the iconic civil rights activist. "I have a dream that people of all races, genders and sexual orientations will be able to purchase 15-inch dildos, packers of every hue and size, and the slickest of lubes for all bodies, pleasures and desires."
When Mike questioned the validity of the unearthed speech, Shani defended with, "He was very forward- thinking!"
NYTC was named the winner for LGBTQIA+ Pleasure Product Brand of the Year with company founder Chelsea Downs accepting the trophy.
"This is a great honor," Downs said. "I can't wait to be there with all of you so we can all share this moment together. Thank you to everyone that paved the way."
Adam Hasner and Megan Swartz then appeared in a telephone conversation, with Swartz telling her future co-host of the XBIZ Honors ceremony that she's already practicing her lines. However, Hasner humorously reminds her of their current responsibility of presenting the nominees for Excellence in Product Packaging.
"We want to wish all of the nominees good luck and huge congratulations to everybody," Swartz enthused. "We're excited to be a part of the show. Congratulations to Sunny — great job running with those hosting duties on just a moment's notice. 2023, we're coming!"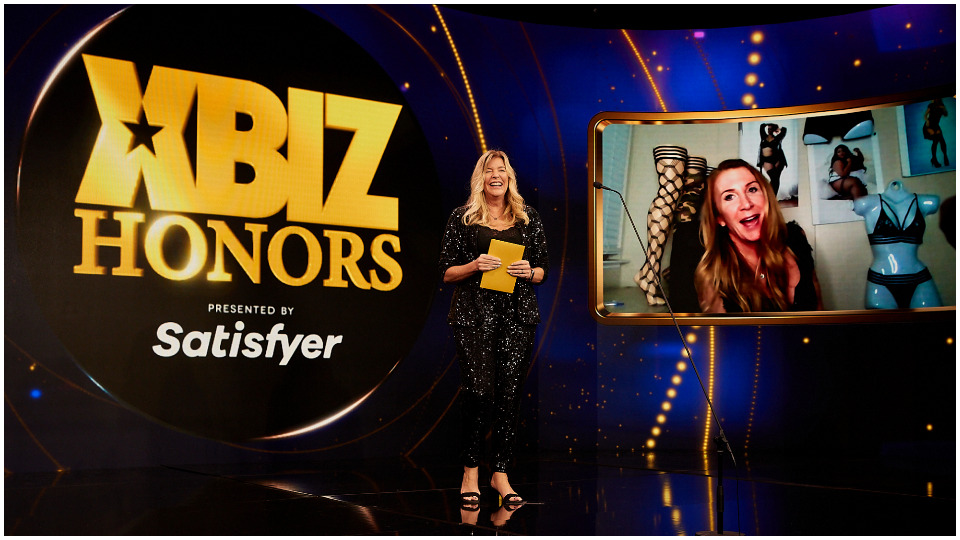 From the famous Broadway theater district in New York City, Rebecca Pinette-Dorin from Exsens presented the nominees for Lingerie Brand of the Year. She said, "which is strange for me because most days I don't even wear a bra! I guess they wanted someone impartial, and they got it!"
Kix'ies founder Samantha DeMartini was surprised by the win and thanked her supporters.
"The last couple of years have been tremendous years of growth for us, and I'm grateful for our amazing customers and supporters, team. Thank you so much and cheers to a fantastic year for everyone."
All the way from Spain, MyHixel's Patricia Lopez Trabajo acknowledged the valuable role of marketing execs as she read the nominees for Marketing Exec of the Year.
"You guys are the power behind the brands," she said.
Nalpac's Phoebe Grott was announced as the winner. She thanked and credited her team for her success and reflected on her career mission.
"I entered this industry with the belief that pleasure is a birthright, and pleasure has the capacity to change the world," she said. "I'm delighted to be on this journey with so many amazing like-minded people. Thank you to Nalpac's owners Andy and Steve Craig for inviting me to join their team and support them in their vision for the future of distribution. Thank you to Nalpac's customers and vendor partners for your support and your business. Thank you to XBIZ for bringing us together as an industry to celebrate what we do."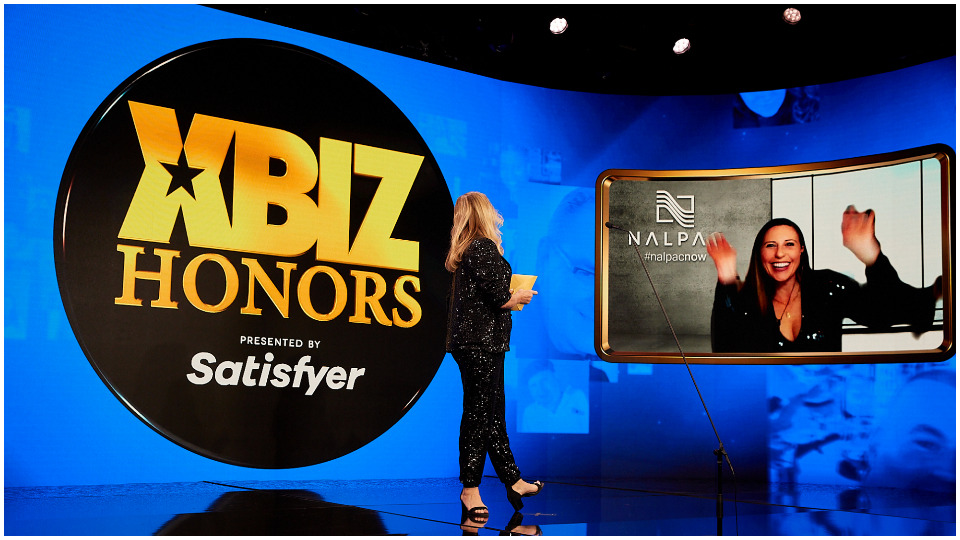 Standing in front of a dated Christmas tree, COTR's Kim Faubel was on hand to announce the nominees for the Progressive Leadership Award. She jokingly pointed out that, "time is a construct just like virginity or the correct pronunciation of people's names or happiness — it's not real, and the sooner we can all start recognizing that the sooner we can all start making real changes and challenging the norms."
Wishing the nominees luck, Faubel reminded them that they don't need luck because they're already doing the right thing.
The winner, Enchantasys' Kim Patterson, said she didn't think she had a chance of winning.
"With all of the people that were nominated, I was happy to just be among them," she said. "We have a great crew and the entire industry."
Stephanie Berman, founder of POP Dildo and director of brand development for Tantus, presented the nominees for Fetish Line of the Year "from crazy-cold Massachusetts."
MasterSeries by XR Brands was named the winner with company president Rebecca Weinberg appearing onscreen with Josh, Sarai and Priscilla from her team.
"Thank you, guys, for the wonderful support for our Master Series and for believing in us," Priscilla said.
Alejandra Preciado from Fantasias Boutique in Tijuana, Mexico took to the streets of the lively city south of the border to announce the nominees for Business Development Exec of the Year.
Nancy Cosimini from Blush Novelties was declared the winner.
"I am so honored and humbled to have been nominated along with such an amazing group of people and to be winning tonight," she said. "It could not be a greater honor than to be in this industry with all of you as we continue to grow."
PriveCo's Tom Nardone, a former Community Figure of the Year winner, announced this year's nominees.
"These are the people that make our industry look great to the general community," he said. "I'm a past winner of this award and it gives me extra pride to announce this list of people that are friends of mine."
Kate Kozlova, who is the West Coast sales representative for Svakom as well as a sex educator with a sex-ed YouTube channel, was named the winner. Having worked in the adult retail industry since the age of 18, she said that she's happy to see the industry's progress.
"It's a pleasure to be a part of this industry and a part of this community," she said.
Morgan from Dame Product announced the nominees Sexual Health and Wellness Brand of the Year with Aneros taking home the trophy for the third year in a row.
"We're so fortunate and very proud that many people are recognizing our work effort and determination," Aneros' Brent Aldon said. "Thank you, retailers, distributors and everyone down to the consumers for helping us to spread the awareness about sexual health and removing the stigma surrounding these products."
Magic Silk' Blanca Estrada-Gonzalez, "the panty pushing jockstrap slinger" announced the nominees for Comdom Company of the Year with a short tour of Fort Collins, Colorado, where she shared some local highlights such as its craft beers, and "Debbie Duz Donuts" — a one-time topless doughnut shop that Estrada-Gonzalez pointed out "divided the city back in the '80s."
Dennis Paradise accepted the award on behalf of his company Paradise Marketing.
"It's always nice to be recognized for what we try to do best every day of the year," he said. "Thank you to the industry for supporting us for so long."
From downtown Los Angeles, Pipedream Products' Rob Phaneuf presented the nominees for Brand Ambassador of the year, noting the role requires a "rare breed of individuals are passionate about pleasure products and champion their brand at every turn."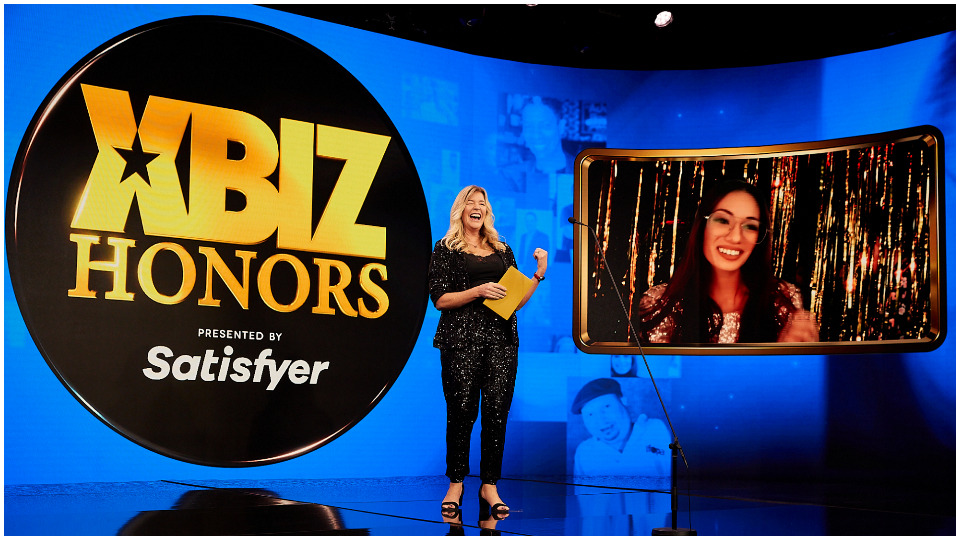 Jade Leon-Buchan from Sensuva thanked her colleagues and supporters.
"Thanks Tony and Ron for allowing me to share your company with everyone," she said, also thanking her husband for allowing her to turn their living room into a Sensuva booth for virtual trade shows. "Thank you to my work wives Patrice, Tracy and Char, you guys give me motivation every single day."
With a frozen, snowy lake situated in Salem in Southern New Hampshire, Global Novelties founder Autumn O'Bryan announced the nominees for the Senior leadership Award.
"This Senior Leadership recognizes those individuals with the outstanding ability to motivate, inspire their teams and all of these nominees certainly do that," she said.
The winner, Doc Johnson's Scott Watkins dedicated his award to recently retired industry vet Jackie White from CalExotics.
"I want to take this time to really thank one of my mentors Jackie White," he said. "You have shown all of us how to be leaders and this award is dedicated to you. You set the platform as a woman of color in this industry. You have shown all of us how to be bigger and better."
Clandestine Devices' Lulu Schwartzer saluted the nominees in the Home Party Company of the Year as she announced the winners.
"Having done home parties myself for many years, I definitely know how hard they all work to get here," she said.
Bedroom Kandi Boutique Parties was named the winner with Rita Silva-Grondin thanking the company's "dedicated sales leaders out there living the Bedroom Kandi mission."
"I want to thank all of our consultants for their incredible effort over the past year that has made this possible, our product creators for the excellent products and of course our [home party] hosts and customers who trust us to be in their homes."
Satisfyer's Melody Cazarin presented the nominees of Online Retailer of the Year — Boutique from Buena Park, California in front of the Knott's Berry Farm theme park. BBoutique.co was named the winner.
"On behalf of myself and everyone at Bellesa, thank you," said Michelle Shnaidman, the founder and CEO of Bellesa.
The XBIZ Honors awards ceremony then took a moment to recognize and salute the members of the adult retail industry community who passed away in 2021 — Larry Flynt, Phil Harvey, Dave Lampert and Michael Warner.
Following the memorial tribute, Stephanie Ingram from WOW Tech — standing in front of a mountain of snow in a neighborhood in Ottawa — announced the nominees for Sex Lubricant of the Year.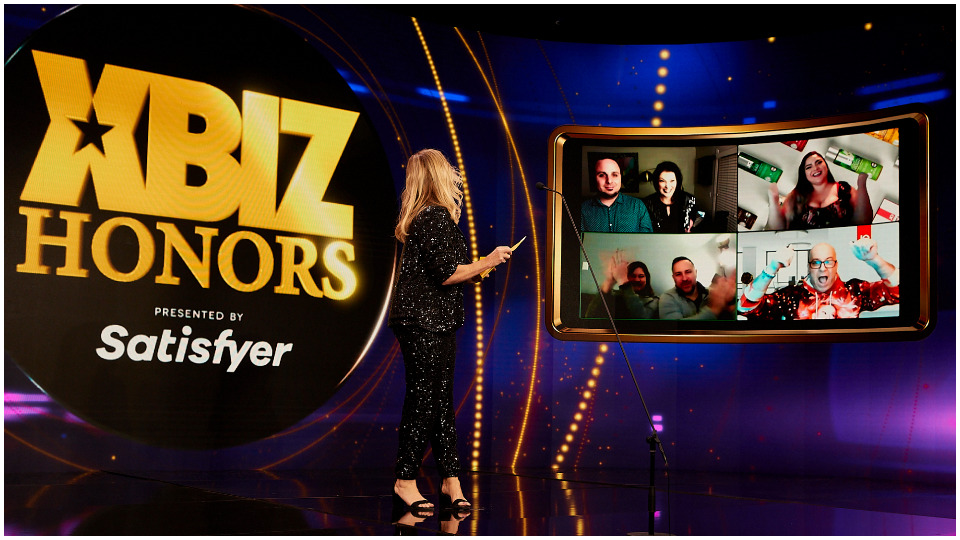 The System Jo team appeared on screen together to accept the award.
"Thank you everybody here — there is no sex lubricant company if there are not people out there that care about sexual health and wellness," System Jo's Tori McCrobie said. "Thank you, my team at System JO. Sell a lube with every toy guys!"
Leading up to announcing the nominees for Sex Enhancement Product of the Year, Oxballs' Ryan Fraga complimented the industry's ability to adapt.
"Thank you to everyone that has forged ahead and found new and creative ways that have helped us to stay connected in these times," he said.
Stimulating Sensual Oil by High on Love was named the winner.
"Thank you to my team and especially Donna Faro for really being there for me during these couple of years of COVID," High on Love founder Angela Mustone said.
Feelmore's Nenna Joiner headed to the Oakland-San Francisco Bay Bridge to announce the nominees for Sex Educator of the Year, which was awarded to Amy Baldwin, who's one half of the "Shameless Sex" podcast duo with fellow sex educator and industry vet April Lampert.
"Thank you so much everyone, what an honor with so many amazing educators and podcasters on this list," she said, "I have to thank my girl, Chip aka April Lampert. Most of you know me from the 'Shameless Sex' podcast and I have to say that as a sex educator, the podcast has been the most rewarding thing I've ever done in my sex education career."
The Chief Exec of the Year nominees were announced by Viben's Char Lopez with city lights behind her and purple glittery Minnie Mouse ears. Nasstoys' Elliot Schwartz, an industry pioneer, was named this year's winner.
"Watching this awards show, it's amazing to see," he said. "I started in this industry in 1975 when most of you people weren't even born, so I really feel wonderful that the industry is in a great place. I'm very proud that I'm in this biz and everyone in it."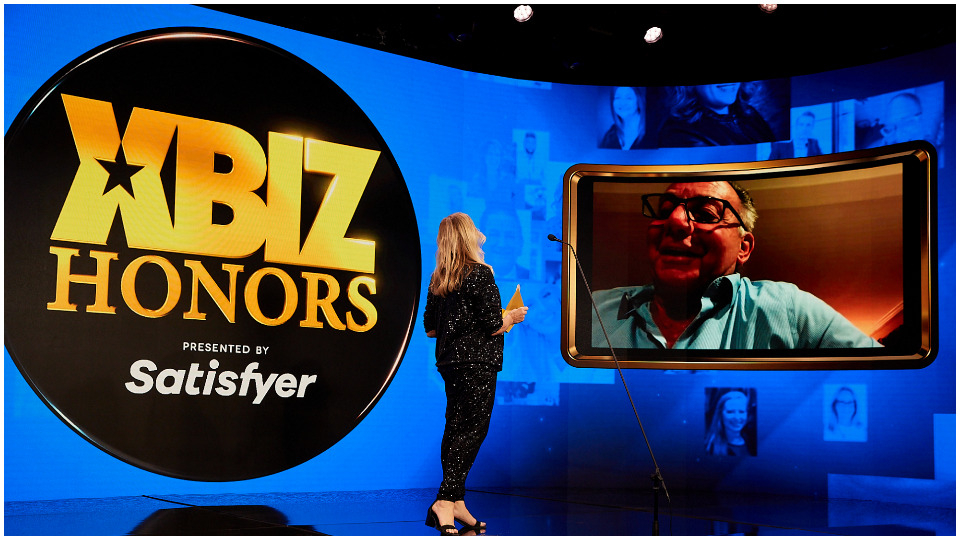 Raven Faber, CEO and founder of EngErotics, then appeared on screen in front of a snowy University of Colorado, her alma mater, where she read the nominees for Online Retailer of the Year.
"The following online retailers represent the best in the business of pleasure, putting sexual wellness products at the fingertips of consumers in the digital realm all across the globe, allowing them to level up their intimate lives despite the continuation of the global pandemic of 2021," she said.
Pinkcherry's Amanda Rossignol thanked customers and vendors for their support.
"We had a groundbreaking year last year and we couldn't have don't it without all of our amazing vendors, loyal customers and of course the incredible team at Pinkcherry that make everything possible," she said.
To present the evening's first of two Legacy Awards was Brent Aldon, director of sales and marketing for Aneros, who made an appearance from "the big D," aka Dallas, Texas. The recipient was Jiro Takashima, who created the Aneros prostate massager — "a product that not only revolutionized the sexual wellness industry, but the health industry as well," Aldon said. "Within over two and a half decades, he has helped thousands of individuals with health issues. This same device also helped millions of people have better orgasms. Today his invention is known as the original prostate toy, and his company is known as a pioneer."
In a video message, Takashima offered an acceptance speech in Japanese.
"When I came to America 50 years ago, I could never have imagined that I would be here today receiving the XBIZ Legacy Award. I am so surprised and honored. Life is truly full of surprises. Thank you very much.
Amy Sung, the executive director of Aneros and daughter of Takashima, also offered a tribute to her father's hard work.
"My father has always been a problem solver," she said, telling the story about how Takashima took it upon himself to learn how to build a home for his family.
"It took three years, and the house is still standing today," she noted, adding that similarly, his creation of the first Aneros prostate massager was his way of solving a health issue he had been made aware of.
"He never expected a company like ours arising from this idea and certainly never set out to create a whole new category of pleasure products," Sung said. "He just wanted to solve a problem."
The second 2022 Legacy Award was presented to CalExotics' former Executive Vice President Jackie White by CalExotics founder Susan Colvin.
"When you think of the women who helped shape this industry Jackie is at the top of the list," she said. "She is the true essence of what this industry embodies. Her bold ideas, strong passion and her don't-take-no-for-an-answer attitude paved the way for so many to follow and will be her lasting legacy. Not only is she hard-working and extremely dedicated, but she also is loved and admired by so many.
"Jackie is truly the bright shining star for everyone in our industry whether you worked with her at CalExotics, were a customer, a friend or were new to the industry Jackie treated you with dignity and respect and always offered a helping hand," Colvin added. She then shared a message on behalf of White, who thanked colleagues for their partnership and friendship throughout her nearly 30 years in the industry.
Lolakat, a brand ambassador of System Jo, announced the nominees for Sex Toy of the Year ­— Powered/Vibrating with a beautiful bay at sunset as her background.
"If you are from a company that made the short list of nominees, kudos — your work ethic, innovation and collaboration are already self-evident and every one of you is deserving of high praise," she said. "On a personal note, vibrators are probably the No. 1 reason why I found myself toying with the idea of a full-time career in sexual wellness, so thank you from the bottom of my heart — not only on behalf of all the consumers that have been fortunate to bring home one of your toys and enjoy the fuck out of it, but also from me because you've been instrumental in my journey as well within the industry."
Kurve by Hot Octopuss was named the winner with April Lampert accepting and expressing love for all the colleagues that she's missed seeing in person.
"Seeing everyone's acceptance speeches and being a part of this beautiful digital ceremony has been incredible," she said. "To all of our nominees, we need to keep the sexual revolution going and making sex toys that have the ability to change people's lives. We have orgasms in our hands! I want to thank Hot Octopuss' founders Adam Lewis and Julia Margo because they are making sex toys revolutionary and I want to thank the industry because all of you are changing people's lives."
Denise Young from Blush presented the nominees for Sex Toy of the Year — Non-Powered from a scenic Columbia River Gorge in Portland. Pipedream's Icicles No. 86 with Suction Cup was named the winner with the company's sales team on hand to accept the award
"On behalf of Matthew, Kristian and the entire Pipedream team, thank you to our partners, distributors and retailers. Icicles glass With the silicone suction cup, there's nothing else like it."
XR Brands' Josh Ortiz appeared in front of a mural in historic Black Wall Street in Oklahoma to present the nominees for Retail Chain of the Year. Deja Vu Love Boutique was named the winner with Megan Swartz getting emotional while accepting the accolade.
"As my 20-year anniversary is fast approaching, I'm happy to share this award with my team," she said. "I'm very proud of the company I work for. I'm lucky to have operators that gave us the creative freedom that they do. That, for me, has contributed wildly to my growth in this industry and I will forever be grateful for that."
She tearfully thanked the "rock stars" who part on her team, and founder Harry Mahoney, who she credited for teaching her so much and contributing "to fight dozens of legal battles for 50 years so the industry could prosper."
Rob from Boneyard Toys presented the nominees for Distributor of the Year from a salacious landmark.
"I'm on the corner of Courtney Avenue and the Sunset Strip," he said. "This is the exact site of one of Hollywood's sex scandals. This is where Hugh Grant and Devine Brown got caught having public sex in the backseat of his car."
Holiday Products was named the winner with Susanna Molina accepting the award.
"As the big boss would say, you're only as good as your team and we have a really great team," she said.
Hustler Hollywood Senior Buyer Signe Jarvis presented the nominees for Pleasure Products Company of the Year — Full Range. Satisfyer's Melody Cazarin and Mira Waidelich returned on screen to accept the brand's second award win of the night.
"I'm so honored to accept this award on behalf of Satisfyer," Cazarin said. "We really had an amazing year with so many fantastic product launches and expanding our line with new sensations and breaking down barriers with our Satisfyer Connect app. We truly believe everyone deserves access to pleasure."
Conde Aumann from Screaming O was the evening's second to last presenter of the evening. She stood in front of the iconic Queen Mary ship in Long Beach, California to present the nominees for Businessman of the Year.
Award recipient Oscar Heignen, from Shots, shared his gratitude in an acceptance speech delivered while on a family vacation.
"Thank you, customers, and thank you to the Shots crew because without you I would not be Businessman of the Year," he said. "All of you are businesspeople of the year — especially [Shots America CEO] Ruben Dietz, this award should go to you."
Parked in a tunnel at the border between New York and New Jersey, Vibratex CEO Ken Herskovitz, appeared in a stressful-yet-humorous traffic situation complete with honking horns and flashing police lights in the background.
"Tonight, I couldn't be more proud to present Businesswoman of the Year which is the only job I haven't had in this industry … yet," he joked. "All this year's nominees are true legends and the work that you've done to move our industry forward is unmeasurable. We see you and we appreciate you."
Briana Honz Watkins from Swiss Navy was named the night's final on-screen winner. Shaken with excitement, Watkins thanked the fellow nominees in her category, her husband Scott Watkins, her family and her Swiss Navy team.
"I could not be more thankful to the team that I'm surrounded by," she said. "You guys lift me up every single day. You empower me to be the best version of myself in every way. Thank you to Ralph, the owner of Swiss Navy, who brought me on to lead his entire company and let me spread my wings and fly to take his company to the next level. We're just getting started."
Despite the XBIZ Honors not returning to an in-person ceremony this year, this year's virtual presentation proved to be just as personal, emotional and fun for all who tuned in to celebrate each other's success from a distance.
To relive the excitement of the virtual presentation of the XBIZ Honors, check out the photo gallery here. For the complete list of XBIZ Honors winners, click here.