LOS ANGELES — Last week, the ANME/XBIZ show — the biggest virtual expo for the pleasure products and retail industries, which was sponsored by CalExotics, Doc Johnson, Nasstoys, Pipedream, Satisfyer and Penthouse — rounded up leading manufacturers and up-and-coming brands for a spotlight on the latest developments in product design and tech.
Satisfyer's Ian Kulp reflected on the importance of sponsoring the groundbreaking event, noting that it's not only important for the company to champion its own mission, but to advocate for the category at large.
"Events like ANME/XBIZ provide customers meaningful access to a vast network and wealth of information to drive our collective success," he told XBIZ. "We are proud to sponsor this fantastic opportunity for us all!"
The highlight of the ANME/XBIZ show for Kulp, like many event participants, was the ability to connect with partners, colleagues and friends. ANME/XBIZ provided a sense of realignment, as participates sought "to recreate that 'in-person' experience now absent, given today's global climate," he said.
Satisfyer also made use of the global platform to showcase its latest and greatest innovations, including its award-winning Satisfyer Connect app and family of enabled products.
"Satisfyer's mission is to help consumers unlock their full sexual potential," Kulp said. "Access to affordable, premium sexual wellness products is key, so ANME/XBIZ IS a critical opportunity to connect with customers and to raise awareness of our brand and product line. We also aim to be a resource of information beyond just products, so we were pleased to host webinars with our director of education, Megwyn White."
Throughout the week of ANME/XBIZ, Satisfyer also kept things exciting with daily giveaways.
On the eve of the first official day of the ANME/XBIZ show, participants met up virtually for a welcome happy hour to start to get acclimated to the platform and explore the multiple "floors" of vendor booths and meeting areas. The next day would kick off a week of daily scheduled meetings, along with daily special events and panel discussions.
The first official day of the ANME/XBIZ show featured a morning session of Chat Roulette, which would randomly pair up attendees for a quick chat to get everyone warmed up for the next few days of networking.
As scheduled meetings continued into the afternoon, the 2-Minute Product Pitch session showcased a variety of the participating vendors, with the execs behind the brands taking various approaches to their presentations.
Companies like Hot Flowers, WOW Tech, NuSensuelle, Pipedream Svakom and Alexander Institute showcased product-focused videos, while CalExotics shared a video that showcased the company's history and its pioneering founder Susan Colvin. COTR's Kim Faubel offered an overview of the brand, highlighting the bestsellers from COTR's Le Wand and b-Vibe brands, while System JO's Gerald Martin discussed the expansive range of the brand's lotions and potions. In particular, Martin highlighted the unique flavor offerings that System JO has created.
"I always say that there's no such thing as the perfect lube, but among System JO's 200 SKUs, there's sure to be something that is perfect for you," he added.
The 2-Minute Product Pitch session introduced viewers to several new and established boutique pleasure products brands, including Joyboxx, Dame Products and Uberlube.
Cheryl Sloane introduced Uberlube as a luxury silicone lubricant.
"We make just one product, so we have no choice but to do it well," she said. "We're a small company doing big business."
Sloane highlighted that the company handles all of its U.S. distribution from its factory warehouse, which is located near Chicago. "We love working with retailers, we love to support retailers, we love to give out T-shirts, posters whatever you need," she said.
In her presentation, Dame Products' Emma Rooney shared background info about the female-founded company, while showcasing upcoming releases, which includes a suction toy and stimulating serum. "We create tools to address the pleasure gap — Arc is our first internal vibe that also offers external stimulation. It has been a great quarantine seller for us."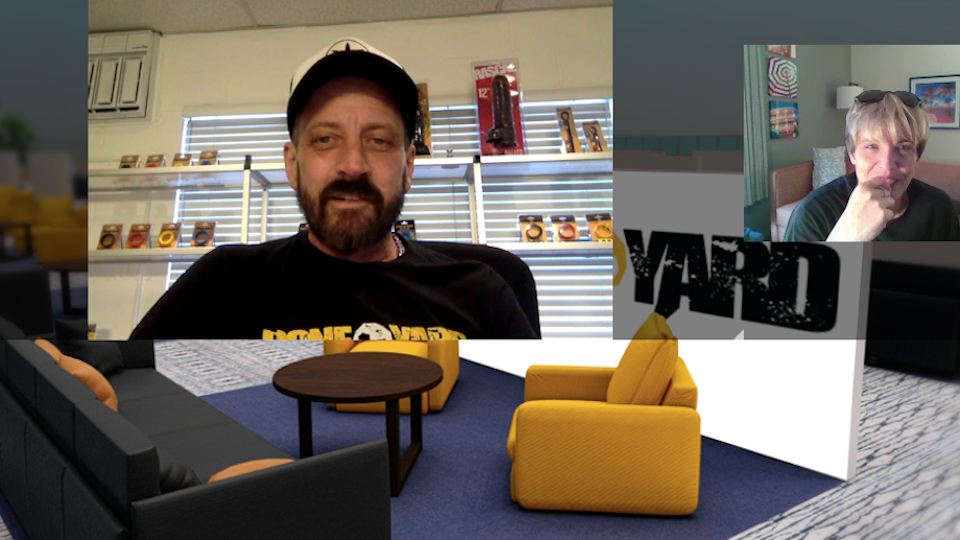 Rob Reimer introduced Boneyard Toys as a men's boutique brand that's known for its original designs, including the Skwert line that includes five attachments that can transform water bottles into douches or lube dispensers. Boneyard Toys' latest addition is the Popper Topper, which can also be sold as an Aroma Topper.
"The Popper Topper falls into the same category of bottle topper," Reimer said. "It turns it into one-handed flip top."
The 2-Minute Product Pitch session also introduced viewers to unique new offerings such as the balldo, EroSpa and the Handy.
"When was the last time a new genre in sex was invented?" said Jerry Davis, Nadgerz CEO and the inventor of balldo. "Well I think we've done that, we've invented — or at least facilitated — ball sex with the 'balldo.'"
Davis highlighted how the balldo acts like a sling to turn testicles into a projectile that allows for penetrative sex.
"It can create a male ballgasm by the rubbing of your nuts on the inside of an orifice and also from the natural thrusting motion," he added, noting that the "penis not being touched creates unique, bizarre orgasm."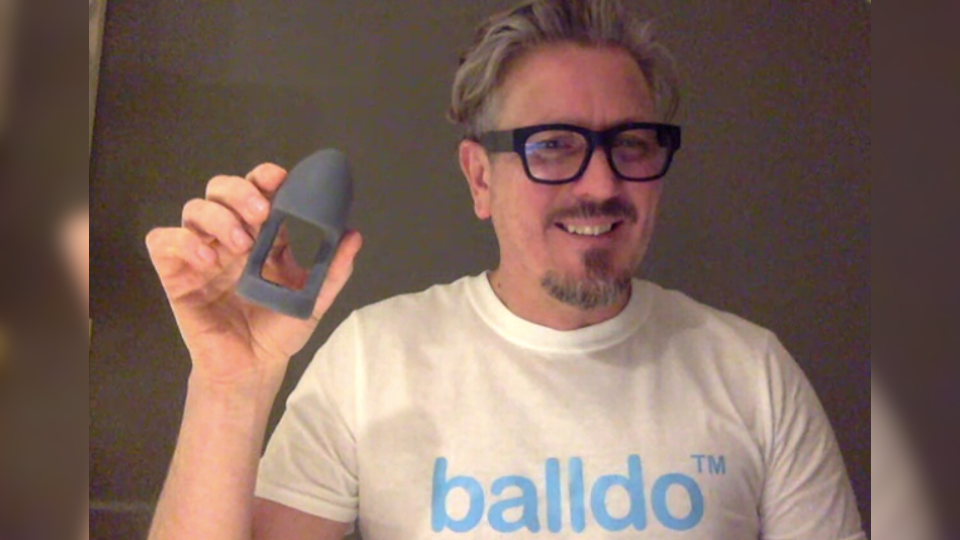 EroSpa has manufactured fragrances for hot tubs for over 15 years, with the company's owner Lorette Kalender having over 20 years of experience in the spa industry.
"There's over 200,00 spas that are sold in the U.S. every year and most people buy their hot tubs generally for therapeutic purposes but what they don't realize is that once they bring that hot tub into their homes, next thing they know they have friends over and that hot tub is actually being used for other purposes," she said. "No one else in the adult industry sells fragrances specifically designed for hot tubs and jet baths. We've sold more than half a million units across North America of our crystals and our liquids. Our products are safe for hot tubs, it doesn't damage pipes and it doesn't change the water chemistry of the hot tub, and anyone that owns a hot tub knows that the water chemistry is important."
Sweet Tech's Jens Petter Wilhelmsen introduced the Handy in the 2-Minute Product Pitch, announcing that the company is eyeing the U.S. market. He described how the Handy works: "You put your penis into the sleeve that comes with the Handy or any other manual sleeve that you have in your store, and it goes up and down.
"Basically it's totally variable," he added. "So, this automatic stroker focuses on three core elements — grip, power and speed. With the grip, this is a one size fits all solution, where you can actually adjust the grip to your liking — that means that no matter the size or shape of your penis, you'll be able to use the Handy. Then, there's the power — which gives you up to 600 strokes per minute, so no matter your preference you'll find a speed that's to your liking. In addition, you have variable stroke lengths, which extend up to 11 centimeters. Last but not least, this is a smart device, meaning it IOT friendly."
Following the hour-long session of two-minute presentations, it was back to virtual meetings between vendors and buyers. In the evening, several ANME/XBIZ participants gathered virtually during the COTR-sponsored Happy Hour, where colleagues shared laughs and memories of in-person gatherings and business travel mishaps that are now being missed amid the pandemic.
In COTR's virtual showroom, the premium pleasure products manufacturer showcased a new collection of jeweled butt plugs in jewel-themed colors like aquamarine, emerald and amethyst.
"Jeweled butt plugs are an easy sell, but are now rechargeable and have all of the b-Vibe features such as the remote control and skinny flexible neck," b-Vibe's Kim Faubel said, adding that the response from buyers has been "everything that [the company] hoped for."Another new addition from COTR was Le Wand's Little Pleasures Set, which initially debuted as a holiday drop but is now a permanent item.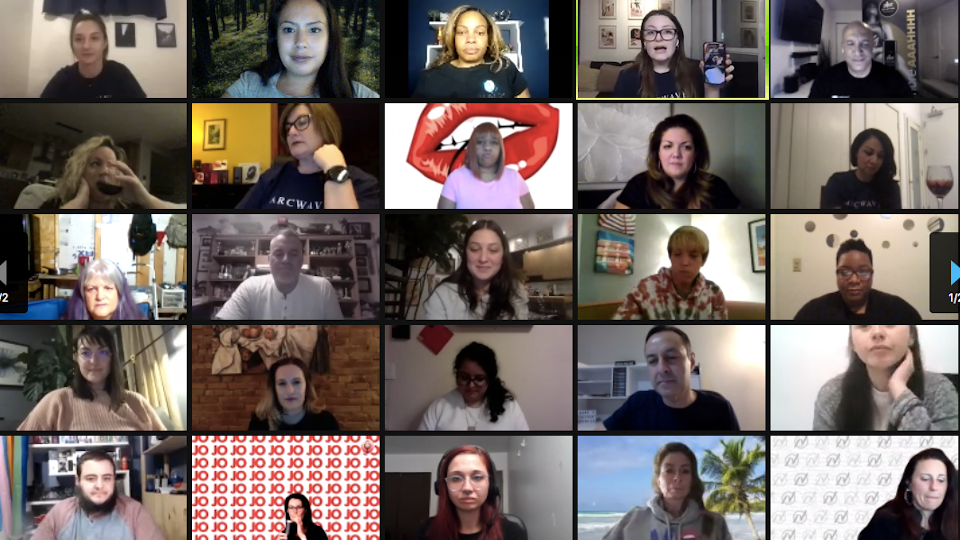 On the following evening, WOW Tech Group hosted a happy hour that featured an engaging round of Kahoot-style Two Truths and a Lie — an interactive game in which attendees were given multiple possible answers to questions related to sex, WOW Tech products and members of the company's North American sales team. The first, second, and third place winners were awarded with one of WOW Tech's newest technologies, the Arcwave Ion — which is billed as the world's first Pleasure Air stroker.
Catching Up With the Founders
Traditionally at the biannual ANME show, the main show floor is dominated by the event's founding brands — and the virtual reiteration of the event was no different, with the industry pioneers getting prominent placement on the virtual show floor to showcase their latest releases.
Listening to the demand for gender-neutral pleasure products, at ANME/XBIZ CalExotics unveiled its new Boundless collection, which was created to celebrate diversity in gender and sexual orientation. CalExotics' Nichole Grossman pointed out the collection's packaging that is emblazoned with various terms in honor of inclusivity.
"We're highlighting the infinite, vast possibilities of sexual and gender exploration," Grossman said. "That's what's behind the name of the collection, 'Boundless.'"
In addition to Boundless, CalExotics introduced various new items — including new additions to its popular lines, such as new California Dreaming vibes — the West Coast Wave, Monterey Magic, Santa Barbara Surfer, Tahoe Temptation and the Santa Cruz Coaster.
CalExotics also expanded its Naughty Bits line with the new Mwah lip-shaped massager, Squiggle Dick vibe and the Ménage Moi. The company also expanded its popular millennial-friendly line Slay with the addition of the #CharmMe vibe, the #ArouseMe, #SpinMe and #ThrustMe toy that comes with a remote control.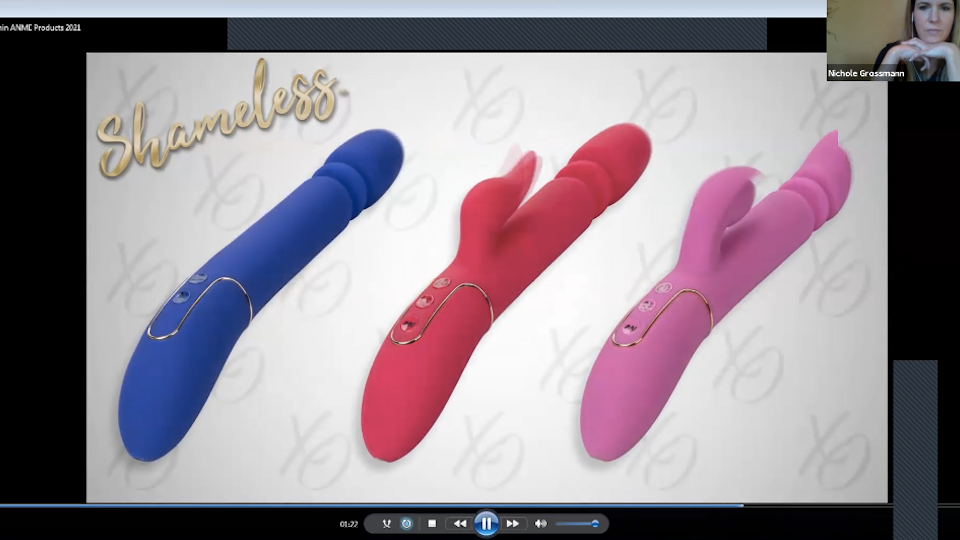 According to Grossman, the company's array of new releases is a testament to CalExotics' productivity amid the pandemic.
"Our fill rate is high and we always deliver," she said. "We pride ourselves on supporting our customer during COVID. We continued to produce new products because we want to be there to support our customers. We've done our best to be that solid manufacturer; and we're excited about these new releases."
Nasstoys showcased a more modest range of new releases compared to previous years. According to Nasstoys' Taylor Means, the company aimed to keep its new releases "manageable" so as to not overwhelm buyers and maintain its fill rates at 95-98 percent. Among Nasstoys' latest releases are new additions to the American Whoppers, including new uncircumcised dongs and new new skin tones to be added later this year.
"We incredibly had a record year," Means said. "We were fortunate that we have good partnerships in China that allowed us to stay ahead of the game. We were keeping our stock levels while others couldn't — we were in stock while no one else was, and as a result there were retailers that gave us a chance that hadn't before."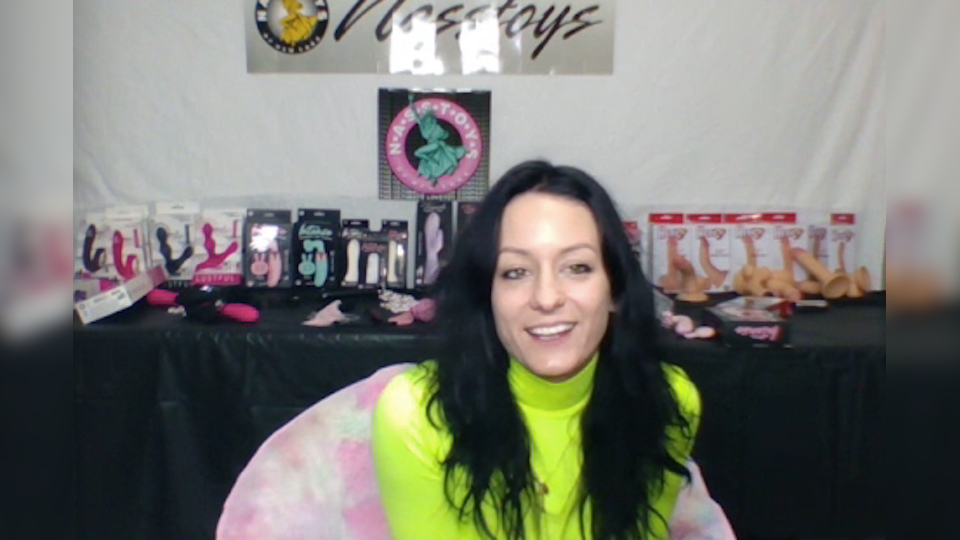 Doc Johnson's virtual ANME/XBIZ booth consistently welcomed visitors to explore the company's latest releases, which include new Main Squeeze and Signature Cocks molded from adult stars. Among the new additions to the Main Squeeze lineup are Adira Allure, Jenna Fox and Bridgette B. New Signature Cocks dildos of Seth Gamble and Ricky Johnson also were introduced.
Doc Johnson's catalog of new releases also includes a newly repackaged Signature collection of intimate cosmetics. The company's A-Play line of anal toys was also expanded to include a desensitizing gel, extra thick anal glide lube and new CBD suppositories. Also a part of Doc Johnson's Signature collection, the suppositories feature 100 mg of CBD.
Doc Johnson's Marketing Manager Thao Dipolito said that Doc Johnson's reps were on-hand throughout ANME/XBIZ to meet with clients and colleagues.
"It was great to talk to everyone," Dipolito said. "It's such a family-oriented industry that it was like a reunion. Even though we talk to them on a regular basis, it was fun to do it as a virtual expo. Our team participated in the event with a focus on getting feedback on our products and they were very well received. This year we focused on perfecting our existing lines as opposed to new stuff. We're honing in and perfecting what we have so that we stay making the quality that meets the demands of our customers."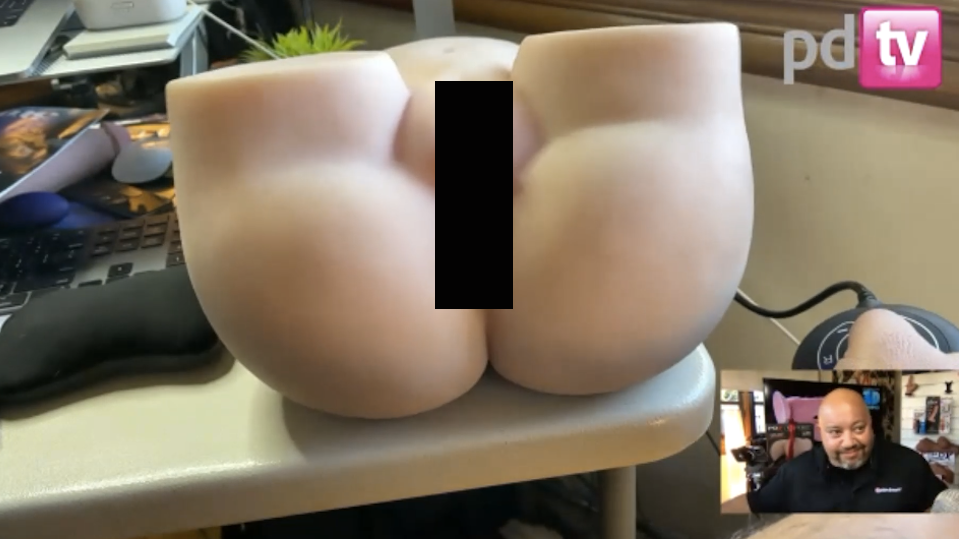 Having put a lot of effort and resources into virtual training, Pipedream Products was poised for success at the first-ever virtual pleasure products expo.
"I'm an advocate for this platform," Pipedream Products' Rob Phaneuf said. "We know that we have people's undivided attention, so we set up a whole studio that's perfect for presentations and be able to show what we do."
Pipedream introduced four major new releases — beginning with the Milk Me Silly Masturbator, which Phaneuf described as a "car wash for your cock." The 20-pound masturbator is shaped like a female lower torso that vibrates and twerks for a realistic sexual experience. Each ass cheek features dual gyrating motors.
Pipedream's Icicles collection now features its first-ever vibrating style, which are also rechargeable and come with a remote control and a suction cup base so that the toys can be used in the shower. The new Icicles feature 10 functions and multiple patterns of vibration. "So far, the collection's a hit — there's nothing else like it. It only took up 82 icicles to get here."
The company's new PDX Plus line also debuted, featuring 18 SKUs. According to Phaneuf, the new line is "for men that love and celebrate diversity of female anatomy." Lastly, Pipedream introduced its new Wall Bangers multifunction massagers — each of which features ridges, bulges and flared bases.
"They're made for couples, come with a remote and are made of silicone — that's what the line is all about, just like what was mentioned in the ANME/XBIZ panels as trending among consumers," Phaneuf added.
Trending Topics
With more consumers embracing the sustainability movement, pleasure product manufacturers are looking for ways to be more eco-conscious.
Global Novelties showcased its assortment of products, which includes a selection of 50 items with a dozen more in the pipeline. Global Novelties founder and CEO Autumn O'Bryan describes her line as fun and youthful. "They are competitively priced staple items meant that are meant to sell in volume," she said.
Although O'Bryan aims to sell her products in high volumes, this year she says that she's dedicating herself to helping the environment by leading by example with zero-waste packaging and encouraging other manufacturers to be more conscious of what they produce.
"I'd like to elevate the industry as a whole to be more eco-conscious — that's my goal for 2021," O'Bryan said. "I want to become a voice for encouraging other companies to take a look at the planet. Even the way people ship produces a lot of trash. If we were able to reduce waste by just 5 percent, it would make a big difference. We have to start worrying about what we're doing to the planet."
Joyboxx also has been taking steps to becoming more eco-friendly. Joyboxx founder Deborah Semer said that by reducing her product's packaging by a few inches and making it out of recyclable material, Joyboxx now has a carbon footprint of about 30 miles. The packaging features plant-based inks are LED-cured and meet OCC certification for 100 percent recyclability and repulpability. According to Semer, the packaging easily disassembles to make it easier to recycle — which is all part of the brand's "HOLE-listic design," she said.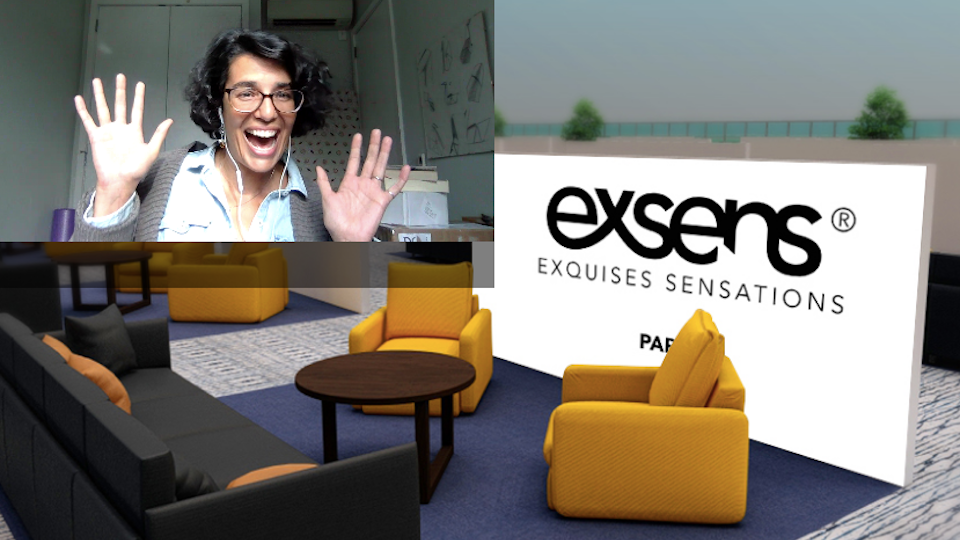 Exsens' Rebecca Pinette-Dorin also stressed the importance of being eco-conscious. She points out that a lot of packaging could be recycled if people knew that it sometimes requires removing caps and other parts.
"We have to make sure that everyone understands that people know what to do with products after use," she said. "A lot of cities don't have the man power to take about these pieces and that's how they end up getting tossed in the trash."
Pinette-Dorin participated in the ANME/XBIZ show to not only introduce buyers to the line of intimate cosmetics, which are made with European ingredients, but also to educate buyers on ingredients.
"We're really big on education," Pinette-Dorin said. "It's time for us all to educate ourselves."
Pinette-Dorin points to the company's website, Exsens-USA.com as a useful resource for learning about all of the most common ingredients found in lubricants. She says that with so many questionable lubricants being sold on Amazon, it's important for consumers to become educated — as well as retailers who may have to answer questions from customers that have previously had bad experiences buying lubes from untrustworthy sellers.
With the pandemic continuing to impact people's lives, hygiene products are currently all the rage. The Joyboxx, a hygienic storage case — which is marketed for storing everything from pleasure products to cannabis accessories, Semer says that pandemic has increased the demand for hygienic storage cases for everyday items.
"We've been non-stop busy," Semer said. "Business is up; we did insane numbers last year. Because of COVID, people are more aware about hygiene, and are buying lots of hygienic products."
The worldwide booming demand for hand sanitizer led to a creative gadget by Hot Flowers. In the background of the company's virtual showroom stood its branded hand sanitizer dispenser that recently went viral — a standing display of a male with a realistic penis-shape dispenser that squirts hand sanitizer into awaiting hands.
"That was the idea, to get attention," Hot Flowers' Alex Enumo said. "In terms of business, the show was beneficial. I met a lot of people and connected with a lot of people that I hadn't had contact with before. It's always good to meet with existing and new customers."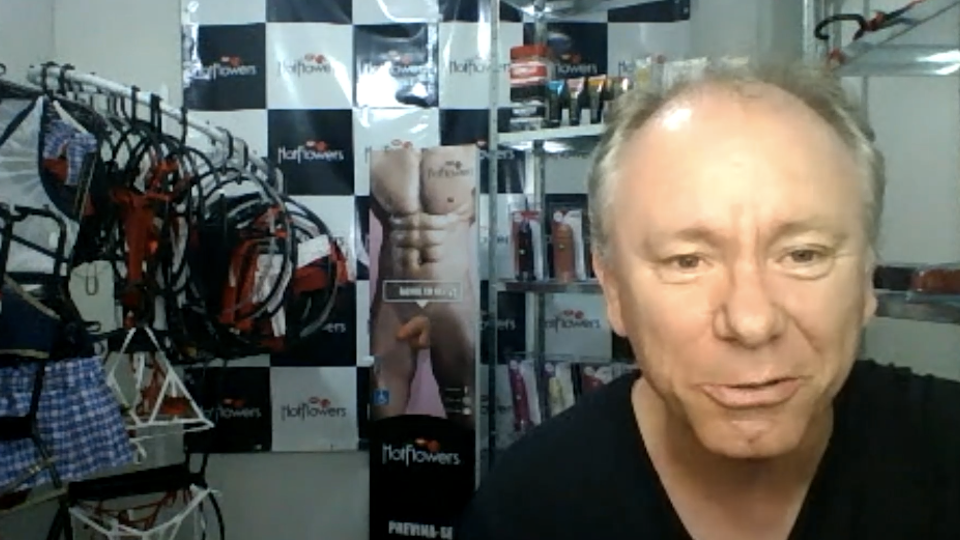 The hand sanitizer display was a limited run, Enumo said, adding that once they're gone, they're gone. At the ANME/XBIZ virtual expo, Enumo focused on the brand's new assortment of affordable pleasure products, which includes dildos and strokers that wholesale for around $12, as well as edible underwear.
"We're not trying to compete with the big players," Enumo said. "We don't want to compete with their high quality, however they're forgetting about the basic products."
New Brands to Watch
Before being named Woman of the Year at the 2021 XBIZ Honors Awards, Stealth Shaft Support's Nanci Smith was meeting up with buyers virtually in her booth. She told XBIZ that although her company has experienced a few bumps in the road due to COVID, "Things that I hadn't even thought about happening are happening," she said.
The Stealth Shaft Support offers a solution for those with erectile dysfunction, which can serve consumers worldwide. Smith says that she is looking forward to expanding her brand beyond the U.S.
"I'm going to make it worldwide — I'm going to get a map and stick pins in it to show all the countries we're in. We're going to be that worldwide. European distributors are already interested in carrying it."
Smith says that she carefully designed the packaging with retailers in mind.
"The packaging has universal appeal with images rather than words to explain how it works," she said. "The packaging can sell the toy all by itself."
EngErotics founder and CEO Raven V. Faber said that while 2020's challenges stalled her new company's growth last year, this year the company is making moves.
"Investment is a goal that we're working towards," Faber said. "We have several things going on — we're going to develop a few more products; we're working on handling own distribution."
Overall, Faber says that she is amazed that her company came out of 2020 as strong as it did.
"We're trying to grow and scale, and accomplish all the things we can," she said.
Viben, a new collection of wands, rabbits, remote-controlled vibes and bullets that's available exclusively from Honey's Place, made its debut at the ANME/XBIZ show. Charlette Lopez, the brand manager of Viben, said that the line is expanding and that the show served as a teaser.
"We have 13 SKUs and 10 unique female-focused products," Lopez said, noting that the items are all functional. "The panty vibe actually fits in a panty."
Other highlights, Lopez notes, include that a color palette that doesn't consist of industry standard colors. Additionally, the company turned to Lopez' retail background to incorporate useful details such as adding tags on the charging cords that not only features the name of the brand but the name of the product as well, so that customers know what toy the cord corresponds with.
"We're also focusing on contact-free selling," Lopez said. "We added a QR code to packaging that be scanned to take you to the website. It's a tool that offers images and more information."
Two years ago saw the introduction of PlusOne — a brand that's notably offered at mainstream retailers like WalMart and Target. The company participated in the ANME/XBIZ show to make adult retailers aware that the popular brand has exclusive offerings that they can offer in their stores.
"I'm excited to be here — it's our first time participating in this event," PlusOne's Elisa McDermott said. "For adult retailers, we have unique versions of PlusOne that aren't available in mainstream."
Among the products available for adult retailers are the Arc — a dual motor flexible vibe, as well as a G-spot vibe.
"The majority of buyers love the brand and know that they need to have it in their stores," McDermott said. "All of the marketing that we're doing is investing incredibly behind the message that pleasure products are good for you — we're spreading the message on sexual wellness benefits.
Design & Tech Innovations
Pleasure products are constantly evolving, introducing consumers to exciting new technologies and unique design features. Among the trendiest developments in sextech is the growing range of app-controlled toys.
For 2021, Svakom's Alexandro Feynerol says that the company is expanding its collection of app-controlled toys with the upcoming addition of a one-size-fits-all panty. Additionally, Feynerol says that the company is focusing more on men this year.
"It started with the Alex and the Neo [masturbators]," Feynerol said. "The sales of these items have skyrocketed. We feel like guys are very overlooked, so we want to create a full selection that allows everyone to purchase our toys —with different tier of prices available for all budgets."
Sex toy functions are constantly being refined, with today's cutting-edge brands adding carefully engineered features in their latest creations.
Hot Octopuss is expanding upon its Treble and Bass technology with the introduction of a new product, Kurve — which is also the brand's first internal vibe for vagina owners, said Hot Octopuss' April Lampert.
According to Lampert, the technology is globally popular, and has been built into Kurve to make it a "G-spot genius." Kurve also features a squishy head, weighted motors in the shaft, and user-friendly control functions on an easy-to-grip handle.
"The G-spot is like a sponge that's a mystery for most people," Lampert said. "This 'G-spot genius' helps people to discover it. The Kurve features an intuitive design that allows for hundreds of ways to customize it one's own body."
According to Lampert, Hot Octopuss gathered feedback from a diverse range of vagina owners, including those with disabilities, to ensure that Kurve offered an intuitive for all to enjoy.
Michael Cox, the director of sales for Fun Factory USA, was on hand at ANME/XBIZ to meet with buyers and introduce them to the brand's upcoming product release — N?s, a new cock ring that is set to arrive in April. The ring is being promoted with the tagline "better together" to highlight it as a couples' toy.
"The ring has two motors that take the vibration all the way through the ring to stimulate both partners, so that they can experience orgasms together," Cox said.
Cox pointed out that N?s features an oval shape that makes it beginners-friendly and offers a better fit on a penis. The vibrating ring features four speed patterns and a randomized pattern. Coming up later this year, Cox says the company will have two or three more new releases.
Among the various new products to debut at the ANME/XBIZ show was Inspiration, which was introduced by international brand Adrien Lastic. The app-controlled "double toy" includes a clitoral stimulator and a vibrating egg with built-in remote. Adrien Lastic's Jackie Richerson noted that both toys are fully submergible and are rechargeable.
Richerson addressed Adrien Lastic's efforts to manufacture products that consumers are mostly demanding, saying, "We did a lot market research to determine what people want to see. We always welcome suggestions for how to tweak of items.
The evolution of pleasure product design and tech has made better quality products more accessible. Pleasure product brands often tap into other industries to promote crossover.
Maia Toys is expanding its 420 line with a new line of dongs. According to Zach Smith, the brand's existing cannabis-themed toys rose to popularity quickly and are "all selling outrageously well," he said. To complement the company's embrace of the cannabis industry, Maia Toys also is donating a portion of its sales to Tokeativity, a global feminist community for women in the cannabis industry. "We hope that with our line we can help introduce cannabis consumers to the adult biz," Smith said. "Items like our Jessi 420 bullet appeal to a younger generation and can get people into an adult store that wouldn't have gone otherwise."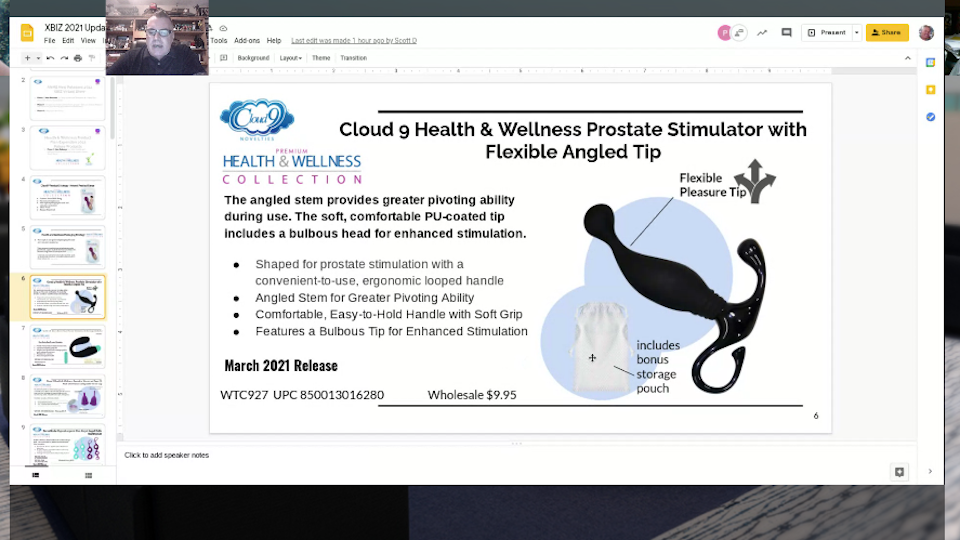 Cloud 9 Novelties aims to take a medical approach with its expanded Health and Wellness line, which features new products and updated packaging that is non gender-specific.
"The leaf symbol coincides with our Williams Trading University sexual health platform that's driven by education rather than product," Cloud 9 Novelties' Paul Reutershan said. "Our revamped packaging is more approachable to any gender."
The Health and Wellness line has several new additions, including the Rocker Prostate Massager With Perineum Massage, a rechargeable enema/douche, kegel balls, menstrual cups and more.
Similar to other companies in adult retail, Electric Novelties said that 2020 was the best year ever for the company. "We weren't sure what to expect but we had the best year ever," Electric Novelties' Zach Goode said. "December was best December ever for us — it was twice as good as our best month ever."
Among Electric's latest releases are the line of Power Cocks, which are rechargeable realistic dongs that are waterproof; as well as LuvDollz, which are large realistic torsos and other orifices.
"We offer them for $250 to $450 wholesale and we sold out of the first two shipments immediately," Goode said. "Our goal for the New Year is improving our fill rates, we're investing heavily in inventory."
Focusing on the needs of retailers is the name of the game for many manufacturers. Rock Candy Toys is working with retailers to bolster their sales with its easy-to-merchandise grab-n go displays, as well as plans to partner with its retail clientele in more ways.
"We're focusing on ways to work more with distributors and how to get more involved with them and retailers," Rock Candy Toys' Tracy Leone said. "We're being more aggressive with our retail partnerships, but are also including distributors."
Leone said that at ANME/XBIZ she was promoting items from Rock Candy Toys that were in production last year while also gathering feedback from customers. "It gave me ideas on what's in demand," she said. "A lot of people are experiencing shortages on certain items."
Motorbunny, which is currently retailing in over 100 stores, is making a huge push in wholesale, says Motorbunny's Craig Mewbourne. To make the high-tech sex machine more retail-friendly, Motorbunny has created an in-store display.
"The display is interactive, like what we have at our booth at events," Mewbourne said. "Motorbunny sales are demo driven, and we've figured out how to reproduce it on the store floor. An in-store demo is going to sell the machine it for the store — it's going to be a hardworking product in your store."
Because the Motorbunny in-store display welcomes customers to interact with it, it can increase engagement in a store. "It's a tool that retailers can use to up the in-store experience for their customers," Mewbourne said. "It can help to introduce customers to other connected, more affordable items while still getting our brand out there."
Stimulating Sales With Sex Enhancers
Wet International made waves last year when it announced that it was going direct to retail. This year, the company has a new head of sales, Jim Dodos, who participated in ANME/XBIZ to, "Get Wet back out there," he said. "My start in adult got off to a rocky start when the pandemic hit in March and disrupted our plans. Now I'm here to tell our story."
In his virtual expo booth, Dodos showcased Wet's new packaging and a merchandising of Wet's "precious metal collection" of Elite Platinum, Silver and Gold lubes.
"Our packaging is attractive, more sleeker and appealing to a younger demographic," Dodos said. "It's gotten a lot of good reviews."
Looking ahead, Dodos said that he's aiming to get the company back to where it needs to be. "We want to learn what we can do better," he said.
"2021 is going to be a good year."
Sensuva showcased its selection of sensual lubricants and sex enhancers, which come in array of exotic flavors such as coconut, cotton candy and a newly released "blueberry muffin" flavor.
"The theme is blueberry — we have a lot of blueberry-tastic flavors," Sensuva's Jade Leon said. "Blueberry muffin is one of new, fun and unique flavors that did very well in our hybrids, so we just added it as a water-based."
The blueberry theme also is visible as a Sizzle Lips Edible Warming Gel and Lic-O-Licious Throat Coating Oral Gel. The unique flavors and scents go beyond sensual products for Sensuva, which offers a citrus-scented hand sanitizer. With consumer interest in hygiene products currently at its peak, Sensuva also has introduced its new Think Clean Thoughts toy cleaner. The travel-size antibacterial cleaner comes in a convenient travel size and is complemented by an additional larger size, a foaming cleaner and Sensuva's Think Clean Thoughts Toy Powder.
Most notably known for its assortment of adult games, Creative Conceptions also has offered its sex enhancer Powerect for the past four or five years.
"Powerect has been such as bestselling product that we decided to grow that brand," said Casey Doyle, the company's U.S. account manager. Available at the end of the month will be a natural version of the Powerect enhancement cream.
"Most delay creams have desensitizing ingredients like lidocaine so we wanted to create a natural option," Doyle said. "There was a gap in the market for a natural delay cream.'
In addition to the new natural Powerect, Creative Conceptions is introducing Skins lubricant to the U.S.
"This year is about growing our Skins lube brand in the U.S. — it's been in the U.K. for over 10 years," she said. With more business in the U.S., the company also is expanding its team and will have someone new joining its team.
"This person is going to be constantly in the loop with people," she said. "It will be a fresh face, and will add a lot to the team."
BeaMonstar Products made its industry event comeback at ANME/XBIZ with its signature lineup of sex enhancement supplements.
"We're still around," BeaMonstar Products' Jeff Bolanos said, noting that he was pleased to see familiar faces at the virtual expo. "There are tons of pills out there — but we got the brands that have stuck around for years."
As the supplier of the popular Extenze brand, as well as other long-standing brands like its Sweeten69 secretion sweetener, Bolanos says that among the brand's new releases is a ejaculation volumizer that works in minutes and offers effects similar to combining BeaMonstar's XploZion volumizer and Sweeten69.
Bolanos said that he continues to promote sex enhancers as a potential cross-sell with pleasure products. "It's something to make it sweeter — sex enhancement pills can be used to cross-sell with a stroker or other toys."
Rock'n Products also returned to the ANME/XBIZ show with its line of sex enhancers and daily supplements that support everything from focus and brain function to detox and boosts testosterone. Rock'n Products also has expanded its lineup to include CBD offerings.
"We created the Rock Life Naturals CBD line because we wanted to offer retailers CBD products that could be sold as impulse items," Rock'n Products President Keith Caggiano said.
Among the retail-friendly items are shot drinks, which Caggiano says serve as the perfect introductory item. The Rock Life collection also features capsules and gummies, pre-rolled joints, vape pens and intimacy items like massage oil and lubricant.
Basking in Bondage Gear
ANME/XBIZ featured a handful of specialty bondage manufacturers, which showcased their edgy wares remotely from different parts of the U.S.
Bondage products manufacturer 665 entered its 25th anniversary year by showcasing its gear at ANME/XBIZ. 665, Inc.'s Curtis Thompson offered background information behind the brand, including how it formerly operated a retail store in West Hollywood that was sold in 2017. The company's Sportfucker line started in 2011 and more new products have been rolling out since.
The Chatsworth, California-based company received mainstream attention towards the end of last year when its product, Cellmate — an internet-connected chastity device — made headlines when it was revealed that hackers had used ransomware to lock up wearers until they paid up.
"It was bad publicity, but was good for business," said Thompson, noting that the company received even more inquiries for the item following the bad press.
Seattle-based Spartacus showcased a full wall display of bondage products, ranging from stylish corsets and accessories like whips, cuffs, Wartenberg wheels, nipple clamps and more.
"We're making changes to our product lines," Spartacus' rep William said. "We're following trends — such as nowadays, people are not just wanting to experience bondage, but want to look good doing it."
He said that the company is evolving to include more colors and "more elegance." Additionally, Spartacus is expanding its variety of products to cater to more levels of players.
"We're broadening our the scale of levels so that we cater to wide range — not just experts, but also entry and intermediate," William said.
Among the new product categories that Spartacus is expanding into is anal toys. Spartacus unveiled new pure stainless steel weighty butt plugs featuring Swarovski crystals on the base — which are also interchangeable.
Spartacus' Albert Koftikian said that in the future the company will be adding more interchangeable base options, including with loops or hair attached.
"They're totally revolutionary," he said, noting that they are made from surgical stainless steel and aren't nickel-plated.
Dragontailz President Randy Broadway has been manufacturing bondage products for 20 years, and has been traveling to kink events all over the country for inspiration for his creations.
"The lifestyler never stops buying toys," Broadway said, "BDSM players move up the levels of sensations — they look for different toys, and they're constantly changing it up. That's why they never stop buying toys."
While bondage players like to buy in quantity, Broadway says that there is a glass ceiling of $200 when it comes to what they are willing to pay for their goods.
What makes Dragontailz unique, in addition to its array of limited edition skins of buffalo, alligator and more, is the lifetime warranty that it offers on anything more than $50. "We stand alone in offering a lifetime warranty — we stand behind our quality we know that customers will always be satisfied."
ANME/XBIZ Show Musings
All week long, ANME/XBIZ show participating vendors embraced the virtual experience and made the most of the networking opportunities that the event provided.
Lora DiCarlo's newly minted global wholesale director Michelle Harris joined the virtual expo as her first adult retail industry event.
"It's great for being somebody new that I'm able to be thrown into this and have the time to meet different people and hear their stories about their businesses," she said. "I do this on a slower scale each day — they are usually longer meetings while these are most fast-paced."
Harris' goal at ANME/XBIZ as well as in her daily conversations with retailers is to learn more about them and to get their feedback about the company. "It's been good learning about other people's opinions and to learn more about the industry — this was a great platform," she said.
Jejoue's Dan Jackson, who was recently named the company's general manager, attended the ANME/XBIZ show to reconnect with buyers and make them aware of the brand's expanding team and the company's commitment to its retail clientele.
"I came to ANME/XBIZ to talk to new people that I don't usually get a chance to connect with," Jackson said. "It's been a crazy year, and I want to let people know that our supply is good. This show has been good to see some new faces and to talk to people one-on-one."
Lovely Planet — a regular of XBIZ Retreat events both in-person and online — participated in ANME/XBIZ to showcase the latest additions to the Strap On Me line. The collection of bendable strap-ons and dildos now includes a selection of leatherette harnesses.
"I've met a lot of people who are enthusiastic about our line," Lovely Planet's Anne Meunier said. "We're thrilled about the response. ANME/XBIZ turned out to be great for me. I'm so happy with the event, and now I'll concentrate on the follow-up. I'm looking forward to the next one and am grateful for participating."
Meunier said that she is optimistic for 2021. "We're all starting the year with business that is booming and sales are skyrocketing for everyone."
Throughout the week ANME/XBIZ participating vendors also took part in panel discussions, as well as the virtual presentation of the XBIZ Honors awards. Stay tuned for more coverage of last week's ANME/XBIZ, as well as a look back at the memorable retail edition of the XBIZ Honors virtual ceremony.