BLOOMINGTON, Ind. — Two months ago, Indiana University's prestigious Kinsey Institute, the pioneering institution in scientific research about sexual behavior, released the results of a study that concluded that technology, specifically access to sexual material and connections on the internet, "facilitates sexual and emotional interactions."
Over the same period, the study was ignored by mainstream news outlets, which chose to report about sexual behavior online by focusing on criminal behavior and negative think pieces influenced by War on Porn propaganda.
The Kinsey study, conducted independently by a third-party polling company and scientists at the Bloomington-based institute, surveyed a statistically significant sample of over 8,000 Americans, chosen based on the most recent U.S. Census data.
It concluded that "adults who engage with 'sextech' — innovative technologies used to enhance sexuality — […] report feeling connected to virtual partners both emotionally and sexually."
"Sextech" includes online pornography, webcams and sex chats.
"An overarching finding from the research revealed that participants who were engaging with sextech reported less loneliness and less depression than those who were not engaging with sextech, but only for those engagers who felt an emotional or personal connection with their virtual partners," the Kinsey researchers concluded. "Lower rates of loneliness were also found for people who held more positive attitudes toward their own sexuality, as was greater satisfaction with their lives overall."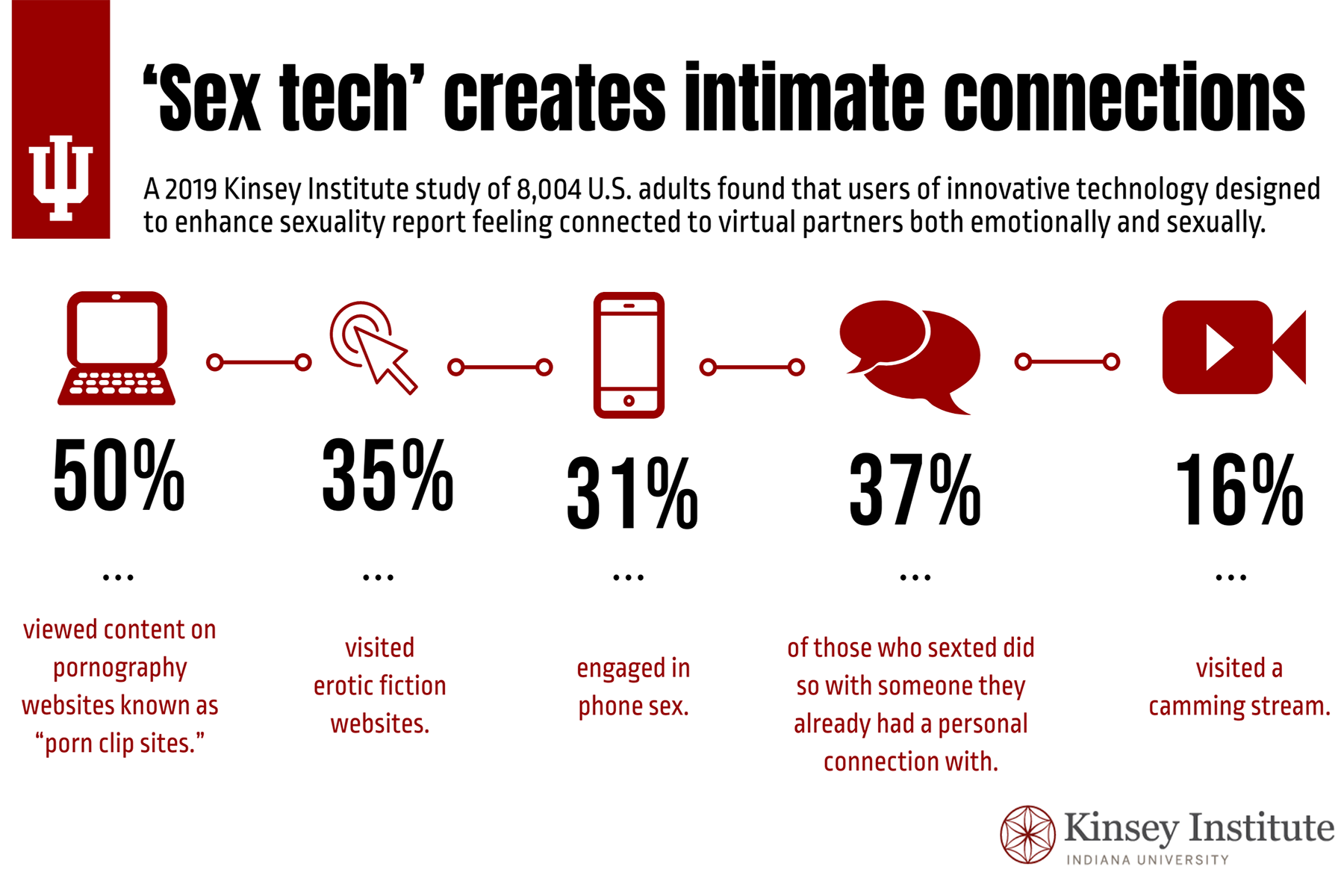 The Silence of the Media
Meanwhile, as pointed out by the editors of RealYourBrainOnPorn.com — an organization set up to debunk the unscientific, murkily funded propaganda lobby Your Brain On Porn — the mainstream media has ignored the report in favor of the usual barrage of sex-panic news items.
RealYourBrainOnPorn tipped XBIZ to this news.
A Google News search of articles on "Kinsey Institute" or "internet sex" over the last two months does not yield any mentions of the study.
Instead, publications favored (i.e., not shadowbanned) by the mysterious Google News algorithm — which include most major mainstream outlets, plus an assortment fringe political groups, clickbait farms and conspiracy theory blogs, but not XBIZ — have focused on endless incidents of sexual predators, loosely defined as "human trafficking" and which often turn out to be old-fashioned vice squad raids, and stories about politicians pushing for something to be done about the so-called scourge of online sex.
Following are examples of sex and tech news the Google News algorithm favored instead of the sex-positive, scientific study by the Kinsey Institute:
"Tinder Lets Known Sex Offenders Use The App. It's Not The Only One": Match Group, which owns most major online dating services, screens for sexual predators on Match — but not on Tinder, OkCupid or Plenty of Fish. A spokesperson said, "There are definitely registered sex offenders on our free products." (Buzzfeed News, December 2, 2019)
"Sex Trafficking via Facebook Sets Off a Lawyer's Novel Crusade": A personal-injury lawyer in Houston is using an unusual argument to try to upend the internet's most vital law" (New York Times, Technology Section, December 3, 2019)
"Joe Biden calls Zuckerberg 'a real problem' and wants to revoke Section 230" (Mashable, three days ago).
"We shouldn't be surprised whenever The Post and other media reflexively deny self-evident truths. For years, they've pushed the entire pro-abortion and LGBTQ agenda, which depends on fake science, theological confusion and deliberate deception. For example, National Public Radio recently underscored its directive to staffers not to use the term 'unborn' because it 'implies that there is a baby inside a pregnant woman.' Never let the truth get in the way of the agenda. This sort of madness, which seems to be reaching a crescendo, began decades ago, beginning with Alfred C. Kinsey's fraudulent sex studies in 1948 and 1953. Propelled by a compliant media, the 'studies' gave the sexual revolution a faux scientific foundation." (The Washington Times, November 29, 2019)
It seems clear: a combination of editors at mainstream outlets privileging sensational tales of sex criminals, bad science and made-up public health crises, plus the supposedly inscrutable but predictably anti-sexual-expression Google News algorithm, continues to influence public discourse at the crucial intersection of sex and technology.
To read the Kinsey Institute's statement about the study, click here.