LOS ANGELES — Worldwide lodging app Airbnb now owns an AI technology that allows them to discriminate against people in certain categories, specifically including sex workers, based on unrelated social media posts and other online data.
The name of the technology on its patent is "Determining Trustworthiness and Compatibility of a Person" and it stigmatizes sex work and "involvement in pornography" by grouping them with drug use, membership in hate groups, "neuroticism" and "narcissism, Machiavellianism and psychopathy."
The AI technology aims to profile and predict behavior in individuals based on past actions, statements or career.
According to several reports over the past few days, Airbnb acquired the technology following their discreet acquisition of a startup called Trooly. Trooly's Baveja Sarabjit Singh, Dalvi Nilesh and Sarma Anish Das are listed on the patent as inventors.
Singh, Nilesh and Das applied for the patent in July 2018 and it was published a year later.
The patent's abstract describes the technology's purposes as "identifying documents related to a person, deriving behavior and personality trait metrics from analyzing the documents for information relevant to assessing behavior and personality of the person, and determine a trustworthiness score or compatibility score of the person based on the behavior and personality trait metrics using a scoring system."
A number of Orwellian graphics accompany the patent. One of them illustrates a system combing through "ISPs, Public and Commercial Databases, Social Networks, Blogs" and "Other" in the cloud, and processing it through a "Data Collector," "Information Extractor," "Identification Matcher," "Trait Analyzer" and "Holistic Scoring."
This information is then used to assess "compatibility" between two people and to create "person graphs" for each individual according to the parameters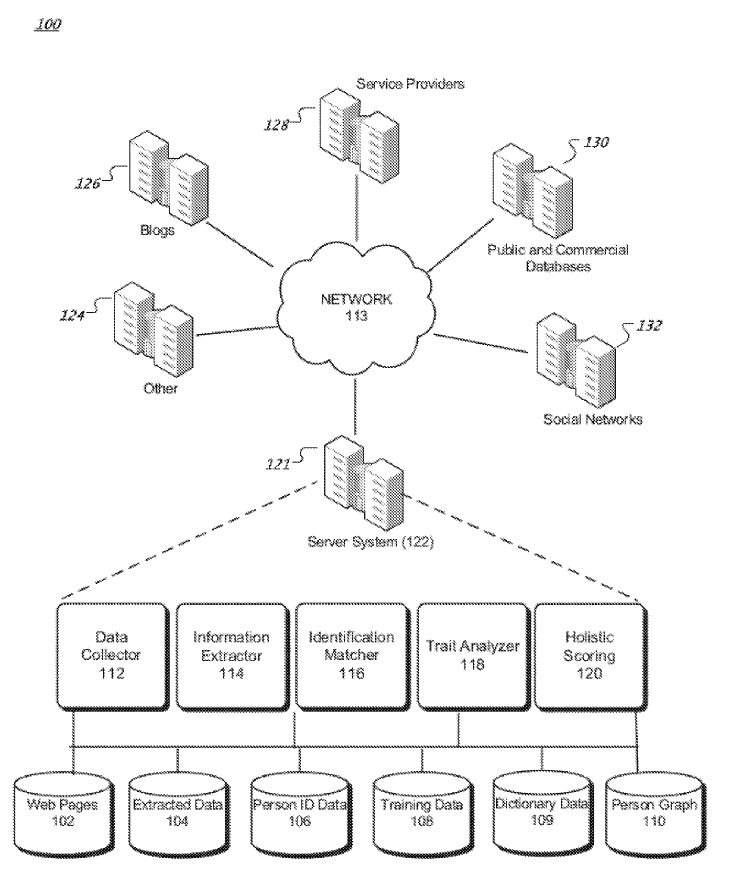 Predictive Analytics and Machine Learning
Over the last few days, several business publications have contacted Airbnb to ask about the role this AI technology plays in their business.
"According to the patent," wrote Mark Blunden of the UK's Evening Standard, "Airbnb could deploy its software to scan sites including social media for traits such as 'conscientiousness and openness' against the usual credit and identity checks and what it describes as 'secure third-party databases.' Traits such as 'neuroticism and involvement in crimes' and 'narcissism, Machiavellianism, or psychopathy' are 'perceived as untrustworthy.'"
The patent "also suggests users are scored poorly if keywords, images or video associated with them are involved with drugs or alcohol, hate websites or organizations, or sex work" and specifically adds that people "involved in pornography" or who have "authored online content with negative language" will be penalized when trying to book lodgings.
An Airbnb rep told the Evening Standard that "the patent was a continuation of its work after acquiring background check start-up Trooly, but declined to comment on its uses."
"Every Airbnb reservation is scored for risk before it's confirmed," reads their website. "We use predictive analytics and machine-learning to instantly evaluate hundreds of signals that help us flag and investigate suspicious activity before it happens."
Yesterday, an unnamed Airbnb spokesperson told Business Insider that the company "is not currently implementing all of the software's screening methods as described in the patent filing, adding that the company conducts background checks of user's criminal records."
However, the stigmatizing language against sex work spelled out in the patent which Airbnb admittedly owns, and their commitment to a Robocop-style "predictive enforcement," seem to confirm sex workers' reports that they have been discriminated against by the company not because of their behavior as guests, but merely because of their careers.
"Activities That Pose a Risk"
Adult performer Cadence Lux told XBIZ that this might explain a bizarre exchange she had with a company rep, who accused her of engaging in "activities that pose a risk."
"I've only used it once before with an ex-boyfriend," Lux said. "I had good reviews, nothing pornography-related happened. But next time I booked a place, they told me 'you've violated our terms,' and shut down my account."
Last week, Lux attempted to create another account using her legal name. After booking a place in New Orleans, her account got deleted again and an Airbnb employee named "Taylor" (which could very well be an AI reply bot) wrote to her that her "account information is associated with activities that pose a risk to the Airbnb community" and that she should "consider this decision final."
"Me sleeping poses a risk?" joked Lux, who shared her frustration on social media. She has not received a reply about this "final decision" from Airbnb.
Minority Report
For Deeper contract star Maitland Ward, an actress with noted credits in both mainstream and adult projects, the Airbnb story shows "what we're up against."
"It's like the movie 'Minority Report,'" Ward told XBIZ. "These people forget pornography is perfectly legal."
"I don't get how people became so afraid of sex work," Ward added. "It's so bizarre. It's scary we're heading in that direction. By being visible with my career choice, I'm doing everything I can to help shift that stigma."
XBIZ reached out to Airbnb but had not received a reply by publication time.