CYBERSPACE — Disinformation networks linked to the Chinese government have weaponized porn-related bots, aka 'pornbots,' in their campaign against the current protests in Hong Kong, according to an analysis of Twitter data by the International Cyber Police Centre (ICPC) of the Australian Strategic Policy Insititute (ASPI).
The ICPC analyzed a dataset provided by Twitter last month, after the tech giant identified it as "being involved in an information operation directed against the protests in Hong Kong."
The Australian think tank's research found that the Twitter accounts active in the disinformation campaign were also active, at least since April 2017, in earlier information operations targeting "political opponents of the Chinese government, including an exiled billionaire, a human rights lawyer, a bookseller and protestors in mainland China."
This, according to the ASPI report published today, is significant because "it indicates that actors linked to the Chinese government may have been running covert information operations on Western social media platforms for at least two years."
These networks of bots are built over time and can be mobilized fairly quickly against an designated opponent or in favor of a cause.
As opposed to well-planned Russian efforts to infiltrate U.S. politics through the Internet Research Agency (IRA), which used "high-value and long-running personas" cultivating "influence within U.S. political discourse" by gaining retweets from prominent political figures and media outlets, the ASPI report describes the Chinese campaign as "clumsily re-purposed and reactive."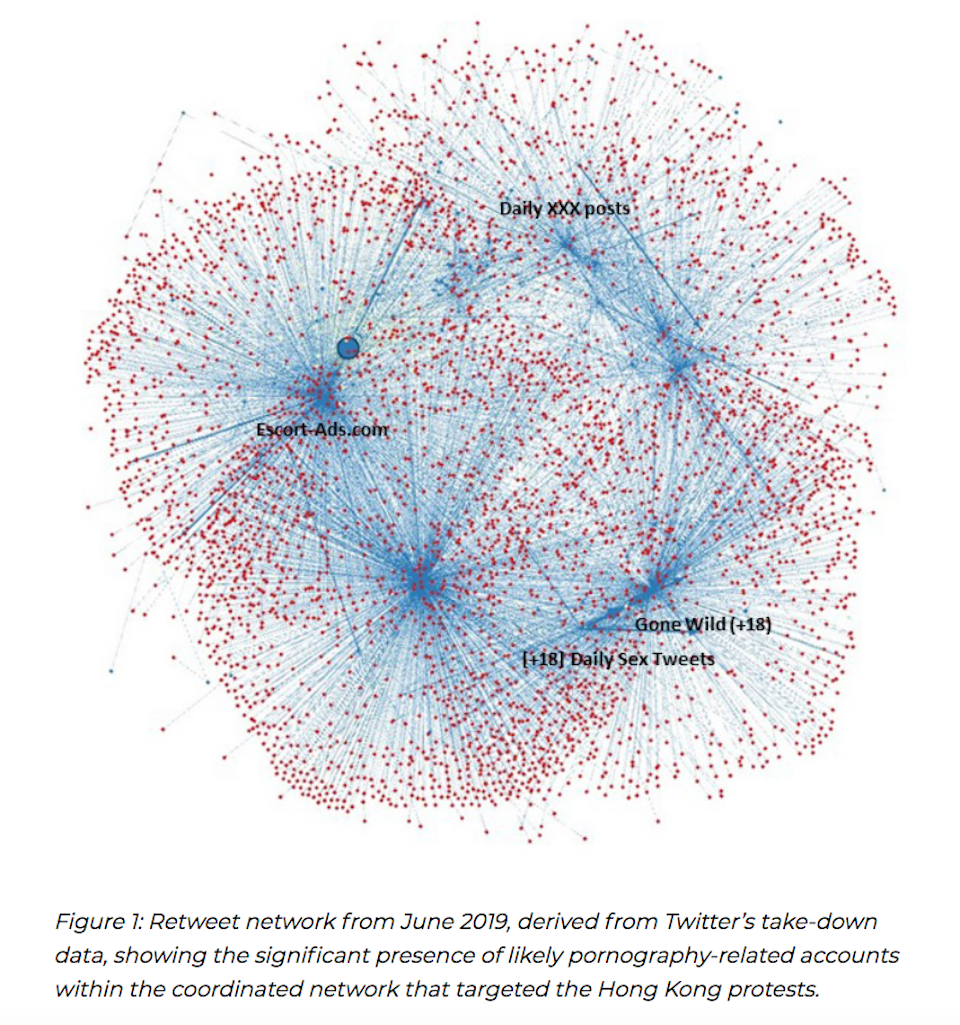 Awakening the Pornbots
Many of the accounts included in the Twitter dataset analyzed by the ICPC, according to the report, "are repurposed spam or marketing accounts. Such accounts are readily and cheaply available for purchase from resellers, often for a few dollars or less. Accounts in the dataset have tweeted in a variety of languages including Indonesian, Arabic, English, Korean, Japanese and Russian, and on topics ranging from British football to Indonesian tech support, Korean boy bands and pornography."
A graphic included with the report illustrates a "retweet network" cloud from June 2019 "showing the significant presence of likely pornography-related accounts within the coordinated network that targeted the Hong Kong protests." These accounts cluster around subjects like "Daily XXX posts," "Escort-Ads.com," "Gone Wild (18+)" and "[+18] Daily Sex Tweets."
Quartz, the influential "digitally native news outlet" for business people in "the new global economy," interviewed one of the ASPI report's co-authors:
"'Whoever purchased those [pornbot] accounts was likely hoping that their large follower count could make the content coming from those accounts look more legitimate,' said Elise Thomas, a co-author of the report. 'When you scroll through Twitter and you click on them and see it was made last week, it looks suspicious, but if it's five years old and has 3,000 followers or 30,000 followers, then it looks much more legitimate. That's why people buy accounts like that.'"
Recently, several members of the adult community have reported an upsurge in pornbot activity, with clearly robotic accounts using the reply function to spam legitimate posts with short XXX clips and writing in Arabic. It is unclear yet what purposes these spambots serve, or whether they are sleeper accounts waiting to be awakened for some targeted purpose in the future, either by their creators or by some other unknown actor purchasing them for their purposes.
For the complete ASPI report, read "Tweeting through the Great Firewall: Preliminary Analysis of PRC-linked Information Operations on the Hong Kong Protests."