LOS ANGELES — An anti-porn advocacy lobby known for spreading misinformation about the adult industry is claiming it has successfully convinced retail giant CVS to remove the "Swimsuit Issue" of Sports Illustrated from checkout areas and promotional displays.

The National Center on Sexual Exploitation (NCOSE), a well-funded, religiously inspired lobbying group which has operated under several names since its beginnings in 1962, published on its Facebook page today a denouncement of Sports Illustrated, which it describes as carrying on a "repugnant tradition."

"To say we are used to Sports Illustrated's raw sexual exploitation and pornification of women is sad but true," wrote NCOSE's Executive Director Dawn Hawkins in a statement published on the anti-porn advocacy group's website today.

In contrast to most mainstream reactions about the upcoming issue, which has been praised for diversifying the model pool and showcasing Somali-American model Halima Aden wearing stylish takes on the hijab and the burqini, Hawkins' position is that "with its 2019 Swimsuit Issue, Sports Illustrated sinks to a new low in its crass exploitation of cultural diversity."

NCOSE exhorted retailers "to remove [the Swimsuit Issue] from checkout lanes" and provided a link inviting supporters (including many users who arrive at the organization's propaganda website misled by its deceptive name, "endsexualexploitation.org") to "demand that companies like Target, Walgreens, and Safeway stop profiting from blatant sexual objectification by removing the Swimsuit Issue from their stores."

"Patrons have a right to shop free from exposure to soft-core pornography [sic] in the checkout line," continued Hawkins.

Sports Illustrated has been shooting swimsuit-wearing fashion models (including Aden almost entirely covered by her modesty-compliant burqini) for decades, as they lounge in tropical beaches and other touristic destinations. The NCOSE website has an obsession with porn, but Hawkins' statement about "softcore pornography" does not correspond to any conventional definition of pornography.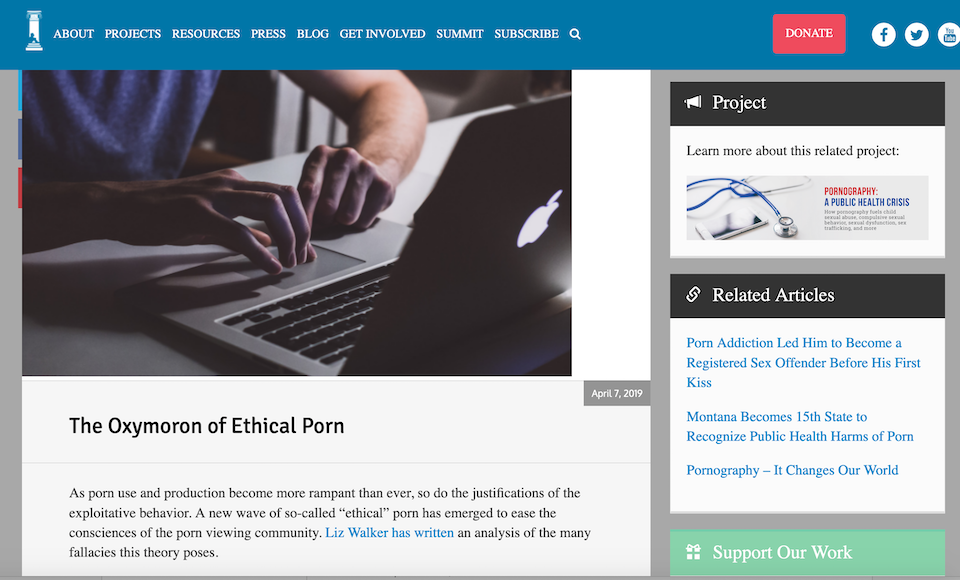 The problem with NCOSE's activities is that large corporations, powerful politicians and public policy groups listen to their far-from-center, often befuddling views about sexual activity, sexuality and the depiction of sex and nudity for commercial, artistic, professional or amateur purposes.

"We are also especially grateful to retailers like CVS," Hawkins' statement concluded, "which, out of concerns about female objectification, decided last year to remove this annual publication from their checkout areas and promotional displays."

Acclaimed adult performer and noted sexual health educator Jessica Drake was shocked at CVS' alleged endorsement of the anti-porn group's radical agenda.

"When anti-porn groups like NCOSE use people's fear and lack of knowledge to further shame them for natural sexual desire and curiosity, they're causing serious harm," Drake told XBIZ.

Drake was also concerned about NCOSE's cynical activism against "sex trafficking," a term that for them includes all commercial sexual activity among consenting adults, including every law-abiding sex worker.

"NCOSE's views serve to fuel the misinformation machine that is endangering an already marginalized group of people, putting them at more risk," said Drake. "Sex is not dirty or shameful, and on-screen depictions of consenting adults engaging in sexual acts of all kinds can be amazing inspiration."

Drake holds on to the hope that one day, "a group like this will listen to sex workers and people who make porn, rather than cling to an old ideology. Maybe one day, CVS will even stock my 'Guide to Senior Sex'! But for now, please stop hiding Sports Illustrated."

"Bodies are amazing," Drake added. "Let's celebrate them."
Fellow performer Abigail Mac concurs. "To describe a woman's body as 'repugnant' is disgraceful to say the least," the 2019 XBIZ Female Performer of the Year told this reporter. "Our bodies should be celebrated. Men and women alike. You cannot censor the world."
"People more than ever crave authenticity," added Mac. "We are all naked underneath our clothes. Hopefully people can open their minds and realize that. Gone are the days of feeling ashamed of our bodies. It is a new generation. The time for change is now."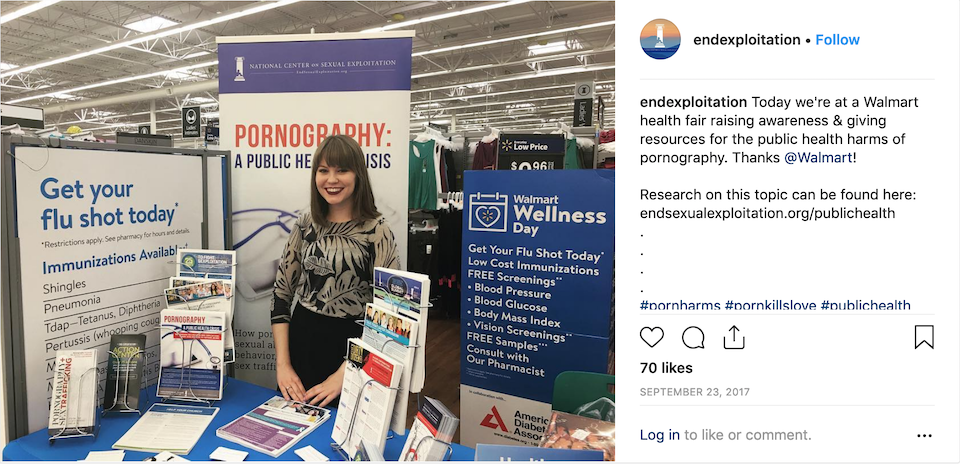 HOW TO SELL A BOGUS PUBLIC HEALTH CRISIS
Abigail Mac might be surprised to learn that NCOSE and fellow anti-porn crusaders — like Fight the New Drug (a website devised by Mormon marketing experts that claims "non-religious" status) and Your Brain on Porn (based on a pseudoscientific book that has long topped Amazon's best-sellers list for "Pornography") — agree with her that "the time for change is now." What these sexually reactionary groups mean by "change," though is turning the clock back to debunked notions about sex that predate Kinsey, Masters and Johnson and even Freud and Krafft-Ebing. Their views of sexuality come straight out of misogynistic, patronizing Victorian pamphlets on "moral hygiene."
This is the mission statement for NCOSE, which also operates as endsexualexploitation.org, and was formerly known as Morality in Media and Operation Yorkville:

Sexual exploitation encompasses a wide-range of sexual abuse or utilitarian sexual uses of persons, regardless of age, including sexual objectification, sexual violence, pornography, prostitution, sex trafficking, and more.

It includes any actual or attempted abuse of a position of vulnerability, differential power, or trust, for sexual purposes.

These forces have always been at work in society, but in America today their chasms loom larger, deeper, and darker than ever before. Their icy chill has touched us all.

Yet, the light of human dignity and inherent worth burns strong. We believe every human being deserves the opportunity to live life to its fullest potential without sexual harm: to pursue dreams and ambitions; express creativity and hone talents; seek beauty, truth, and faith; experience hope, joy, and love with family and friends—to thrive.

The Washington D.C.-based lobbying group is one of the flagship groups funded by religious individuals and organizations attempting to radically expand the social definition of "pornography" to anything that has to do with nudity and sex. They also seek to make the bogus claim, based on the thoroughly discredited Victorian notion of "moral hygiene," that pornography constitutes a "public health crisis."

And they are succeeding, especially outside the large coastal urban centers. Montana became, last week, the 15th U.S. state to agree with those groups and declare a dubious "public health crisis" concerning the availability of pornography.
NCOSE also maintains a page on Instagram entirely devoted to spreading misinformation and propaganda about human sexuality, pornography and the adult industry. Their Instagram page shows a photo supposedly documenting a successful meeting between members of the organization and Google representatives:
"We talked today with representatives from Google about their tools for the digital wellbeing of individuals and families!" the Instagram post enthuses.
The hashtags they push with the image, #digitalwellbeing and #digitalwellness, bring into the Internet era the harmful pre-20th-Century "moral hygiene" ("sex is dirty, society has to be cleaned") argument that underlies much of anti-porn rhetoric. Moral Hygiene thought was intimately connected to Eugenics, a pseudoscience about "improving humanity" by selective breeding that was the basis for racist theories and policies in the 19th and 20th centuries.
In a definition popular with its contemporary proponents, "moral hygiene seeks to bring all human activity within the domain of medicine and public health."
Knowing that purely religious appeals against sex have long since been discredited by the mainstream, extremist groups like NCOSE, Fight the New Drug and Your Brain on Porn have deliberately embarked on a pseudoscientific, pseudo-medical crusade. And, as the success of their ridiculous shaming of CVS over a fully covered Muslim woman in a quaint sports magazine shows, they have the ear of powerful corporations.

Click here for the NCOSE's Instagram propaganda page, including the following images: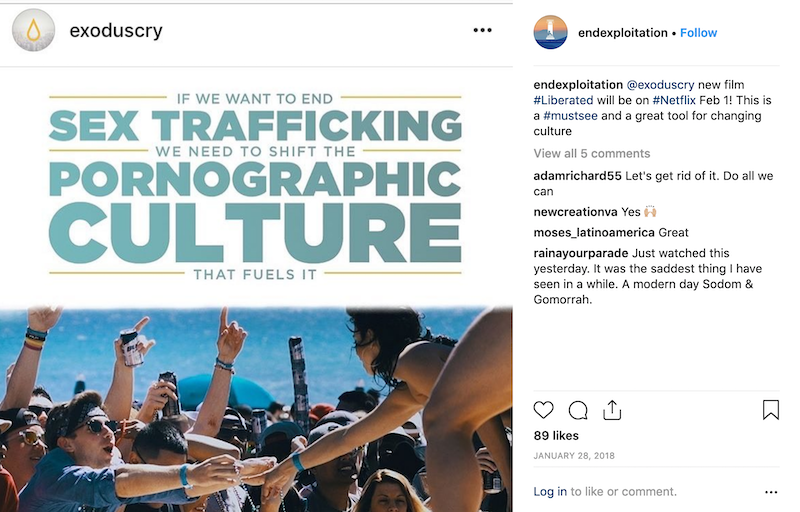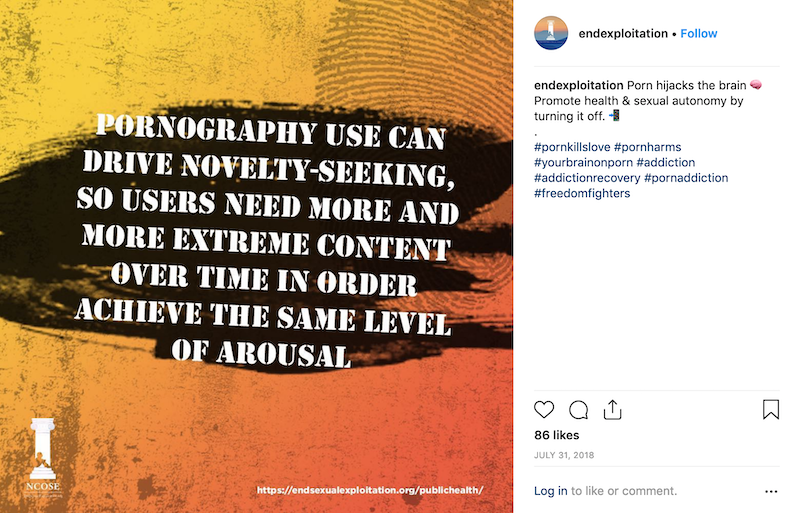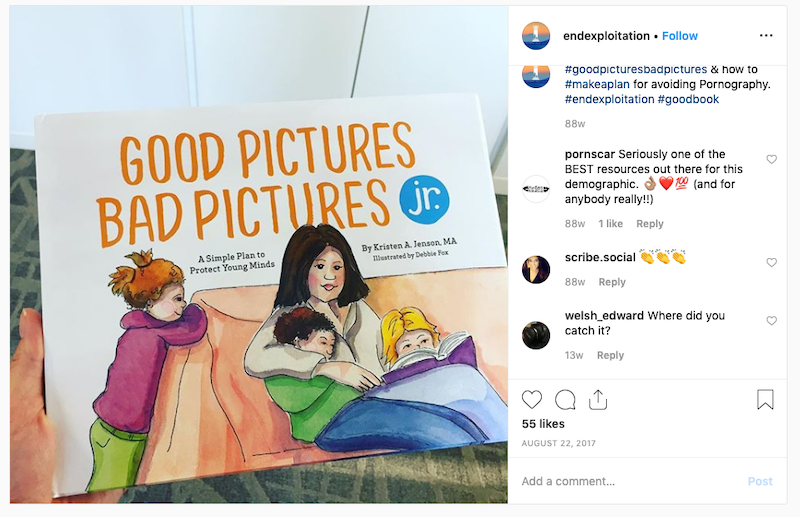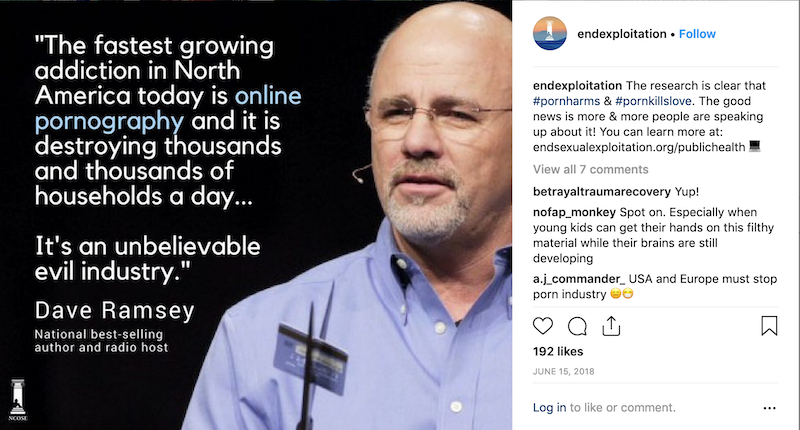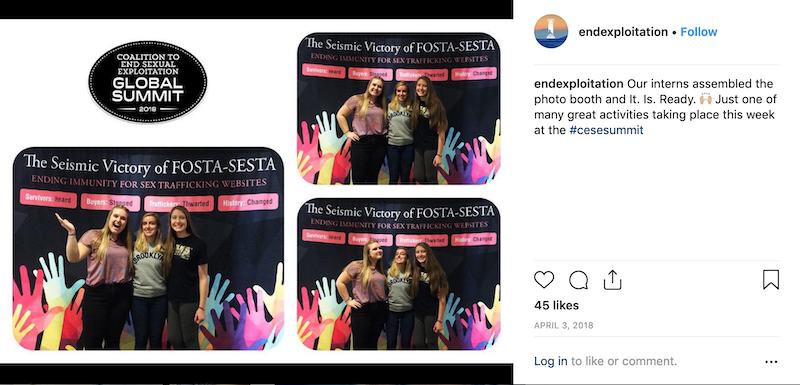 Gustavo Turner is News Editor for XBIZ. Twitter: @GustavoXBIZ