WEST HOLLYWOOD, Calif. — The first day of panels at the 2019 XBIZ show provided attendees with several outstanding examples of why this yearly adult business convention held in the Los Angeles area — the hub of the worldwide adult industry — is widely acknowledged by insiders as the place to learn about the state of the business in the 21st century.
It also proved beyond a shadow of a doubt that the cream of the current crop of internet-smart models and performers are also incredibly sophisticated businesspeople who are also generous with their on-the-money advice to others in the community.
After lunch on Tue., Jan 15, a crowd (and we mean this quite literally) of models and other industry professionals packed (again, literally) the small confines of the Studio 1 panel room to hear tips about how to diversify a performer's income. Under the premise "Revenue Streams: Dollars from Diversity," industry vet and VR evangelist Anna Lee moderated a conversation with models Lena Paul, Bailey Rayne and Natasha Nice.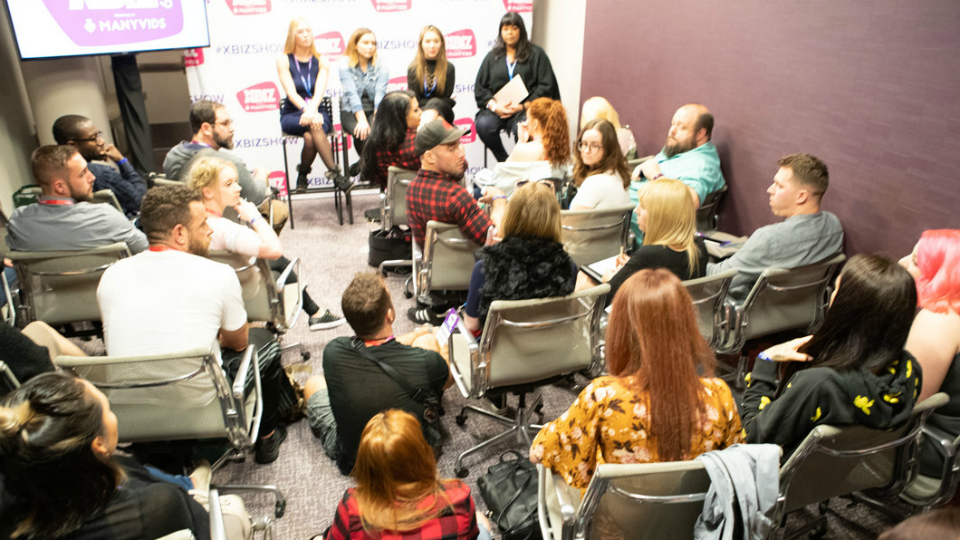 The popularity of this panel on helping performers put their personal businesses on a firm footing is proof that more and more models — especially since the camming revolution — come into the adult industry with a focus and drive that would shock older generations of content makers.
Sagely as always, Lena Paul dispensed wisdom and motivation with a relentlessly upbeat, you-can-do-this attitude. Recently, Paul has been notable on Twitter with her helpful threads about financial security and planning that go beyond the specific needs of adult performers and cam models and offer solid advice for any young person or freelancer in need of money advice. That attitude carried over to the XBIZ 2019 panel she was part of and made her a shining star that afternoon.
Paul and the other panelists aptly benefited from the curiosity of the vocally appreciative capacity crowd. Besides asking very good questions about how to diversify revenue in adult, audience members like Mack Models' Samantha Mack and performer Athena Rayne also dispensed much advice and almost became de facto extra panelists from the comfort of their seats.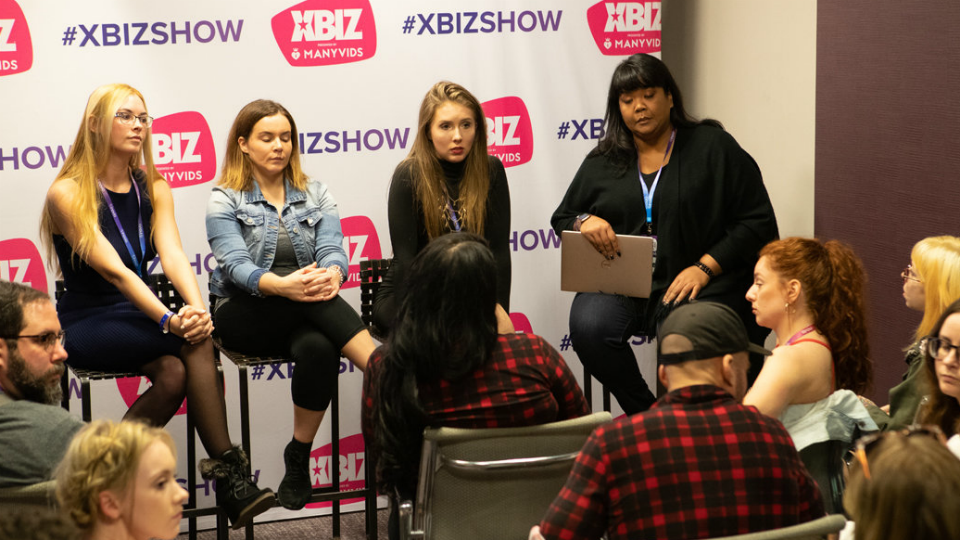 Panelist Bailey Rayne gave further examples of how to diversify a model's business through clips — which are owned by the performer and can generate the much coveted "passive income" (a.k.a., "make money while you sleep"). Cuban/French cam model and adult performer (and 2019 XBIZ Web Star of the Year) Natasha Nice gave many tips on how to maximize camming income while also generating clip content.
From all panelists, the motto of the event was, "Don't put all your eggs in one basket."
Even though the second panel in Studio 1 was slightly more sparsely attended due to other popular panels scheduled at the same time, it spawned a much needed conversation on mental health and wellness issues in the adult community.
"Performing for Adult: Earning Through Empowerment" featured Lola Davina — who has experienced sex work in most of its varieties and is now a much-in-demand speaker and author of "Thriving in Sex Work: Heartfelt Advice for Staying Sane in the Sex Industry" — therapist Moushumi "Mo" Ghose, Leya Tanit — representing the industry's mental health outreach group Pineapple Support and Clips4Sale talent manager and spokesperson Dariusz.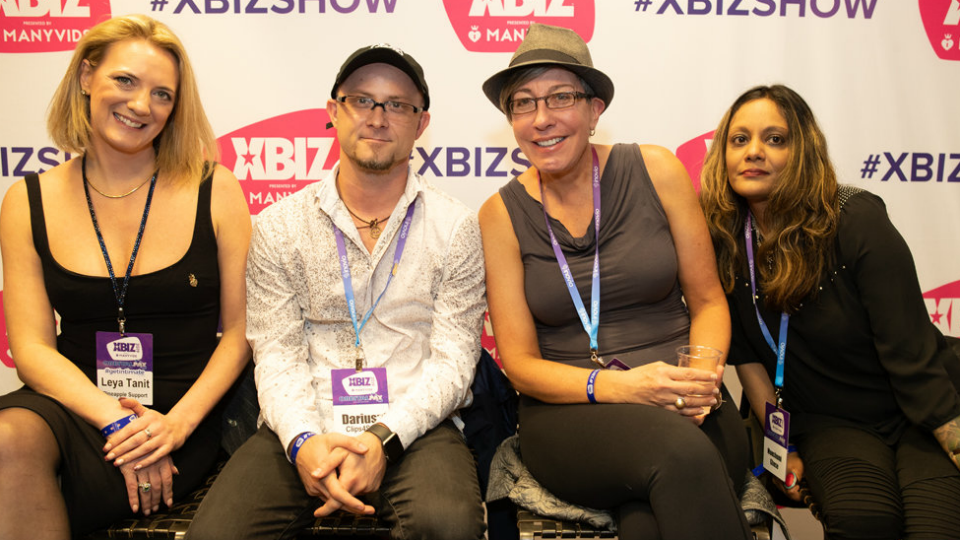 The panelists led a compassionate discussion about the widespread notion of "self care," with Davina offering a critique of "the 'Cosmo' version of self care" (i.e., going shopping and to the spa). "Bubble bath and chocolate and five minutes with your vibrator and some lube is not really 'self care,'" Davina said. "I would say that's 'pampering' or 'self-soothing.'"
For the panelists, self care in porn needs to go deeper than that and it should address some of the peculiar issues brought about by sex work. "Sex workers sometimes take the role of a therapist," Ghose said, and brought up the idea of "compassion fatigue," when someone's work constantly demands that they meet the needs of others before one's own.
Dariusz, offering the producer/set manager point of view, remarked that "it's very difficult in this industry to find someone who'd support you. I can have a million followers and only a few friends." The fact that people can only rely on a few peers for emotional support, he added, could compound this sense of compassion fatigue.
Pineapple Support's Leya Tanit spoke about the services offered by her organization, which focuses on mental health care and emotional support for people working in the adult industry. It's crucial to "identify where in the community those resources are," added Ghose.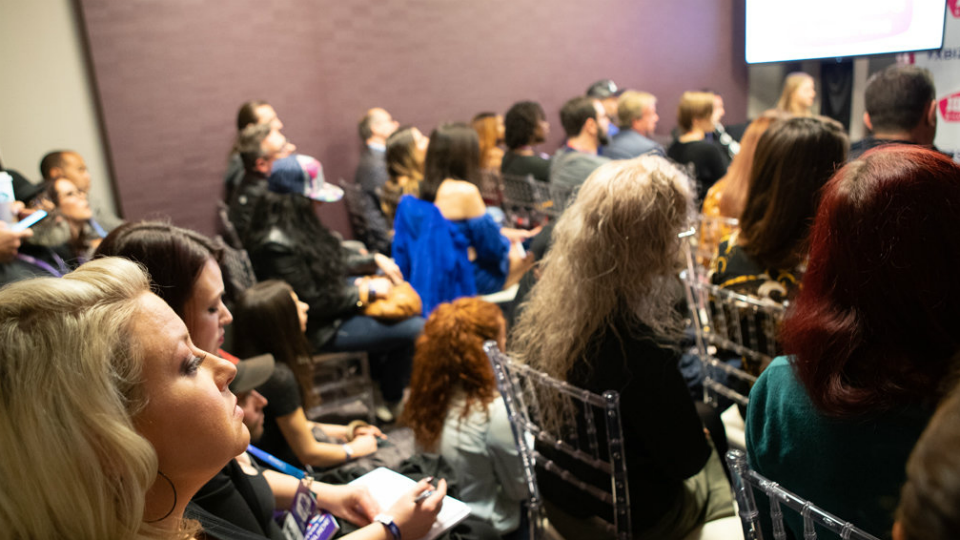 The panel ended with one of the overarching themes of the whole 2019 XBIZ Show — a discussion of consent in the context of the adult industry. "Some people don't know their triggers until something happens," explained Tanit. "The sex industry is a place where people are learning about themselves really, really fast," added Davina. "Also about their power, about the world." The panelists agreed that the mainstream adult industry has much to learn from the approaches to consent and safe words developed over decades by the BDSM/kink community.
The crowds returned to fill Studio 1 to capacity for the third and last event of the afternoon there: a panel on "Performer Marketing" moderated by Playboy's Holly Ruprecht and featuring models and performers Janice Griffith, Emily Bloom, Tana Lea, Darcie Dolce and Arm Candy Creative's Dave Dixon.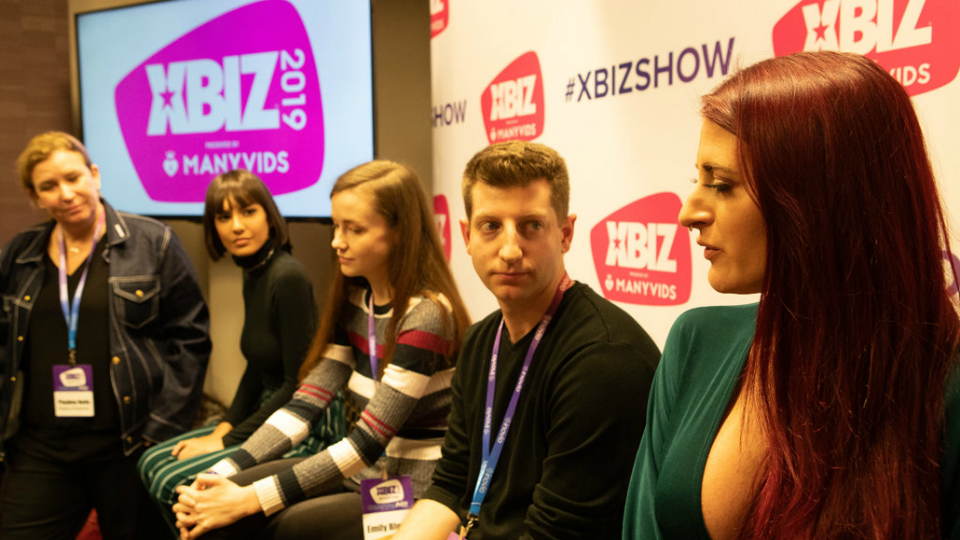 Like Lena Paul on the earlier panel, Janice Griffith used her enthusiasm and incredible business savvy to energize the conversation and become a key panelist. Griffith might only be 23, but her understanding of business and marketing should qualify her to lead a 21st-century best-practices class at any Ivy League business school.
"I haven't had an agent in over four years," Griffith bragged when introduced, and proceeded to give a master class on why she — or any similarly driven and canny performer — can run her own show.
Emily Bloom — who would go on to win the 2019 XBIZ Cam Model of the Year trophy — explained how she has been a successful cam girl for over five years and now runs her own thriving website.
The exuberant Tana Lea then offered a variation on the usual internet-fame narrative. "I'm the Snapchat OG hoe!" she proclaimed and proceeded to explain the rise that led her from a bad divorce to "pulling out my titties all over Austin in bars, where it's legal," to people noticing her on social media and her realizing the potential of private/premium Snapchat accounts back in 2014, when most adults — and those in adult — were frankly baffled by the teen-centric platform. Lea leveraged internet fame into a mainstream career, including a coveted and lucrative partnership with Fleshlight.
"I didn't have a porn following," explained Lea. "I had a personality following." She encouraged models to brand their personalities above their appearance. Though conventional attractiveness is still a gatekeeping factor in this visually-oriented industry, the internet has made the performer's lifestyle, attitude and uniqueness the crucial differentiator among all the pretty faces and desirable bodies.
Much of the panel was devoted to the current censorship crisis affecting popular platforms like Instagram (which seems militantly anti-sex) and Twitter (with its creepy, arbitrary "shadowbans" that were first flagged by the adult community). Everyone agreed that Snapchat has become the key marketing and branding tool in 2019, but people are concerned that following SESTA/FOSTA that platform might start cracking down on adult content.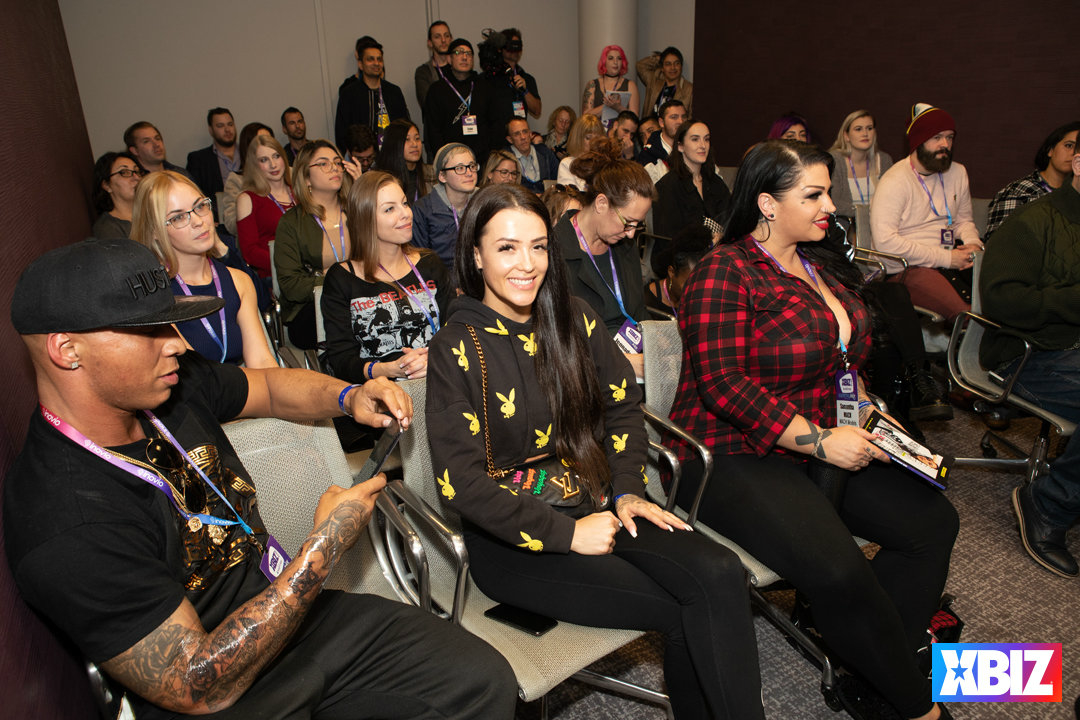 The consensus was to continue developing Reddit as a marketing and branding tool to prepare for further erosions of free speech and sexual content on Instagram, Twitter and Snapchat. The model-entrepreneurs were full of tips on how to weather the current storm. "Don't post anything fully nude on Instagram," advised Emily Bloom, "Fight back if they take your account down. Just follow their rules and don't link directly to adult content."
Everyone in the room was fully aware that Elsa Jean's Instagram account had been taken down at one million followers and that Lana Rhoades had a controversial public breakdown on Twitter over the deletion of her hugely popular Instagram.
The consensus seems to be that, while these platforms have allowed performers to take more control of their careers and livelihood, the writing is on the wall about anti-sex attitudes and nefarious legislation like SESTA/FOSTA that might obliterate their usefulness to the adult community overnight.
Other topics covered with essential tips were piracy, DMCA notices (and takedown services), crosspromotion with other models, buying domains and trademarking your name, watermarking your content, and best practices for shooting, posting and engaging with fans. Everyone on the panel has quite obviously thought long and hard on how to optimize monetization and how to "convert" occasional lurkers and fans of free content into paying customers.
The event ended with audience members extolling the business acumen of the panelists, which was truly impressive indeed. "You guys are such great businesswomen," an audience member testified. "And man," she added pointing at Dave Dixon to general laughter.
Dixon, who came to adult from the world of mainstream marketing, seemed equally astonished by the new media marketing skills of high profile models like Griffith, Bloom, Lea and the other models.