This year marks the 25th anniversary of Sportsheets International, which has come a long way since its humble beginnings — which all started when founder and CEO Tom Stewart saw a Velcro-wearing David Letterman jump off a trampoline and stick to a wall.
Stewart, who was a helicopter pilot at the time, pulled together a few Marine buddies and their girlfriends for an informal focus group, asking them what they thought about being restrained by Velcro.
Stewart says, "We were at the officer's club one night, and somebody said, 'did you see the David Letterman show where he jumped onto a Velcro wall, and he stuck?'
"My buddies and I started to bounce it around saying: 'Hey that'd be kind of cool to stick your girlfriend to a Velcro wall and have sex,' we all laughed, 'you could stick her upside down.' The idea became a rolling inside joke. After about six months, there was so much interest in this thing that I thought, 'this is an idea worth pursuing.' Some sort of a Velcro thing that you could stick your partner to. So we started bringing our girlfriends in on the joke and most of them said they wouldn't mind doing that as long as they could get away. And that really stuck with me — from there I bought a sewing machine and taught myself how to sew. Then my brother, who has his own sound recording studio, and I developed the Velcro bed sheets, handcuffs and anchor pads accessories."
The signature Sportsheet restraint kit soon established the company as a BDSM-friendly brand with a knack for appealing to couples.
And along the way, Stewart went from operating a small business in his garage to employing an entire staff and offering a large, diverse catalog of kinky and soft pleasure products. Today, Sportsheets is a major global corporation that has twice been named to the Inc. 5000 fastest-growing companies.
To celebrate its 25 years in the adult industry, Sportsheets is planning a major bash that's set for July 15. The anniversary party will have a Southern California beach party theme and feature live music along with food and drinks.
"The theme is going to be: hit the beach, come to Surf City," Stewart said.
In the early 1990s BDSM, once a taboo, was already becoming more mainstream — and the BDSM/fetish market's ever-growing loyal consumer base has contributed to Sportsheets' success. After making a name for itself with the original Sportsheet restraint kit, Sportsheets went on to manufacture a wide selection of gags, blindfolds, wrist and ankle cuffs, paddles, floggers, riding crops, nipple clamps, domination collars, bondage rope and spreader bars. And it's the company's vast selection of BDSM offerings that bolsters its ability to reach a variety of BDSM players, from novices to advanced kinksters.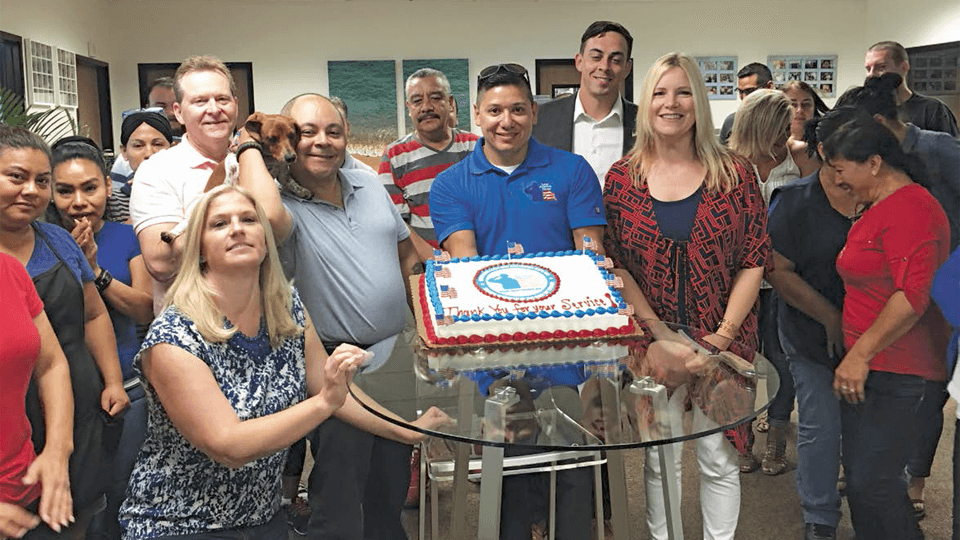 "Before, back in the day — when I was going around selling my original Sportsheet out of the trunk — there were very few BDSM products," Stewart recalled. "It was all leather cuffs, black hoods, really super gnarly stuff. There was no beginner ground, or even intermediate. It was either ropes or leather handcuffs and chains; those were your options. But that has significantly changed. People's impression of BDSM, overall, has changed. They might not be practicing it yet, but they are certainly a lot more open to talking about it."
Sportsheets continues to be a family affair after many years, with Tom Stewart joined by his younger sister Julie Stewart (who came on board in 1995 and was promoted to president in 2012), Sales Manager Kimberly Harding (Tom's wife) and COO Ed Hayes (Julie's husband). Other important members of the Sportsheets team include executive administrator Joanne B. Queenin; Chaney Cox, sales and brand developer; and Emily Silva and Sylvia Lopez, both customer product specialists.
From a business standpoint, Tom Stewart stressed, the fact that Julie Stewart is 16 years younger than him has been a major plus. Tom Stewart is a Baby Boomer, while Julie Stewart is a generation-Xer — and according to Tom Stewart, she has helped him keep the company forging ahead by giving him both a younger perspective and a female perspective.
"I started the business a couple of years before Julie got involved, and now that she's the president of the company, she has really taken it in a phenomenal direction," Tom Stewart asserted. "We've always had that female perspective at Sportsheets. We've always had a lot of women working for us, and I think that's one of the reasons we're still in business. Julie has a really solid grounding in her perspective, and when we're doing product development, all the ladies get involved."
Julie Stewart told XBIZ, "Tom is a great mentor. He's an excellent teacher and an amazing speaker — just a killer storyteller. Tom has an adventurous spirit, which I think is an important part of being an entrepreneur. And he's a family guy. Tom is a really strong family guy."
Having a variety of age groups at Sportsheets, according to Julie Stewart, has been a plus for the company. Gen-X, she said, hasn't been shy about pushing sexual boundaries — from BDSM play to greater acceptance of gay rights — and in 2018, millennials are pushing them even more.
"We have quite a few baby boomers here, and maybe a sprinkling of gen-Xers — and we're starting to get a lot of millennials, which is really exciting and is also a shift for us," Julie Stewart observed. "Tom and I love seeing this new generation of people pushing even further the boundaries of sexuality, pushing what defines sexual health and even what defines gender.
"I think we always have to be reevaluating our positions and our belief systems, especially as leaders — and especially if we are going to ask our employees and our customers to do the same. We want to be around another 25 years, but we don't want to keep doing the same old thing. And one of the challenges is bringing in talented, creative people who are going to help us think differently and see different needs."
Looking back on Sportsheets' 25 years in business, Tom Stewart recalls that he made a lot of wise decisions along the way — from reaching out to the BDSM/fetish market to being couples-friendly to seeking female insights on sex toys. But he reflects that if he had it to all over again, he would have been quicker to embrace e-commerce and promote Sportsheets on the internet.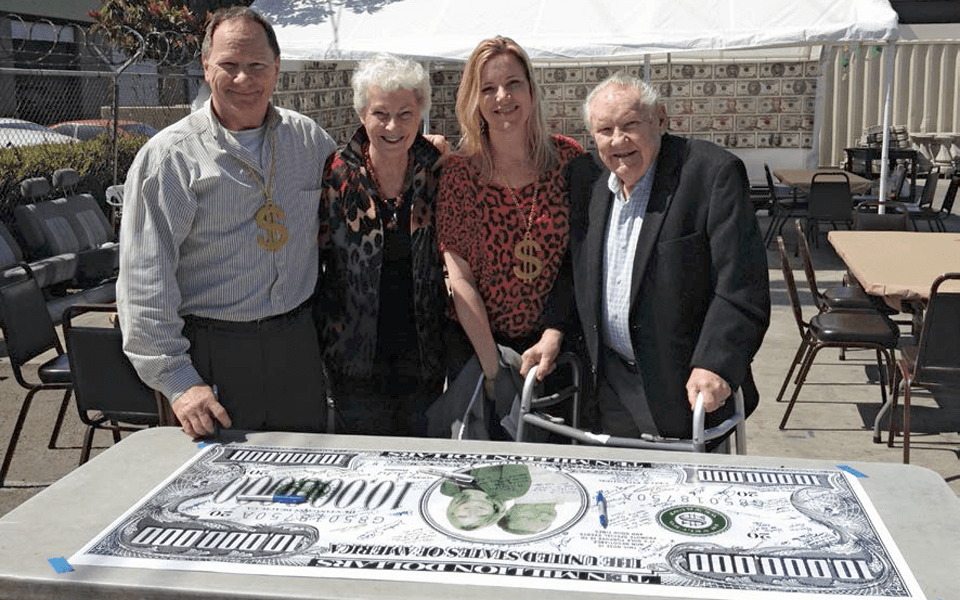 "I've made some really good calls over the last 25 years, but I've blown a few — and one that I blew was the internet," Tom Stewart recalled. "I was lucky to have two computer geeks as friends back in the 1990s, and they told me about this thing called the internet.
"So reluctantly, I said, 'OK, let's put the Sportscuffs on the internet.' The guys did that: we set up a little website, and we sold one pair of Sportscuffs online. I was like, 'Oh my God, this is never going to work. Let me focus on brick and mortar.' And that was the business model we pursued: brick and mortar. We gained a really strong presence at brick and mortar — stronger than online. But that's evolving."
Tom Stewart continued, "When I think of the calls that I missed way back when, that's probably my biggest one: the internet. I just didn't see it. I wasn't a tech guy. When tech guys were learning code, I had a sewing machine and was making product. The internet was just a little too far out for me. But since then, we've gotten more tech savvy."
Although Sportsheets has a much stronger online presence than it did in the 1990s, Tom Stewart remains an enthusiastic proponent of brick-and-mortar adult retail and has paid close attention to its evolution. Many stores that catered to the adult DVD market and a heavily male clientele in the past have reinvented themselves as couples boutiques with a heavy emphasis on selling sex toys and attracting more female consumers — and that evolution, Tom said, has been great for Sportsheets.
"The guys who hung out in the XXX section of the stores went the way of the dodo bird, as everybody knows," Tom Stewart observed. "It's been a phenomenal change. And we've always been couples-focused. We had to be; you couldn't use a Sportsheet by yourself. We always incorporated couples when we were doing product demonstrations."
Tom Stewart continued, "There are very few things we make that you can use on your own. Everything that we've designed is focused on keeping couples connected, and that's been our tagline for maybe 10 years now: keeping couples connected. And it's probably going to be our tagline for the next 20 years. We used to have a lot of taglines back in the day, but I think 'keeping couples connected' has so much authenticity to it. We still believe that couples are our core strength."
Julie Stewart, like her brother, is delighted to see more female consumers making their presence felt in adult brick-and-mortar stores.
"So many things have changed in 25 years," Julie Stewart reflected. "There's the technology, there's the internet, there are smartphones. People went from not being online 25 years ago to being able to order $300 worth of shoes with a smartphone. And a lot of that has helped the female market grow.
"Men have been going into adult stores for centuries, even if they weren't called adult stores; 100 years ago, maybe it was called the brothel. Things like that have always been available to men, but now, women have access."
Julie Stewart added, "Millennials are blowing up old sexual constructs even more. I think they're learning from our mistakes and the mistakes of our parents in regards to love, relationships and family, and they're trying to say, 'How can we do it differently? How can we do it better?' And they're in a world where communication is different. People want to e-mail. People want to text and hook up online."
The mainstreaming of BDSM has been going on since the 1990s, when major pop stars like Madonna, Nine Inch Nails and Joan Jett employed kinky imagery. And BDSM has become even more mainstream in recent years thanks to British author E.L. James' "Fifty Shades of Grey" series of erotic novels and the films they inspired. The "Fifty Shades of Grey" phenomenon, according to Tom Stewart, has been beneficial not only for Sportsheets International, but also, for the sex toys market in general.
"'Fifty Shades of Grey,' the books and the movies, have made a significant difference," Tom Stewart emphasized. "Some people criticize the 'Fifty Shades of Grey' trilogy and books and movies, but I think it's been absolutely wonderful for the whole sex toys industry — and especially those of us who make BDSM products. I think that's been monumental. So, a tip of the hat to E.L. James."
Julie Stewart observed, "'Fifty Shades of Grey' came on top of 'Sex and the City,' which also kind of pushed us to say, 'Women have sexual fantasies, needs and desires.'"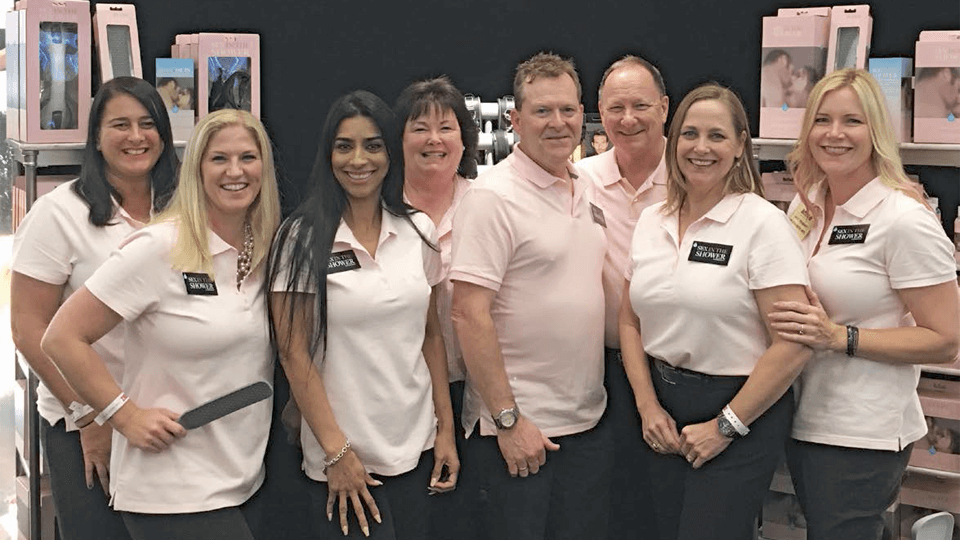 "Something that was funny to me about 'Fifty Shades of Grey' was all this outrage that women were reading this book about bondage," she said. "There was such outrage over it. But go to a Barnes & Noble and look at the romance novel section; it's as big as the travel section. I think a lot of this does lead back to the Internet and technology; there is a different level of access, and with Millennials, there is a different demand. That, to me, is really exciting."
Tom Stewart points out that in 2018, he is much more open about discussing BDSM than he would have been 30 years ago.
"Back then, BDSM practices among couples were in the dungeon, in the basement, in the clubs — and you didn't hear about it unless you knew somebody who knew somebody," Tom Stewart remembers. "It certainly was not out there like it is now. That's probably the biggest change that we've all seen. Back then, I was very, very careful who I discussed BDSM with. I was a little shy about it because you never knew what people's reactions would be. But now, if you ask me what I do, I just come right out and say it."
Tom Stewart pointed out that millennials who are now 23 or 24 in 2018 weren't even born when the original Sportsheet restraint kit debuted 25 years ago, adding that he loves the thought of selling his debut product to a new generation of consumers.
"The Sportsheet was the first product that we invented, and after 25 years in business, I still to this day think it's one of the best sex toys on the market for its durability and flexibility," Tom Stewart asserted. "The Sportsheet is so old it's new again, and I think there's a whole new market out there for that particular product. It's pretty exciting. It was a very expensive product when we first came out with it; the Sportsheet retailed for over 200 bucks. That was some big dough 25 years ago, and the most expensive things in the stores at the time were the blow-up dolls and the Hitachi wands.
"With that one product, the Sportsheet, we managed to get a toehold in the brick-and-mortar stores. And I think there's a whole new market out there for that particular product."
Along the way, Julie Stewart has taken on more and more responsibilities at Sportsheets — and at this point, Tom Stewart said, she would be quite capable of running it without his help.
"I know that I could step away from the company, and it would be in good hands with Julie," Tom Stewart explained. "I don't know that I will ever completely take my hand out of the bowl of water; I still have a lot of good ideas. But in the future, I'm going to have less and less influence here. Julie is an amazing businessperson; I can't say enough positive things about her. And the company is in very good hands with Julie, I'm happy to say."
Focusing on couples, according to Julie Stewart, will continue to be an integral part of Sportsheets' marketing strategy.
"Our mission evolved, but at its core, it is still the same: to make a difference and help people," Julie Stewart noted. "It might seem like a weird way to help people, but our sexuality is such a core of who we are. People kind of trivialize it or wrap religion and shame around it — or try to legislate it — but sexuality is still a basic part of our humanity that needs to be expressed. We're all about healthy, safe and consensual expression and connection. And I think that is timeless."
Tom Stewart reflected, "In the 1990s, Julie and I focused on making the best products that we could. And that's still our focus today: making high-quality products that really work. We've gotten more tech-savvy, but our core values have stayed with us for 25 years — and I'm proud of that."