LOS ANGELES — Dave Slick was many things. A successful chaturbate cam model, a Falcon Studios exclusive, an XBIZ Award winner — a feat he was immensely proud of. But, apart from being an influential force in the adult industry, Slick was also a mentor, a lover and a friend.
He was someone willing to share the knowledge of his success to anyone that asked, encouraging those entering the industry to treat this profession like a job.
"If you don't take this seriously," he said during his panel at this year's XBIZ Miami, "then you'll never be seriously successful."
He took pride in his achievements and his losses. He spoke openly and candidly of the struggles he had faced before camming, which included addiction and run-ins with the law. He didn't shy away from his past, but rather embraced the negativity and turned it into something powerful: an unmatched drive to win, win, win.
This industry had saved him, he said. It had brought him endless opportunities, and he loved everything about adult — the community, his fans and the sheer fact that he could perform. His motto, something he preached in every panel, was "there is nothing sexier than sex." A mantra he incorporated into all his independent performances; it was straight to the sex, no words and/or buildup.
He was, as fellow cam model and sex worker advocate Ginger Banks had tweeted, "one of the good ones."
Slick's friendships meant the world to him, evident by the amount of best friends he had, and the downpour of Tweets following the announcement of his passing.
To cherish his memory, this past Friday, friends, colleagues and even fans got together in Arizona at Chaturbate cam couple TruStori3z's house for Slick's memorial.
A picture of him at last month's 2018 XBIZ Cam Awards was the centerpiece, surrounded by flowers, candles, good food and loved ones.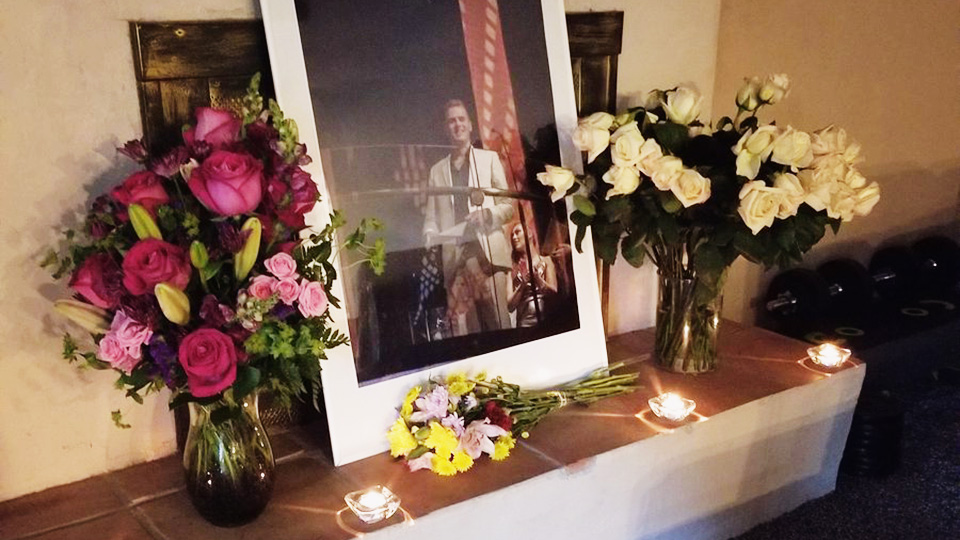 Those in attendance sat in a circle to watch a memorial video that was created by Slick's fans and Banks. With tears in their eyes, people then took turns recalling the days and nights they had spent with Slick. Tissues had been carefully laid on every seat cushion by Darius, a fan of Slick who had taken two planes to attend the gathering.
"Gone too soon," Molly Muse, Slick's girlfriend had said before the video began, reading off the words on the TV screen. "Truer words have never been spoken.
"I want to say thank you to everyone who made it out here today," Muse continued. "And I want to say thank you to everyone, who despite not knowing me, reached out to see if I was okay. We never had enough time with Dave … none of us did. I think that his passing should give us a lot of motivation to look at the way he lived his life, and the way that he brought people together, and was there for them. He was there for them with no judgement. I think that's something to reflect on, and mimic."
Banks went up next, "It's so amazing to see all of Dave Slick's loved ones here. I think that his memory is going to live on in every single one of us. I encourage anyone who knew Dave Slick to try and take on one of his qualities.
"Whether it be hard work, compassion, or caring for other people … we should try and emulate him, because he was such a good person," Banks added. "He did care about others. You know, the world became less bright of a place when he left, so just make it brighter in his memory! Love you guys, love everyone here."
Tru Hefner spoke after. Holding his hands together, he collected his thoughts before saying, "I wasn't close to Dave, but he was a one of a kind, stand up man. I just wanna say, Dave Slick is a great man. He will be missed. He had a lot of influence in the game, and he'll continue having a lot of influence in the game. He helped a lot of people get it right. He showed them the way."
Those that could not make it, such as Vera Sky, had flowers delivered directly to TruStori3z's home or emailed their condolences.
"The one thing that I loved about Dave, is that no matter when, no matter where, no matter what the situation, he always had a smile on his face, and words of positivity to share," Sky said. "We're going to miss him, and his sweet smile so much. His legacy will live on in this community, and in our hearts, forever."
the flowers I had sent ???????????? thanks @gingerbanks1 for snapping the photo ???????? pic.twitter.com/vAwhUlLPr9

— VΞRA SKY?? (@VeraSkyLive) June 23, 2018
Banks, standing in front of everyone once again, read an email that a fan had sent her.
"Dave was such an extraordinary talented, compassionate and loving person, who cared deeply about people," the email read. "He had warmth and charm that touched so many hearts. He made a difference in the lives of the people he met. He made the world a much better place to live, because of his presence. He left too soon, but his presence and love will live on in our hearts. Dave lives on in us. His love, wit, charm, compassion and infinite love will always be remembered. Love you, Dave, thanks for everything!"
In part to honor Slick, a smoking intermission was called. Scattered inside the house and outside by the pool, everyone bunched up together to share funny stories and their favorite memories.
June 23, 2018
"Dave was friends with everyone and best friends to many, including myself," Catjira told XBIZ. "He was the most generous person I've ever met. He'd do anything for anyone but especially those in need. He opened up his home to people when they were homeless, he fed people when they were hungry, he'd talk to you when you needed a conversation. He's the most dedicated good person I've ever encountered and it's devastating to know that he's no longer here.
"He made each of us better people for knowing him," she added. "I wish more people could of met him. He would have changed your life and the way in which you treat and feel about people, especially about those who do us wrong. I am so grateful for the experiences we shared. I have so many crazy stories with him and our adventures together. I'm so lucky to be able to have those. I'll miss him forever and I hope he's on the other side eating a steak and wearing his favorite Versace jacket."
Jenny Blighe expressed how much Slick, too, had changed her for the better.
"He was an inspiration to me," she said. "I'm going to love him and miss him. Industry events will never be the same without him. If I'm being completely honest, it still doesn't feel real. The tears are real ... the sadness is real, but at the end of the day I still feel like I can text him and ask what that taco restaurant was called that we loved so much during late nights in L.A. I love you, Dave."
Owners of the house, Bunny and Tru, sang a verse of a song they had planned to honor fellow Chaturbate models.
"Dave Slick … would always break bread," Bunny rapped, then stopped to remember the words. Tru helped her.
"Do that Dave Slick shit," Tru tacked on, enthusiastically. "Break bread and spin that shit quick!"
Others in attendance included Lo Valentine and Melissa Sweet, who both had recenty began their friendships with Slick.
"Dave was a really great person to be around," Valentine commented. "This is a great reminder of how we need to take the time to be with the people around us, and really make sure that everyone is feeling loved and appreciated."
Sweet said, "Every time I saw Dave, he always had a smile on his face. That's just led me to be inspired to smile more, because you never know how much someone needs a smile at the end of the day."
As people signed the guest book and the sun began to fade away, Muse mentioned that she had printed little flyers, albeit awkwardly and crookedly, to remember the day. Everyone said they loved the flyers anyways.