WEST HOLLYWOOD, Calif. — "Stormy for president!" "Stormy for Congress!" were among the cries from the hundreds of people that showed up to see adult superstar — and the 2019 XBIZ Awards host ­­­— Stormy Daniels accept the key to the city in front of Chi Chi La Rue's storefront on Santa Monica Boulevard.
It all seemed to happen overnight says Rob Reimer, chief marketing officer for Channel 1 Releasing.
"Chi Chi [La Rue] and Stormy know each other from their days in the industry," he told XBIZ, noting that today's event was initially to introduce her #TeamStormy T-shirts.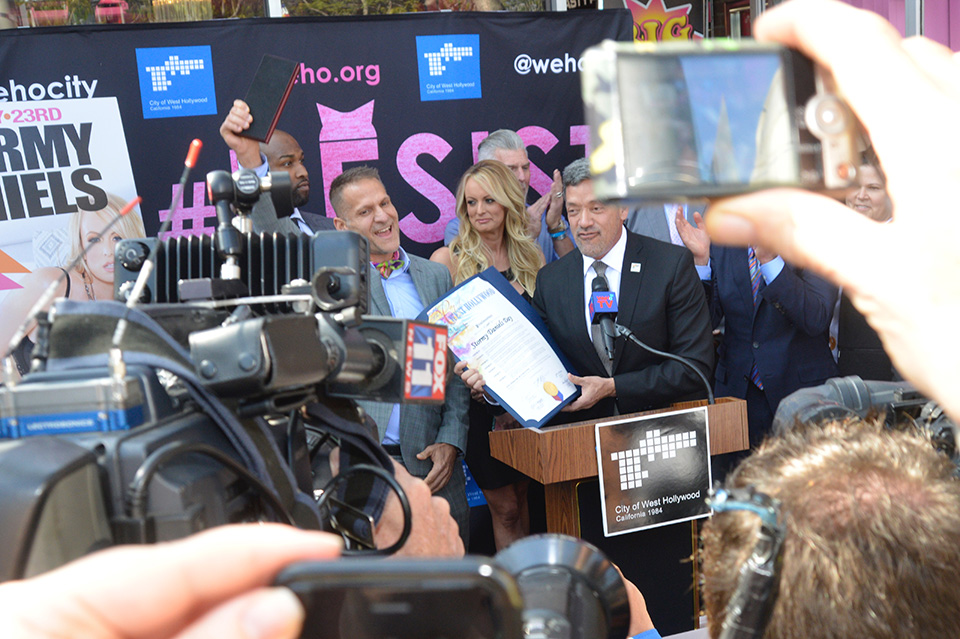 "That's all it was going to be and then the next thing we know is the city of West Hollywood contacted Stormy's people and said 'we want to give you the key to the city and make it Stormy Daniels Day'," he said. "West Hollywood is the best place in the world to do this and the city was gracious enough to let us host."
Within two days of announcing Daniels' appearance, Reimer says there was an avalanche of mainstream media from around the world that was eager to attend the event.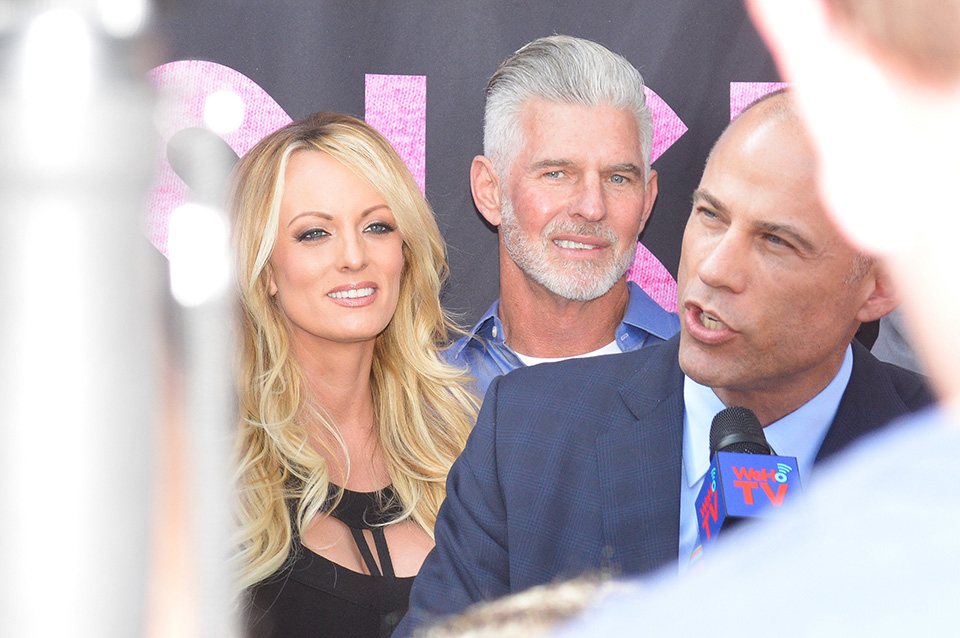 "We have been contacted by every major media organization from around the world," Reimer said. "Everyone from CNN — that's still here filming live — to all the local networks, to all the blogs, Huffington Post, Vice did a whole big thing on our store … so the PR is going to be out of this world. I can't wait to see all of the coverage that resulted from this. We thought it was going to be crazy but it turned out to be a hundred times crazier than what we expected."
According to Reimer, the media began camping out as of last night; and word must've spread because by the time of Daniels' 7 p.m. scheduled meet-and-greet came around, the line to get her autograph extended well around the corner.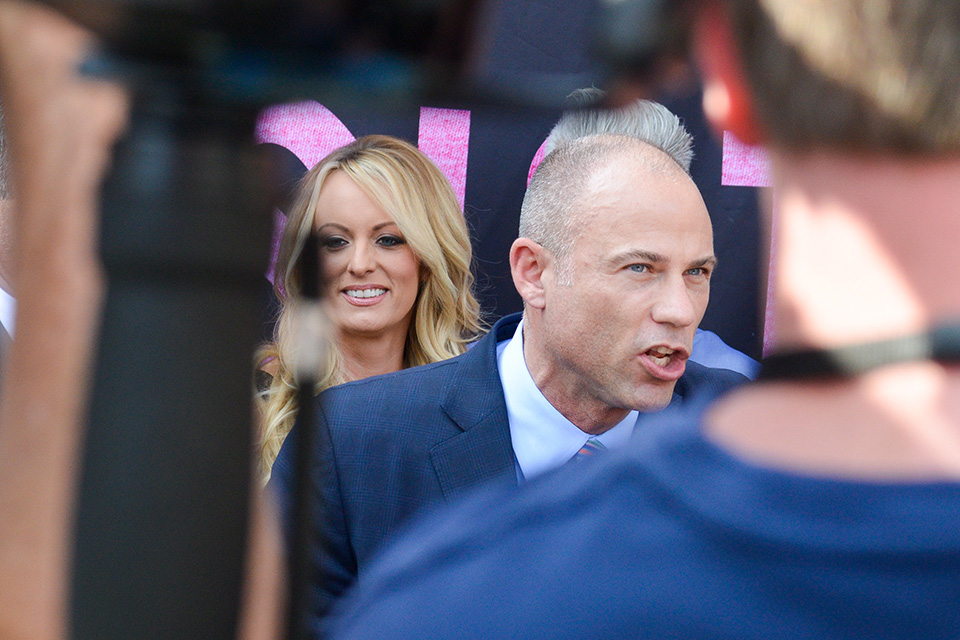 "The only thing missing was the cake," Daniels told XBIZ about her experience today.
At 4 p.m., in front of Chi Chi La Rue's, dozens of news cameras were affixed to a podium set up in front of the store as Daniels, whose real name is Stephanie Clifford, was presented with the key to West Hollywood by Mayor John J. Duran, Mayor Pro Tempore John D'Amico, and members of the West Hollywood City Council.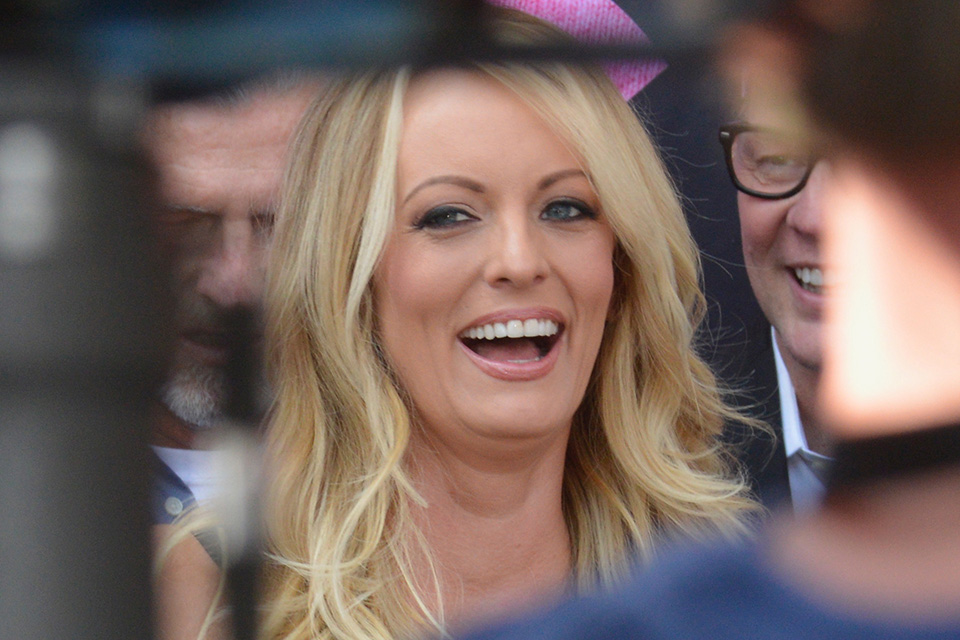 "What did the gay mayor pro tem say to the porn star?" D'Amico said. "Congratulations!" he said as he handed her the key to the city.
"The City of West Hollywood is a truly special place very close to my heart, and I would like to thank Mayor John Duran and the entire West Hollywood City Council for this incredible honor," she said. "And, of course, the one and only Chi Chi La Rue for hosting us today. As a woman with two wonderful gay dads, I feel especially at home here.
"The community of West Hollywood was founded more than three decades ago on the principle that everyone should be treated with dignity, fairness and decency. This community has a history of standing up to bullies and speaking truth to power, and I am so very lucky to be a part of it. I am elated and honored. Thank you to everyone."
Daniels' lawyer Michael Avenatti also attended, and was swarmed by cameras as he left. He introduced Daniels by saying "Stormy is one of the most intelligent, self-aware, courageous people you will ever come to know in your lifetime. I am honored and blessed to act as her counsel each and every day. This woman has a degree of fortitude that most of us can only dream about, and we are very, very happy and very, very blessed that she is at the forefront of this fight each and every day."
Daniels' mainstream streak began in January after a nondisclosure agreement was revealed involving her and President Donald Trump's personal lawyer Michael Cohen. It was later revealed that Cohen paid Daniels $130,000 through a limited liability company.
Daniels has raised more than a half-million dollars on CrowdJustice.com to fund her lawsuits against Trump. She has filed two suits against Trump. One is a defamation suit for the contents of a tweet about the sketch of a man who allegedly threatened her in 2011. Also, Daniels sued him and Cohen, to dissolve the nondisclosure agreement.