LOS ANGELES — Stormy Daniels made the mistake of forgetting to force me to sign a nondisclosure agreement. Her lawyer has yet to pressure me to accept hush money. None of her crazed supporters have threatened me with violence to keep quiet. What follows is a true account of the strange events that transpired between Stormy Daniels and me on the afternoon of April 4.
I was admittedly excited when Daniels' people contacted my people to ask if I would meet her at a secret location just outside of Los Angeles. The last time I spent time with her was nearly three years ago when she invited me to another secluded compound. On that occasion she had sex with four women while I stood quietly in the corner, taking notes. Now she had transformed from one of the most popular adult stars into an infamous public figure known the world over.
In truth, I am turned on by women in power, particularly when they know how to wield their clout as assertively as their sexual charisma. That, and I held out hope that Daniels would offer to cast me in her next film or give me a job as her feature dancing roadie, if only I entertained her perversions behind closed doors.
Daniels was directing her first film for Digital Playground, "Highway Home," after ending her more than 15-year collaboration with Wicked Pictures. I found her seated behind two TV screens that broadcasted live feeds from a bedroom just down the hall. In the tiny room, an audience of wide-eyed, stuffed animals waited for Xander Corvus and Kimber Woods to have sex.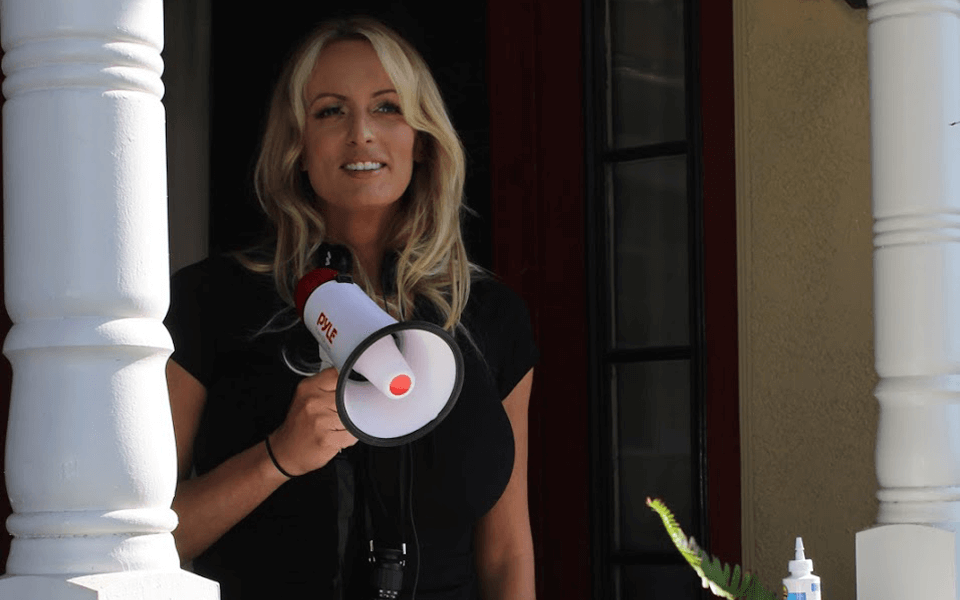 Much to my disappointment, Daniels had not been waiting for me naked, nor did she look like she'd be getting naked any time soon. She did, however, have her makeup done and her blonde hair was curled in perfect ringlets that spilled down her immense chest. So, I still held out hope that she would try to overpower me with her sexual supremacy.
"What's the bullhorn for?" I asked, motioning to a megaphone on the table.
"That's for when people get out of line," she said.
She glanced at me with a deadpan expression that attempted to mask the undercurrent of humor beneath most everything she said.
"I missed that look from you Stormy," Corvus said, his pierced lips lifting into a smirk. "That look of evil. I'm into it."
Daniels ordered Corvus to go to his room and start fucking Woods.
"Yes, captain," Corvus said.
I stood over Daniels' shoulder to watch the scene unfold through her eyes. Less than a minute passed before Woods stripped off Corvus' pants.
"Well that escalated quickly," Daniels said.
On many adult features, the action progresses slowly. The foreplay is extended to help create softcore versions of scenes that can be sold to more censored markets. Daniels no longer cared about catering to sensitive audiences.
"Do you have to shoot a softcore version of the scene?" I asked.
"Nope," she said, leaning forward to study the action on the monitors. "It's so nice."
Little slipped by Daniels. She noticed every perfection and imperfection.
"You can see the bruise on Kimber's leg," she pointed out. Recognizing an opportunity for humor, she added. "That's from when I beat her yesterday."
"Did she deserve it?"
"They all deserve it," she whispered.
I tried not to ruin the scene by laughing too loudly.
"Great shot," she whispered. "Fuck, she has pretty eyes."
The shot widened to show Corvus' hand wrapped around Woods' neck.
"Oh, he's choking her," she said. "That's hot. It's cute how she's smiling too."
She said this was the first time she didn't have to yell at the performers to go softer. Her new contract allowed her to shoot as raw and hardcore as she wanted.
Daniels' focus intensified with the scene. She looked like a commander at her battle station watching live drone footage of her Stormy Troopers executing her operation. Her hand methodically slid toward her bullhorn. She picked it up like a handgun and squeezed the trigger.
"Cut," she yelled.
Daniels insisted that the entire crew take an extended break to eat a home cooked dinner — a rare luxury on adult sets. I commented on how much more relaxed of a director she now seemed. I was not the first person to notice this change. Admittedly, she was living through the most stressful period of her life. She was at the center of a media storm and had been threatened with a multimillion-dollar lawsuit by the most powerful man in the world. By contrast, shooting porn was now a vacation from the public spotlight. She could disappear for a few days and surround herself with people she liked and trusted.
And yet, her peace was constantly threatened. Her phone delivered a stream of reminders of the chaos awaiting her. One of her four agents updated her about bookings, press requests and the latest crisis. The mockups for a new magazine cover just came in. Her lawyer called.
A fellow performer even attempted to prank call her. He left a strange voicemail, but she was too experienced to fall for his childish trick. Not that she hated being the butt of a joke. It just had to be a good joke, or she'd just roll her eyes. She was even excited to see the pictures of people dressed as her for Halloween, complete with balloon boobs. In fact, she was so accustomed to public ridicule that she claimed to enjoy being called a cunt.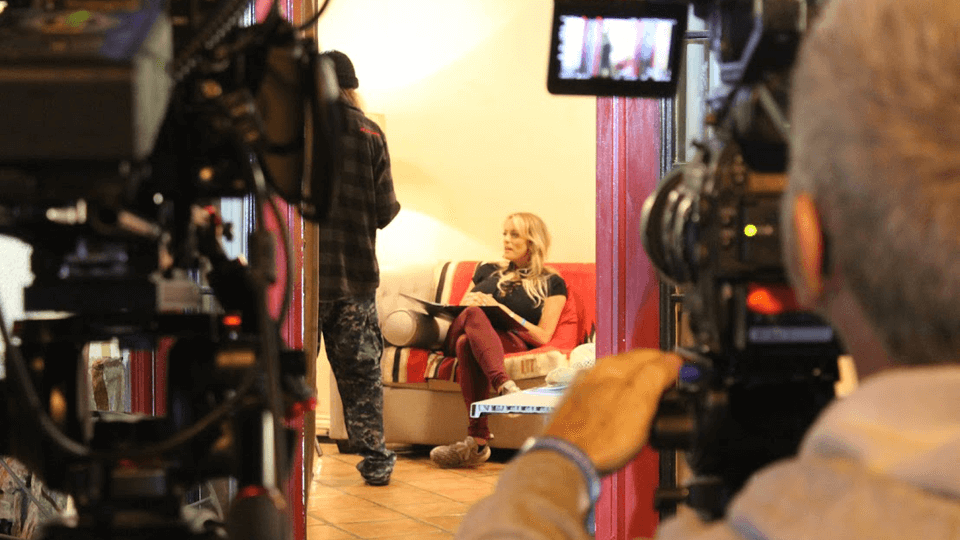 After dinner, it was back to business. Daniels ordered Dick Chibbles to strip down to a white undershirt and boxers. Then she sent the former pro-wrestler into the shoot room where he was to catch Corvus and Woods in each other's arms. He looked the picture of the abusive, alcoholic stepfather I never had. Chibbles served as her muscle for tormenting Corvus.
Earlier that day Daniels realized that as a contract performer for the parent company, MindGeek, Corvus was technically under her control. It was a power dynamic she planned to fully exploit. On Daniels' command, Chibbles slung Corvus off the bed and into the wall. The contract stud was then assaulted with blows until he crumpled to the floor and was dragged away.
"That was great!" Daniels yelled. "Let's do it again."
Once all the fun of watching Corvus get beaten around the house lost its novelty, Daniels had Chibbles toss the contract performer onto the porch.
"Now throw things at his face," Daniels yelled.
Chibbles grabbed a pile of clothes and hurled them at the cowering performer.
Daniels unconsciously smiled while watching this display with the same blood-thirsty pleasure that some watch the violence of shark week.
This was not the first time the director had hired Chibbles to beat people on camera.
"She once had me suplex her in a film," Chibbles told me between takes.
It surprised me that Daniels would allow a man to toss her around, at least until Chibbles told me she finished the scene by smashing a glass vase over his head.
Every crewmember was eager to sell their boss out with compromising stories about her questionable leadership style. Few had better stories than Daniels' right hand man/work-husband, Jack Vegas. (He was even playing Daniels' cuckolded husband in a scene the following day). Vegas spilled the beans about how Daniels made the talent audition for her epic western, "Wanted." She had the cast strip naked and ride a stick pony around while she filmed them. Vegas understood the method of her madness. She only wanted people involved in her passion project who were just as dedicated, and deranged, as her. She wanted a cast that was so committed to her vision that they would degrade themselves for her amusement.
Daniels rewarded this dedication. In contrast to a few top directors who used their padded budgets to expense designer watches or cars that they showed off on social media, Daniels used her recent spike in funding to overpay her multitude of crewmembers. She even ordered her entire team matching jackets. This was the side of Daniels that few people outside her inner circle saw. She stuck by those who stuck by her. In fact, her crew was almost identical to the team I met on her set three years before. Daniels has been called many things, but loyal is the one descriptor that is both the most accurate, and least used.
The day concluded with the final scene of the film. The crew held their silence as Woods cried on command for the cameras. Looming over the scene like a thundercloud, Daniels placed the bullhorn to her lips. Her stern expression suggested she'd yell something mean, something like, "You're all fired!" The crew froze in anticipation of her command.
"That's a wrap," she yelled. "You guys are amazing!"
Daniels obviously enjoyed the power and prestige that came with both her hard-earned appearance and her position. She had created a modest empire from meager means. She was no billionaire, but she was also not a bully who built her success on the backs of others. Nor was she someone who fired her employees weekly to maximize her profits or to provide a scapegoat for her mistakes.
Before I left, I cornered Daniels to give her a final chance to seduce me, to entice me with empty promises of a job as her feature dancing roadie, or to ask if I would get naked and gallop about the yard on a hobby horse.
"Are you going to write nice things about me?" she asked, masking her sarcasm with an evil smirk.
"That all depends?" I said, trying to bait her into making a deal.
She just stared at me, too savvy to fall for anyone's attempts to put her in a compromising position. She did not hit me with threats. Nor did she offer me hush money. She just gave me a hug, asked if I got enough to eat, and thanked me for coming.
To get back at Daniels for all of these offenses, I decided to sell this story of our time together to advance my floundering writing career at her expense. I'm sure I'll be called a liar and she'll deny every word. Her lawyer may come after me with threats, or if I'm lucky, an offer.