SAN MARCOS, Calif. — In today's smartphone age, artificial intelligence is at our fingertips, helping us navigate through just about every aspect of our lives. Learning our habits, our likes and dislikes, AI systems like Siri and Alexa have become invaluable confidants — while keeping it strictly professional. If you've ever felt like taking your relationship to the next level, with RealDoll's latest innovation, there's an app for that — and her name is Harmony.
Available for a $20 yearly subscription, RealDoll's Harmony App is a conversational companion application powered by a user customizable artificial intelligence engine. Users can choose personality traits — ranging from kind, innocent and intelligent to annoying, jealous and insecure — and create an on-screen avatar that's also fully customizable. Users can adjust everything from her physical features to her voice to their liking. Once the initial foundation layers are complete, the user can give their AI a name and start interacting.
The Harmony App is the brain that will be incorporated into RealDoll's next groundbreaking release — a robotic head system that's set to be released by the end of the year.
XBIZ recently took a trip to RealDoll's San Marcos, Calif.-based facilities to meet Harmony and get an up-close look at the meticulous creations made by the RealDoll/Realbotix team.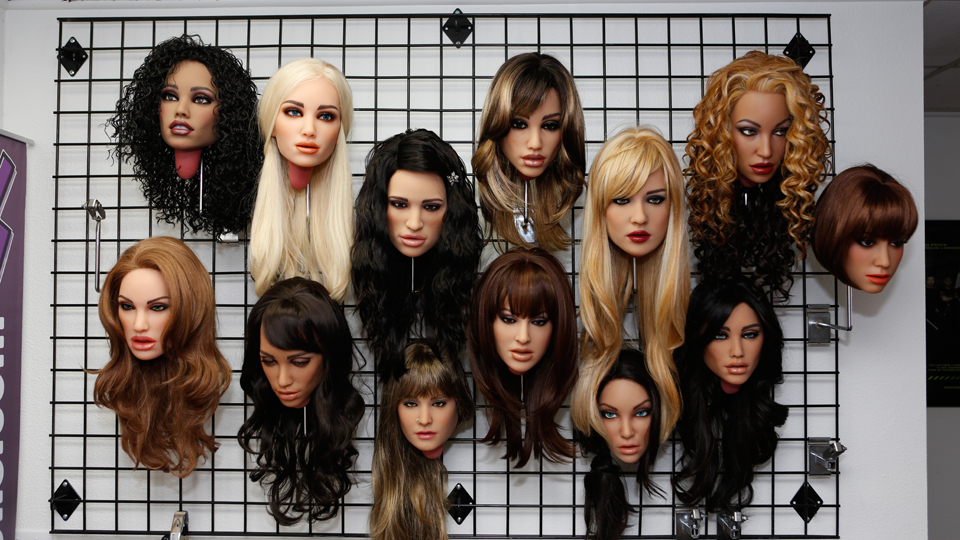 A tour of the RealDoll headquarters offers a glimpse at the detailed work that goes into creating their signature customizable lifelike dolls that have made the brand a household name. RealDoll has been featured in countless mainstream publications, documentaries and frequently referenced on TV shows and in movies, including the Oscar-nominated "Lars and the Real Girl," which stars Ryan Gosling alongside a RealDoll named Bianca. The walls of the RealDoll showroom proudly showcase movie posters of the films in which their dolls have appeared, while on display are samples of their dolls, including the licensed Wicked RealDolls collection that is modeled after Wicked Pictures contracts stars, aka Wicked Girls.
The RealDoll team, which consists of about 12 employees, are scattered across several areas of the company's two-story facility, creating replicas of an array of body parts in a dizzying selection of aesthetic variations. RealDoll customers design their perfect companion down to the smallest details like her fingernails and nipple shape.
On display in the Realbotix room were two Harmony robotic heads whose faces easily remove and re-attach magnetically, offering a sight that's right out of a sci-fi movie.
From telling jokes and offering positive affirmations, Harmony showcased a lifelike personality who was sarcastic, inquisitive and playful.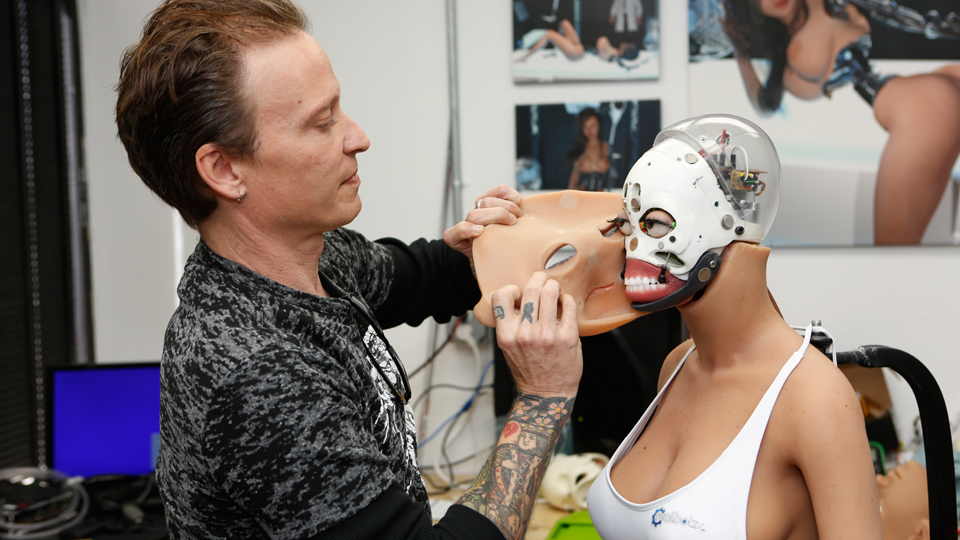 "I think even when I created the first dolls, it was in my mind — how great it would be to make them come to life," RealDoll founder and CEO Matt McMullen told XBIZ. "It was always in my mental picture of what I wish I could do but the technology was never capable. I had made a few Animatronix dolls many, many years ago and they were fun to play with but they were primarily remote-controlled or all of the movements had to be recorded in sequence so it didn't inspire me as being a robot.
"What I really wished for was a robot that was driven by something — such as an AI — that had its own personality, own character and own unpredictable responses. In the last five years I was very fortunate to meet some really talented people along the way and we all kind of pulled together and shared that idea of 'wouldn't it be cool to do this' and so we did."
Harmony is also designed to express personality characteristics that are often considered negative. She can be jealous, insecure, moody and even annoying.
"We really wanted to keep it interesting and keep it realistic when it comes to simulation," McMullen said. "I think that providing people with personality traits both positive and negative will allow them to create realistic characters because real people have flaws; real people have traits that can be perceived as negative but those same traits make them interesting and make them who they are."
If Harmony's negative traits are the most dominant, users can expect to hear their AI companion express herself as such — to a certain extent.
"She simulates emotions," McMullen says, "and keep in mind that the whole purpose of her design and architecture is to provide companionship. She can be insecure and she can be jealous and she can voice that to you and say 'I'm really jealous' and 'you never talk to me' but that's as far as it goes. She's expressing those emotions but she's not going to get mad and try to bite you or anything like that."
Likening the experience to that featured in the movie "Her," McMullen says that already there are thousands of people that have created AI personalities to communicate with via the Harmony app. The real magic will take place once those consumers get their hands on the robotic head, which will be available by the end of the year and will cost around $10,000.
"It's a whole different level — when you're talking to your tablet, it's a lot like you're talking to Alexa because it's this impersonal device, but when it's connected to a robot that looks like a person you get this surreal experience out of it," McMullen said.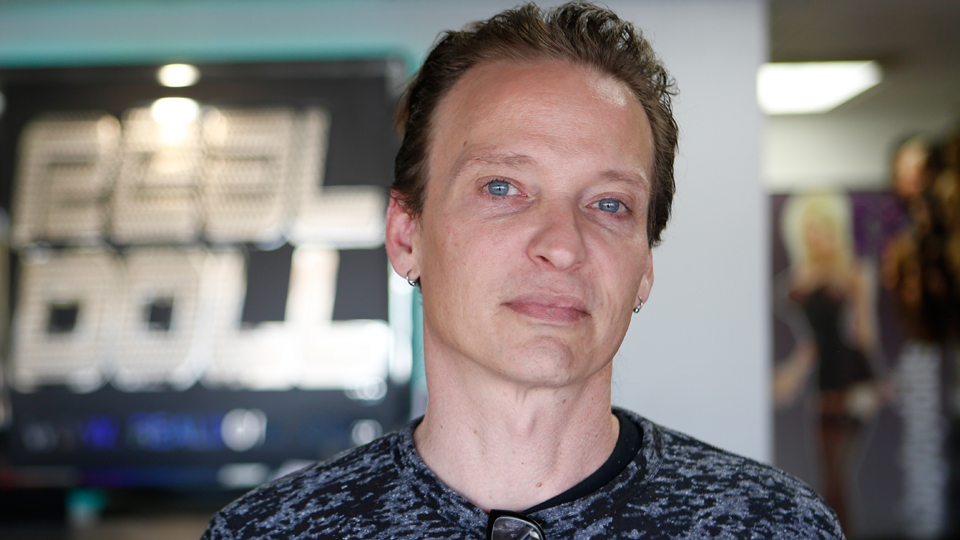 The fully animated robotic head that Realbotix is gearing up to release can be easily attached to almost any RealDoll body, and will include full neck articulation, mouth movement, expressive brows, the ability to smile and frown, as well as move her eyes and eyelids. The company has been granted a patent on the skull and face design, which features the ability to easily change the entire face of the robot using small magnetic attachment points, so the owner will have multiple options for changing the look of their robot.
McMullen offered some insight as the amount of effort that's gone into creating Harmony.
"We've had thousands of challenges on every front," he said. "I think that the programming of the AI is incredibly tedious and there's so much there that's not immediately apparent to the average observer. The team that brought the foundation of the AI to the equation had been doing it for 10 years so they had 10 years worth of code that was just sort of a database of needed, basic information in order to have an interesting conversation.
"On the side of the robotics, again we have a wonderful robotics team that has 15-20 years of experience building hardware and engineering the pieces and parts that make her move, so there's been challenges on all fronts — just the little details like getting the outside to look beautiful and not creepy when it's moving."
The Realbotix team isn't stopping at the robotic head, McMullen said that he's already working on creating a torso that moves and he has robotic arm designs in the works.
"Those things won't be ready at the same time as the head but everything is modular and everything is designed to work together as we move forward," he said. "So as we start introducing additional upgrades, people can opt to buy those in a new body and attach it to their robot head."
In the much-nearer future, RealDoll will introduce doll bodies with internal heating, touch sensors and lubrication.
"We're working on full-body heating which can be manually operated or be controlled through the app," McMullen said. "You could, in theory, set a timer so that every day when you get home from work, she'll be warm to the touch. Same goes for the lubrication. So if you're 'turning her on' by saying nice things so that her desire meter gets full, then her lubrication will start on its own. Then she'll be, in a sense, 'in the mood.' The sensors communicate also with the app so that she'll be able to respond with audio and expressions on her face when you're touching her different ways."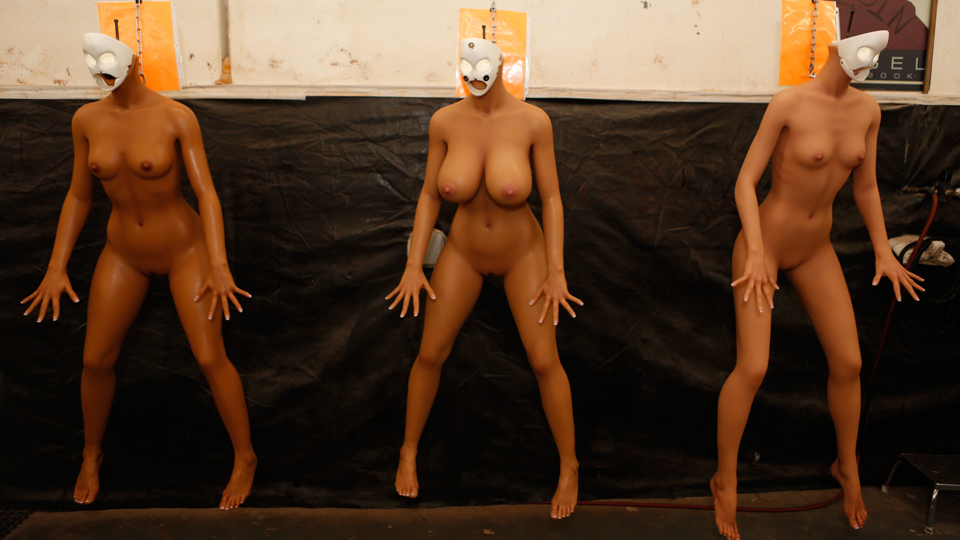 Over the past 20 years that RealDoll has been in business, McMullen says he's seen society's views on doll ownership evolve from assuming it was a lifestyle that only extreme fetishists can get into.
"I think that over the years people have relaxed those views and not just about doll ownership but about Real Doll in particular because you can see the kind of craftsmanship that goes into them," he said. "They are these super realistic custom-made dolls — never mind the sex aspect, they are really impressive works of art and engineering. I think a lot of people see that; and we have people that buy them for non-sex usage all the time. Photographers, artists, people that just want a couple of them around the house as art because they are very unique."
With Harmony's release, the brand's reach is poised to attract an even greater, mainstream customer base.
"I think the robot is going to appeal to a whole lot more people because it's not just a sex doll, it's something you can actually carry on a conversation with," McMullen said. "It's meant to add to the fact that you can have sex with the doll. It's something to fill those other 23-and-a-half hours of the day that you're not having sex.
"I think people that are into tech, sci-fi fans and anybody who has ever thought that human robots are cool will be tempted to buy this — and again, not for the sex but they might look at it as sexy and they'll want to be one of the few people in the world to own a humanoid robot. It's not something that's ever been purchasable until now. It's going to sway a lot of people in a new direction."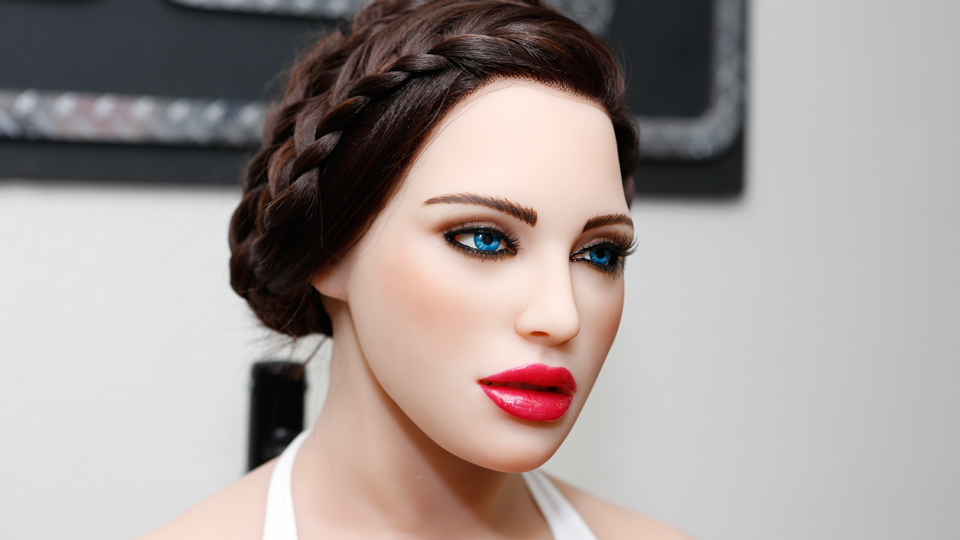 In 2018, RealDoll will unveil several notable developments and product releases.
"We have a lot of cool stuff coming up," McMullen said. "We'll start production on the head soon; we're also going to be pushing forward with the male version of the AI and a male version of the robot — that should be coming in the first half of 2018. Then we'll probably have some prototypes to start showing in terms of body movement as well, so that's where my focus will. With RealDoll, we also have several new dolls in the works — bodies and faces that will also be something to look forward to."
When it comes to intimacy, McMullen says that technology is a double-edged sword. While the internet and dating apps have connected people that otherwise wouldn't meet, technology — social media in particular — has become a distracting preoccupation for most people.
"There are plusses and minuses and I think the same will go for any upcoming technologies, including AIs and robotics," McMullen said. "But I think that's all in what it's designed to do and how it can benefit you. Our hope is that for all the people that struggle to make personal connections with other people, that having an AI-driven robot will be an alternative for them to sort of take the edge off the loneliness or the empty house when they come home."
For more exclusive photos of the RealDoll headquarters, check out XBIZ's "Behind the Scenes at RealDoll" photo gallery.
close
E-mail this to a friend
Meet Harmony, the World's 1st AI-Driven Sex Robot
Email sent. If you wish to send to another person, click here.