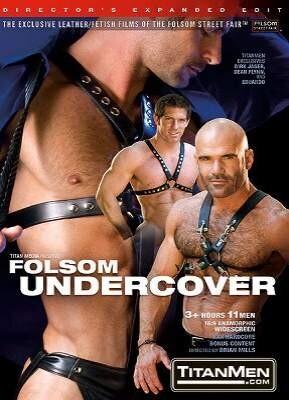 How can I express the depth and breadth of the hotness that is "Folsom Undercover"? Firstly, there are three and half hours of stunningly buff men doing nasty things to each other in a secret society that's kinda like the Masons in leather drag. Secondly, the sex is smokin' with evenly paced foreplay and fucking that's such a turn on because you can get involved in the action. Piss play, electro play and bondage, hot wax … all these techniques are used throughout the film.

Titan Men exclusives abound in this film with studly Dean Flynn setting the scene with hot outdoor fucking with Eduardo, who adds some electricity to the scene as Dean's electro-stimulated butt cheeks pump and squeeze Eduardo's tool to climax. Let's not forget to enjoy some suit sex as Darius Falke shows Max Schutler "how things work" around the office. Sexy almost-twink Tyler Peter's indoctrination to the "club" is super-sweltering as he's shown the ropes and is taught the wax-on, wax-off technique.

"Folsom Undercover's" storyline holds together the disparate scenes, each of which is filmed with great skill — the camera lingers in all the right places. Director Brian Mills sets the scenes perfectly creating another great film for Titan Men.
Synopsis:
A private fraternity has businessmen living second lives, relieving their stress through sexual aggression as they indulge their deepest desires. Four scenes bring you more than 2 ½ hours of unforgettable action, half of it shot in the beautiful outdoors. Get undercover and get off.