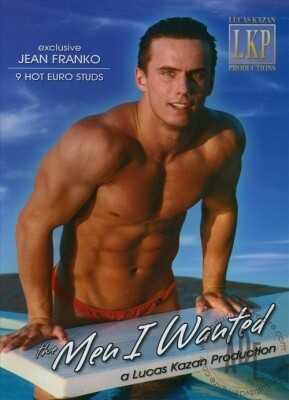 Director: Lucas Kazan

Cast: Jean Franko, Ethan Clarke, Roberto Giorgio, Lucas Andrades, Glenn Santoro, Alexy Tyler, Samuel Dolce, Mark Federico and Pietro.

I suppose I should start out this review by stating that director Lucas Kazan never fails to amaze me with his directing abilities. I remember years ago, when he was just starting out, I compared him to Kristen Bjorn, another director whose techniques are mind-blowing. It's nice to see that the comparison is accurate — yet different. Kazan directs with his own sexual style and, like Bjorn, where he finds the men he puts in his films must be the world's best-kept secret.

In his latest outing, shot on location in Tuscany, Italy, Kazan showcases some of the most perfectly sculpted and sexually voracious European men to-date.

"The Men I Wanted" has hunky Samuel Dolce fantasizing about four separate vignettes that comprise the film. From swimmers to waiters to hitchhikers and honeymooners, it is virtually impossible to pick a favorite scene. Gun to my head, though, I'd probably have to go with Roberto Giorgio's pairing with Ethan Clarke. I've been a fan of both former Bel Ami models for years so Kazan pairing them together was a stroke of genius. The sexual and romantic chemistry these two have goes through the roof.

Nevertheless, there's not a weak scene in this movie and Kazan solidifies himself once again as one of the best porn directors working today.