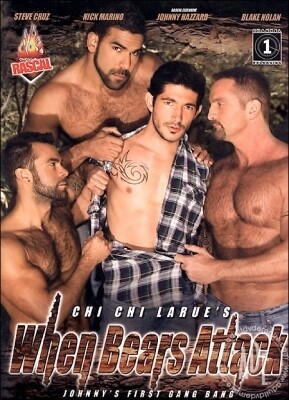 One thing director Chi Chi LaRue likes is diversity — well, that and hot, hairy men. There's no denying the industry demand for hot 'bears' — generally older men with some fur on their flanks. And lucky Johnny Hazzard is given the opportunity to show off his talents for the furry beasts.

Hazzard, who is in his element here, is driving his red pickup truck (get it? Like Little Red Riding Hood?) through the hills of Southern California when he decides to stop for a harmless wank.

While Hazzard is jacking, bears Arpad Miklos and Cole Ryder (and cub Steve Cruz) catch his scent and head his way, where they miss him, but have a spirited threesome in the back of the truck using his discarded shirt to stimulate them.

The finale, where Miklos and the rest of the bears descend upon Hazzard, is explosive — and Hazzard couldn't look happier.

LaRue has put together a nice, easy-on-plot film that erupts out of the gate. It's also nice to see a quality production featuring some of today's best "mature actors."

Director: Chi Chi LaRue

Cast: Johnny Hazzard, Cole Ryder, Nick Marino, Blake Nolan, Manuel Torres, Steve Cruz, Mick Powers, Damien and Arpad Miklos.