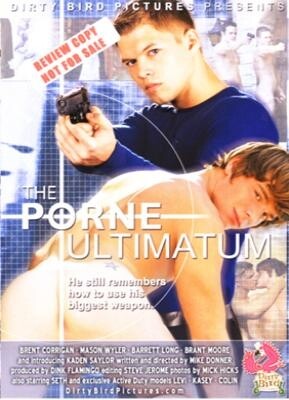 Director Mike Donner brings his signature style to Dirty Bird Pictures with the porn version of "The Bourne Ultimatum."

Known exclusively for his Active Duty gay military features, producer Dink Flamingo has taken a giant step into the world of production by throwing his studio's hat into the ring.

Donner takes some understandable liberties with the script, but the end result is a fine showcase of talent.

Kaden Saylor makes his debut as the main character, and he is a very likable person. He's not a bad actor, either. His sex scenes — one with doctor(?) Brent Corrigan and another with potential love interest Mason Wyler — are quite good as well.

There are some humorous moments, some really good sex and a big car chase is attempted — and does a credible job. I was quite impressed that they attempted it in the first place — it was ambitious and it paid off. If this is any indication of the direction that Dirty Bird is poised to fly, I cannot wait to join the journey.

Director: Mike Donner

Cast: Kaden Saylor, Brent Corrigan, Mason Wyler, Barrett Long, Brant Moore, Seth, Levi, Kasey and Colin.
Synopsis:
This action-packed sex-fest, based on "The Bourne Ultimatum," features good acting, a car chase and some hot sex.