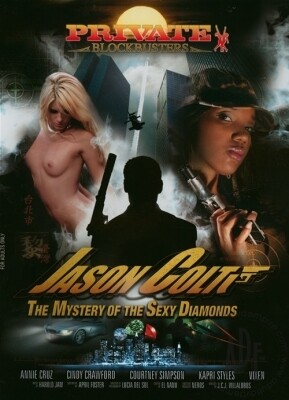 Director: Juan Carlos Jesús

Cast: Annie Cruz, Capri Styles, Cindy Crawford, Courtney Simpson, more.

In this espionage thriller good-guy Jason Colt is sent to get a rogue NYC cop and his way-hot girlfriend. She's been kidnapped and has a very valuable red diamond — and Colt's reactions in voice-over makes it sound like he's got a history with her as well.

The video changes location and point-of-view with dizzying speed. As soon as Colt recovers the red diamond, he has to find two more. It's like watching four James Bond movies in fast forward on a split-screen.

After about half an hour, none of this matters and you just go with the flow. Is that hot blonde getting it on with another hot blonde in a car as she drives down the freeway, or after the car stops by a country house? When we keep going back to the black-and-white sex scene in the barn, is that punctuation or does it have something to do with what's going on here? And what IS going on here, anyway?

Production values are high and sex is scorching, as usual in a Private production. Some sex scenes are overproduced, with unnecessary editing and special effects, diluting the effect.
Synopsis:
The highest production values ever seen in an adult movie. Jason Colt is a spy in a super sex action spy thriller, shot in New York and Taiwan. Complete with diamonds, naked girls and superbly filmed sex scenes.