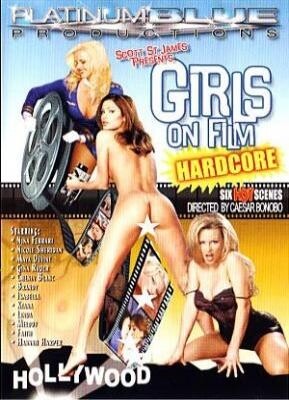 This movie feels like an extended behind the scenes featurette; we are treated to lots of off-camera footage of the stars and filmmakers just being themselves and having a good time while filming their scenes and posing for their photo shoots.

Nina Ferrari has her photos taken with a stud. She sucks his cock as the camera flashes, then gets her pussy eaten and plugged doggystyle. Bulbs flash as the photographer snaps away and Ferrari receives a delivery of choad to the face.

Nicole Sheridan, Maya Devine, Gina Ryder and Chenim Blanc prepare for a steamy scene in which the busty beauties play sexy nurses. The director reads aloud from the script so they can better get into character.

The director's speech goes into voiceover as the scene plays itself out. The nurses spot their patient's incurable boner. The prescription? Suck him and fuck him in all manner of positions until his priapism is cured. (Sidenote: If all hospitals had service like good, the world would be a perfect place.)

I really liked this flick. It's a nice look at the goings-on of the adult entertainment industry from an insider's point of view. Sure, some folks may want to get "real" scenes, but there's plenty of sex to go around even if it's only in briefer snippets than you're used to.

For those of you who aren't fans of cinema verite-style filmmaking, I'd still recommend renting this one. For those of you(like myself) who love this sort of thing, knock yourselves out. There are plenty of women here to enjoy, the sex is good and you may learn some interesting insights about the industry that you didn't know.

Starring Nina Ferrari, Nicole Sheridan, Maya Devine, Gina Ryder, Chenin Blanc, Brandy, Isabella, Kianna, Linda, Melody, Faith and Hannah Harper.

Directed by Caesar Bonobo.

Extras include web info, trailers and gallery.
Synopsis:
Erotic superstars and some of the world's most popular centerfold models come together to experience some of the most sensuous sex ever filmed. Take your first clack seat on a jumbo jet and have three gorgeous stewardesses all to yourself. Check into a private hospital and get special treatment from four horny fetish nurses. Become a DJ at an industrial rave and get seduced by a buxom blonde groupie. Tell your dreams to a beautiful psychiatrist and transform her into your lust filled sex slave. Move into a mansion where two exotic bombshells are getting each other soaking wet in your giant bath tub.