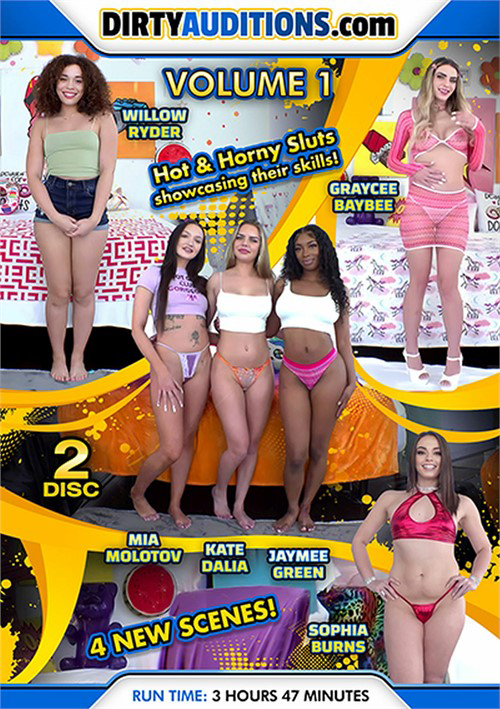 Director/performer Mike Adriano has his happy, horny way with a bevy of dirty damsels, including amazing anal princess Sophia Burns.
Round and curvy (and pigtailed!) Graycee Baybee is a great opener for this premiere edition of "Dirty Auditions." What a superb deepthroater she is, going all the way to the base of Mike-meat! I don't know how the heck Adriano manages to hold back his nut. This cock-gaggery goes on for a while, before Adriano feeds her asshole with his raging hard-on via missionary, followed by bouncy cowgirl-anal. What a truly wonderful big ass on Graycee! I also love her little moans of pleasure. "My pussy is soaking wet," she pants to the camera. Boing! Mike soon dons his gape-crusader gloves and has her distend that sweet anus, which actually speaks to the camera. Reverse-cowgirl-anal with Graycee ("I wanna taste that fucking ass") leads to a fine ATM. She loves it! And doggie-anal with this lovely fuck cushion is ab-fab; Adriano cums all over Baybee-butthole. Now, that's one excellent audition, Graycee!
Next, Mia Molotov (the brunette with the tats), Kate Dalia (the brown-haired sweetie), and Jaymee Green (who says she's from San Francisco and has some way-big all-natch hooters) are there to simply suck Mike's dick, with all three ladies looking fantastic — and hacking splendidly! They're all excellent oral artistes, though I think my fave is loud and nasty Mia. Kate gets it all down her throat. And Jaymee is just so darn cute. Again, I don't know how Mike maintains without prematurely poppin' his wad. He does eventually give it up, mostly into Kate's gob; the ladies share the spunk. And watch all of the saliva Kate brings up when she keeps on sucking away, before cum-swapping with the gals.
But my favorite of the "Dirty Auditions" lot is definitely 25-year-old brunette Sophia Burns from New Jersey. Burns takes it down the throat and up the ass like a total pro, and what a dazzling smile on her throughout! It's beaming, in fact. Aside from being a top-of-the-line deepthroater, bawdy Burns also likes to rim. And I mean rim! For a long time. So nasty. That's why we love her! Doggie-anal is supreme with this outrageous porn treasure, especially with her big ass all oiled up and shiny. Her fine fanny is also wonderfully showcased during cowgirl-anal; Sophia displays the terrific rhythm that she possesses. Then, it's missionary-anal. "My asshole's hungry for that cum," she groans, before Mike unloads his load up her asshole. "It's deep in there, just how I like it," she gloats. Ever the vamp for pleasure, Sophia sucks Mike's prick some more, making some nice sloppy sounds and going balls-deep; Adriano supposedly cums once again, though we don't see it. "Creampied my fucking throat," Sophia proudly announces. "I felt it throbbing in the back of my throat," she adds before blowing the camera a kiss. I adore her!
Lastly, brunette Willow Ryder is a meaty little morsel who's apparently visited Adriano Land before and is back for more, this time wanting her ass filled up with Mike's illustrious beef-stick. Willow is both cute and nasty, really hacking on hose. And it's a pure joy watching her ass go up and down on cockmeat during cowgirl-anal. Willow is soon wildly bouncing upon it, calling her ass "fat" (but always with a smile!), as she gets a superb rhythm going. Doggie-anal is highly memorable, as is reverse-cowgirl up Ryder-rectum, shot from Mike's perspective. Then, it's missionary-buttfuckery; Mike really penetrates that sweet anus ("Cum deep inside my asshole," Willow begs) before he blows his jizz up Willow's anal canal. "I'm happy now," she gleefully declares. "I'm filled with cum." And how can you not love Willow after a comment like that one?
All of the girls in "Dirty Auditions 1" absolutely rock, my faves most definitely being Willow and (mama!) Sophia. Absolutely worth checking out!
Synopsis:
Fan-favored pornographer Mike Adriano exposes hot starlets to his nasty style and signature kinks in the premiere edition of his newest line, Dirty Auditions Volume 1. Messy, deviant cum play soaks every scene! Sporting a see-through mini-skirt and top over a dainty string bikini, blonde Graycee Baybee gives Mike's big cock a sloppy blowjob. He douses her derriere in shimmering oil. Mike shoves his fat boner up Graycee's ass and bangs away, stretching her sphincter till it gapes hugely! Graycee sucks his tasty erection, giving ass-to-mouth, deepthroat head. Brunette Mia Molotov, blonde Kate Dalia and luscious Jaymee Green flaunt their formidable bodies for Mike's lens, leading to an oral audition. Jaymee shows off her big tits. The tempting trio bends over to twerk booties. The girls trade off slurping Mike's sloppy schlong in multiple rounds of cock worship with ball service; gobs of spit drip onto bare boobs and bodies. Mike stands, aggressively fucking each mouth, conjuring more thick, messy saliva. Pretty Kate snowballs a gooey mixture of thick semen and slobber into Mia's mouth. Mia follows by snowballing the juice into Jaymee's open mouth, climaxing the depravity. In a tiny bikini, curvaceous cutie pie Sophia Burns bends over, bares her rear and winks her anus. Mike stuffs his mug between her cheeks to rim the thickly built doll. Sophia deepthroats dick and tongues bunghole! The natural-breasted temptress buzzes her clit with a vibrator while she chokes on Mike's pole. She loosens her tush, prying a glass dildo inside. Mike sodomizes her butthole to gaping, and a mess of creamy lube pours down her crack. Sophia cleans Mike's meat orally. Adorable brunette Willow Ryder pulls down her Daisy Dukes, jiggles her luscious derriere and showing off juicy, natural breasts. Mike's camera follows the playful, curly-haired cutie's bouncing buns. Willow gives a righteous BJ, drooling strands of spit onto Mike's prick. He oils up her bubble butt; she inserts a kinky, syringe-like toy into her backdoor. Willow takes an anal ride and responds with energetic, A2M cocksucking. Mike slams her open sphincter in several positions.
Copyright © 2023 Adnet Media. All Rights Reserved. XBIZ is a trademark of Adnet Media.
Reproduction in whole or in part in any form or medium without express written permission is prohibited.