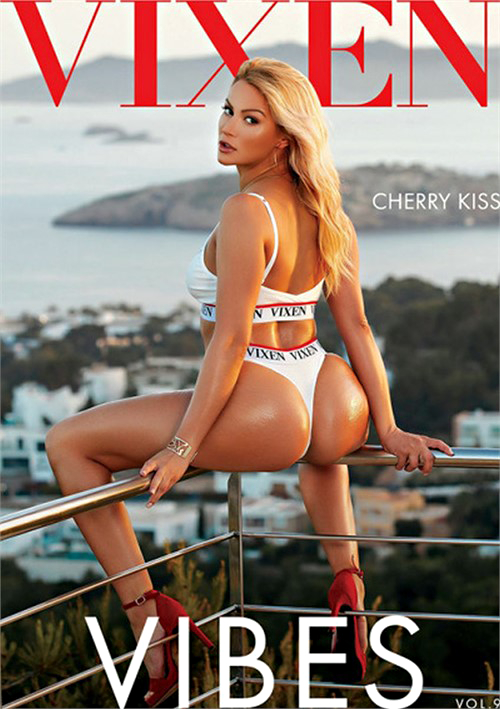 "Vibes" is an excellent series from Vixen, filled with amazing videography, gorgeous young women, and intense sex. There's not much by way of anal in "Vibes 9," but trust me, the erotic energy is powerful enough here to make amends for any such short-cummings.
In the first of three excellent, consecutive scenes directed by the great Julia Grandi, Christian Clay thinks there's an unwanted interloper taking a swim in his pool. But he soon finds out that it's his ex-wife, played by Cherry Kiss, who's skinny dipping. The two of them deeply get it on at night upon a mattress: outdoors, candles on either side of the bed, the city lights picturesquely blurred in the background. And it's all filmed somewhere in Europe, I'm sure. Kiss is a superb cocksucker. She also has one amazing butt, magnificently highlighted during cowgirl. After some highly animated reverse-cowgirl, spoon, missionary, and doggie, Christian eventually gives Kiss a nasty cream pie, our two lovers powerfully kissing as the camera slowly pans off into the dark of the night. Great opener!
In another Euro scene from Grandi, blonde babe Allie Nicole admits that she's been "crushing hard" on Chris Diamond for months, before she gets what she wants during a game of "truth or dare." The scene is also shot at night, making it all the more romantic; Allie and Chris get it on upon a large bed overlooking a huge outdoor pool. I just love the way she gets face-fucked with that big, thick Diamond-dick. Cowgirl is an excellent position for Allie, seeing as her healthy ass is so awesome. I like it, too, when she does the work herself, allowing us to watch her priceless paddy cakes fly. Missionary displays how happy Nicole is as she's boisterously banged, while doggie, again, showcases that meaty butt, before she turns around, sucks Chris' dick, licks his balls, and jerks him off into her mouth — and her hair! Allie is one happy camper!
In another rather romantic scene, exotic-looking, ridiculously cute Romy Indy passionately gets it on with tourist Alberto Blanco upon a beach in the Caribbean, then on a bed next to another private pool, with a spectacular view of the not-so-far-off ocean in the background. Having just met, Romy and Alberto walk along the beach, very innocently, before she takes him to her "special place" beside the ocean, which is way desolate; Indy soon strips for him, and the two get down to business. The waves dreamily cascade and crash as she sucks him. They do, however, eventually move to Romy's spectacular home overlooking the seaside. I love doggie with this beauty, as her pert breasts hornily hang down. I also love how Romy moans and almost purrs during cowgirl. You can tell Alberto is loving it, eventually creaming her lips and chin with Blanco butter.
In the final scene, expertly directed by Laurent Sky, luscious, dirty blonde Kayley Gunner is a wealthy babe who sluttily seduces her masseur, played by Quinton James. Kayley and Quinton have always kept their relationship professional, until Kayley suddenly tells Quinton to put his cock into her mouth. James is concerned about losing his license, but she assures him not to worry and that she'll make it worth his while. He goes for it! Saliva drips filthily down her lips as Kayley sucks James' joint. Kayley definitely gives the best blowjob in the movie, sucking dick like it's the last one she'll ever have on Earth. Doggie with such a juicy morsel is absolutely out of this world, those all-natural hooters hanging down and swinging all around. She likes getting heartily spanked, too. After a return to cowgirl (Kayley likes that position), she tells Quinton, "I wanna feel your cum so deep inside of me." Creampie time! Kayley even squirts after he cums, greedily lapping up the excess "cum and squirt" off of his stomach. Great ending!
Yep, the final scene in "Vibes 9" with carnal Kayley is outstanding — though the sizzling sequences with Cherry and Allie are strong runners-up. Recommended.
Synopsis:
VIXEN.com returns with a lineup of beauties who are putting out VIBES. This series gets you on the same wavelength as flirty girls who are horny for adventure. Featured cover girl Cherry Kiss is either a nymph lurking in a backyard pool, or a temptress waiting in the depths of a man's soul. Dive in and figure out what this blonde has to offer. Allie Nicole, Romy Indy, and Kayley Gunner are all bringing their good vibrations to the bedroom. Groovy stories, sparkling settings, and amazing action: VIXEN.com knows you'll pick up the VIBES.
Copyright © 2023 Adnet Media. All Rights Reserved. XBIZ is a trademark of Adnet Media.
Reproduction in whole or in part in any form or medium without express written permission is prohibited.