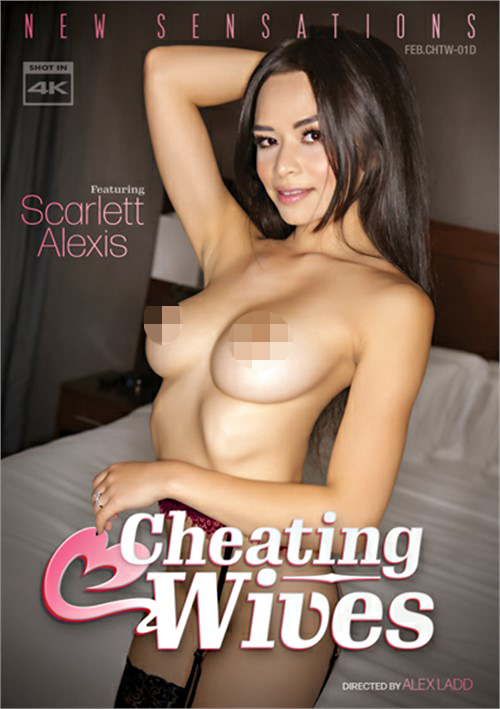 In "Cheating Wives," lots of horny hotel shenanigans unfold with wildly sexy women — all of whom obviously have no problem whatsoever sucking and fucking behind their husbands' backs.
Isiah Maxwell, playing the hotel manager, knocks on Chanel Camryn's door, which goes unanswered, and then, investigating a noise complaint, walks in on her as she's taking a shower. But it all works out! After all, this is porn, right? Maxwell initially tells the seductive Chanel, wearing highly enticing turquoise lingerie, that not only is he the hotel manager, but she's married! She doesn't care, getting him to fold fast. She likes getting choked while Isiah bangs her missionary. I like how sweaty Camryn gets throughout (just look at how wet her hair becomes). Doggie is nice with such a terrific tush; Chanel's garters accentuate the meatiness of those choice cheeks, which Maxwell eventually whitewashes with quite a load.
Anal princess Scarlett Alexis is asking for one thing after another from her hotel manager, played by Brad Newman, before she invites him into her room while she's stark nude. Brad makes sure "Mr. Alexis" is nowhere around before he readily gets down with the horny Scarlett. Everything with Scarlett rocks, from her long, silky black hair to her fine ass to her beautiful face and perfect all-natural breast to her way-horny attitude. She sucks cock longingly in a horny old-fashioned manner that I like — with no histrionics. Alexis looks so delicious during missionary, while she's highly animated during cowgirl. Doggie is another grand position with this exceptional starlet, whose own black garters highlight her already superlative butt. And it's such a wonderful surprise when Brad sticks it in her ass during doggie. Wow! "Stretch my little butthole," she purrs. He grabs her hands and lets those cheeks fly, continuing his ass invasion during spoon, which morphs into missionary-anal.
Chad White portrays a grateful employer who's thanking his worker, long-haired brunette Maya Farrell, for her extensive work, before she asks for a bonus via his boner while, of course, her husband is gone. I haven't seen Farrell in a lot of movies, and I like what I see! She's not only alluringly exotic-looking (like Scarlett), but sucks a nasty cock. And Maya also wears some sexy blue lingerie. Cowgirl is magnificent with that full-bodied bottom. Maya has a fun, upbeat attitude, too. Chad really buries it in her during doggie, during which I love her expressions of crazed lust. Then, the sweaty wench lets us enjoy her terrific titties during missionary, before Chad eventually moves up to her face and absolutely douses it with dick sauce.
Lastly, Tommy Pistol meets an old acquaintance in the form of ultra-sexy brunette Suttin, who takes him up on his offer to come and visit him in his larges hotel suite. Suttin looks wildly sexy with her big boobs, cute face, and choice leather pants. It doesn't take long for her to put the moves on Tommy, who's more than happy to please this married woman. Suttin has a phenomenal pair of boobs, looking all the tastier since they're pierced. She really gags cock, going all the way down and making delightfully dirty, wet, gargly noises. A movie highlight! Suttin looks amazing during reverse-cowgirl, inevitably looking at the camera; she's so damn horny. More dick-inhaling follows. Doggie with this choice morsel is way horny, if a bit short. We soon get to enjoy those bodacious boobs again during spoon, while that incredible ass is back on display during cowgirl. Suttin totally works it, and she likes it when she gets to take the driver's seat herself.
All of the scrumptious young women perform beautifully in "Cheating Wives"; my hat especially goes off to Suttin and, of course, Scarlett. This horny entry is perfectly fine for porn vets (especially that anal scene with Scarlett!) and curious couples alike.
Synopsis:
Cheating wives hook up with new cock when they get away from their husbands. They will risk their marriages for a good, deep dicking. See the nasty acts they'll do for random men before going back to their loyal and loving husbands.
Copyright © 2023 Adnet Media. All Rights Reserved. XBIZ is a trademark of Adnet Media.
Reproduction in whole or in part in any form or medium without express written permission is prohibited.