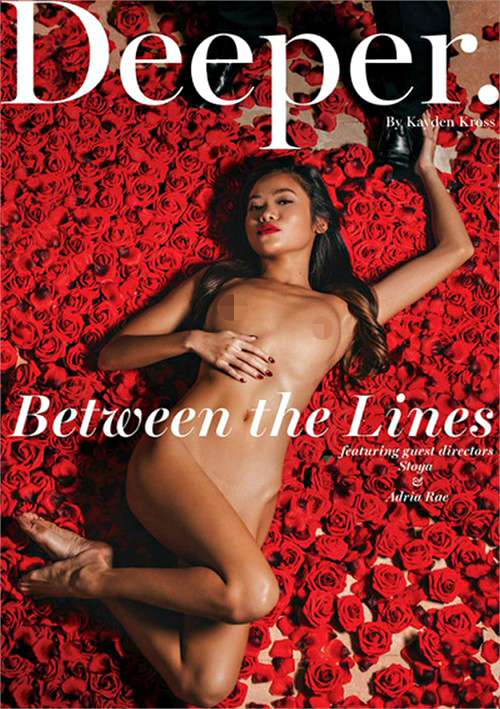 Even though "Between the Lines" is excellent anecdotal porn for couples, there's enough heavy sex in it — with some amazing female performers — to make it also worthwhile for veteran porn viewers.
First up, Small Hands is daydreaming about Vina Sky in an atmospheric opener directed by Adria Rae (who also helms Scenes 2 and 3). Small chases her in slow motion through his dream, with plenty of red roses and red imagery before he nails her on a large virginal-white bed. Yes, the atmosphere is nice. But with Vina, c'mon, you just wanna get to the sucking and fucking — pronto! She's the ultimate spinner: so pretty, so petite, and with such a succulent little bottom. Vina is also one of the best deepthroaters around, and she usually does it without using any hands whatsoever. Positions-wise, doggie with Vina is best, though cowgirl might even be better. When given a chance, Vina really knows how to work that fine fanny. Small eventually jerks off into her big mouth, giving us a frothy ending. So, was it all Small's fantasy, or was it the real thing?
Dirty-blonde-haired Allie Nicole is another BTL treat. We first see Allie diligently cleaning up her house, getting all decked out in some killer black lingerie, donning some fine jewelry, and setting a candlelit table for two with plenty of food, along with wine glasses. Yet, as the clock ticks away, no one shows up. She calls to see if her beau, played by Markus Dupree, is in the office, and they say that Markus left an hour ago. Consequently, when he shows up shortly thereafter, Allie kind of loses it. But Markus calms her down with some mad sex — after which all seems forgiven. He duly face-fucks her big time; all of their sweaty exercise in crazed lust takes place upon the dining room table and, later, a large, sofa-like chair. I especially liked missionary, with intense Allie upon the table, as well as doggie upon the aforementioned chair. What a sweet, round ass on this babe! And she has nice all-natural boobies, too. While pulling Allie's hair, Dupree eventually jerks off upon her pretty face. Nice.
Small returns, this time playing a home invader who terrorizes long, lanky, exotic-looking, all-around delicious brunette Scarlett Bloom, one of my faves in the release. It's actually a fantasy that the couple is enacting to spice up their love life. I dig how Scarlett's eyes disappear into her skull as Hands penetrates her missionary upon their bed. Her tits are so perfect, too: not too big, not too small, all-natural. He chokes her with his cock, having her really gag on it — which is a movie highlight. Doggie with this treasure is phenomenal; the second round is even more savage than the first, as her face is intensely pressed into the mattress. Scarlett rocks!
And in the only scene directed by Stoya, the always-enticing Alexis Tae is paired up with Mickey Mod in quite a fiery finale. She's dictating to Mod (who's typing away on an old-fashioned typewriter) all of the things she likes about sex with him, like his grabbing her by the throat and fucking her hard. Then, they switch positions, and he dictates to her what he likes. Thank goodness we eventually get to the sex (on a nice, old-fashioned bed in a well-lit room). Tae, as you'd expect, is a magnificent cocksuckette. Actually, like Vina, she's another wonderful spinner. Jackhammer with this nymph is grand, but she really shows off her energy during cowgirl, enthusiastically bouncing all over Mod-meat. And, of course, doggie is awesome with torrid Tae, which goes on for a good long time; Mod totally pounds away and eventually sprays Mickey dickey juice all over those fine fanny cheeks.
"Between the Lines" is a good, kinky, moody, well-shot pornmanteau, with Scarlett and Alexis stealing the show.
Synopsis:
Fantasies play out at every subtle nudge in these four erotic stories from guest directors Stoya and Adria Rae. Alexis Tae and her partner list the moved that move them in "You Know What I Want". Scarlett Bloom is caught off guard when her partner grants her most forbidden fantasy in "Familiar Strangers". Allie Nicole dives into the fight so as to ride the high of make up sex in "Where Were You". Vina Sky is Aaron's fantasy come to life in "Flower Girl." Each dives deeper down the rabbit hole of what makes them tick.
Copyright © 2023 Adnet Media. All Rights Reserved. XBIZ is a trademark of Adnet Media.
Reproduction in whole or in part in any form or medium without express written permission is prohibited.