Pornochic: Eve and Clemence
Dorcel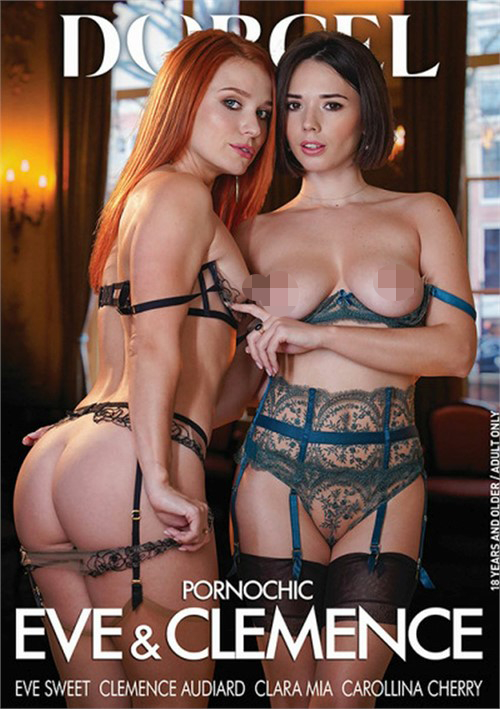 Dorcel's glamour, all-sex showcase series is back with Romanian and Swiss sweethearts Eve Sweet and Clemence Audiard as the central performers stepping into the sexual spotlight. Herve Bodilis's "Pornochic" series shines its glamorous eye towards the future in highlighting two of the most popular up-and-coming stars in the industry, pushing into uncharted sexual territory as his love letter to porn's Golden Age continues.
Eve Sweet & James Duval:
This scene has a simple premise; after a fantastic date, Eve invites James up for a sexual nightcap. Eve's got impressive tits that rock gently under Duval's rhythmic thrusting, and her moans of pleasure as Duval pumps her from behind are a sexy soundtrack to the spectacular lovemaking playing out onscreen. When she mounts him, their passion is palpable as she leans in close and smiles at him while grinding herself to orgasmic bliss. It's incredibly stimulating.
Clemence Audiard, Clara Mia & Alex Romero:
Clemence and Alex are also retiring to the bedroom after a great date, and she's got a night of debauchery in mind. Rather than a simple evening of sex between the two of them, Clemence blindfolds her man and brings in Clara Mia to join the fun unexpectedly. The lighting here is absolutely beautiful and the shadows create a ton of sensuality. I do enjoy Clara Mia quite a bit, and she's on fire in this scene, riding Romero like a young buck while Clemence looks on approvingly. Clemence is more measured and in control when she takes on Alex's cock, instructing him gently as he fucks her pussy, all the while teasing the treat he has to come by letting him get an eyeful of the butt plug in her ass. When he finally slides his dick into her tight anus, the grin that spreads across her face tells the tale of her pleasure.
Eve Sweet, Clemence Audiard, James Duval & Alex Romero:
A swinging double date ends in perfect fashion as Eve and Clemence bring their respective (albeit nervous) dates back to their flat for some no-nonsense sex. This scene starts with some nice mood setting music and it just reminds me of the days when porn would have music accompany the sex. I miss those days. I love the look on both James and Alex's faces as they start fucking each other's partners. They both look stunned yet desperately hungry, like they can't believe their luck. And honestly, the way both ladies work them over, they can't be blamed. Eve's amazing tits put on a great show, bouncing like buoys on the surf as Duval slams her pussy hard. Meanwhile, Clemence nearly brings Romero to his knees with her hips, causing him to lose himself in the magic of her pussy.
Clara Mia & Eve Sweet:
Eve finds out Clara is in town and decides to meet up with her since they haven't seen each other in such a long time. Their meeting turns into an erotic evening tryst that sees Clara melt Eve expertly with her fingers and tongue. Again, the lighting is fabulous, casting sexy shadows across the room and bathing the performers in a golden glow that creates a sense of sensuality. This is particularly effective when Eve fingers Clara from behind in a passionate spoon. Clara finishes Eve off by returning the favor aggressively, bringing Eve to a gasping orgasm of her own.
Clemence Audiard, Carollina Cherry & Ricky Mancini:
Carollina's friend Clemence is impressed with her most recent plaything, and wants a taste. Luckily for her, Ricky is all game. Clemence puts in some serious work here. She rides Ricky to pieces as Carollina looks on with a smile of admiration, and the more Clemence rides, the more astounded Ricky gets. Not to be outdone, Carollina ups the ante by giving Ricky her tight asshole to fuck while she licks Clemence's clit like an ice cream cone. By the time Clemence is ready to let Ricky finish, he's so desperate he pounds her into the bed like a jackhammer.
Both Eve and Clemence have a bright future in the industry and fans have a lot to be excited about with future projects in which they feature.
Synopsis:
Eve and Clemence always do everything to realize their most intimate fantasies.
Copyright © 2023 Adnet Media. All Rights Reserved. XBIZ is a trademark of Adnet Media.
Reproduction in whole or in part in any form or medium without express written permission is prohibited.