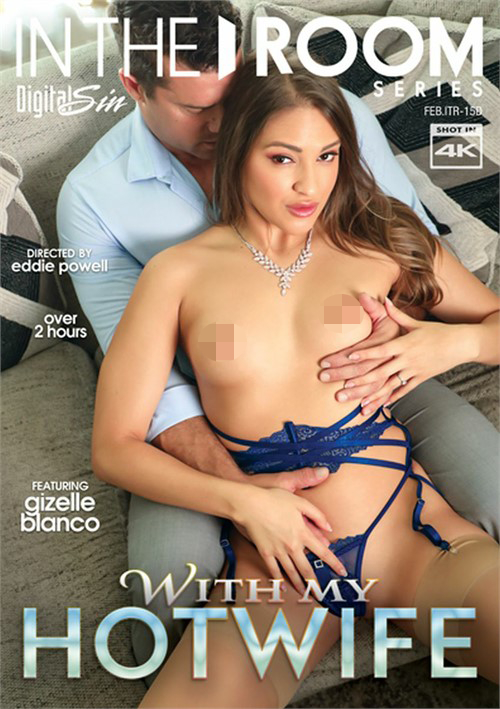 The popular voyeur series from Digital Sin and director Eddie Powell embraces the hotwifing kink in this fresh offering. The premise behind the "In the Room" series is the idea that the audience is part of the scene because they are connected to one of the characters. When the sex starts, the audience is effectively "in the room" because the performers bring them in through narrative elements of the story.
Kylie Rocket and Vince Karter:
"We" find Kylie on the patio enjoying her morning coffee. She smiles at us and goes on and on about how hot it was last night when that stranger fucked her while we jacked off. She admits the sex was so exciting, especially watching us get off to it, that she's still horny this morning. After getting our permission, she goes to the bedroom to see if the guy (Vince Karter) is down to fuck her one more time before he leaves. And boy howdy is he DTF one more time! This scene is basically 25ish minutes of Kylie getting the absolute hell fucked out of her. Vince blasts her in multiple positions with deep, hard and fast strokes. She barely gets a moment to breathe between thrusts and she loves every minute of it.
Jazmin Luv and Alex Legend:
This scene features Alex Legend as a pool contractor who's caught the eye of our wife Jazmin. Attracted to his impressive physique, Jazmin asks us if we think he'll let her fuck him, and we suggest she finds out. Naturally, Alex is all in! Jazmin has an amazing ass and holy smokes she sucks cock like a champion. Cowgirl is a treat, spoon is dirty and Legend finishes Luv off with his tongue before covering her face with his hot cum. Goodness gracious she looks amazing from start to finish.
Alexis Tae and Tommy Pistol:
Alexis is getting dressed in a cute red number we've bought for her, a beaming smile on her gorgeous face. She thanks us not only for the beautiful outfit, but also for making her fantasy come true. Tommy is stunned (understandably) and honored for the opportunity we've given him. Folks, Alexis Tae is a vision. Everything about her physical being oozes sex, and like Tommy here, it's impossible to look at her and not be overwhelmed. She inhales Tommy's cock slowly, bringing him to the brink of ejaculation right from the start. From there, it's just Tae doing what she does best: fucking the soul out of a man. She's sensual and purposeful in her endeavor, never going too fast or too hard but also never letting Tommy find solid ground to rest on. She just takes him. And the way her eyes burn into the camera during the whole encounter takes us as well.
Gizelle Blanco and Ramon Nomar:
We're looking to sell our home and Ramon is our realtor. When he brings us a disheartening suggestion that we should lower our asking price, we decide to let Gizelle "negotiate" a little more creativity from Ramon regarding the market. Gizelle Blanco is one of the prettiest stars working today, and goodness gracious it is stimulating as hell watching her get fucked. Ramon takes her with his signature vim and vigor, spanking her, pounding her and telling her when to give him her cum. The reverse cowgirl is a thing of beauty, as is the spoon.
This movie has some narrative elements that are stronger than one might expect from such a light feature. That's a credit to director Eddie Powell who likely wrote all the dialogue and scenarios while on set the day of the shoot. He understands how to add depth to scenes that could easily be nothing more than shallow sex scenes.
Synopsis:
Imagine yourself in the room with Giselle Blanco, Alexis Tae, Jazmine Luv, and Kylie Rocket. Picture each as your wife as she's about to take another man's cock in her mouth and holes. It's a hotwifing encounter from your point-of-view. Enjoy the fantasy.
Copyright © 2023 Adnet Media. All Rights Reserved. XBIZ is a trademark of Adnet Media.
Reproduction in whole or in part in any form or medium without express written permission is prohibited.