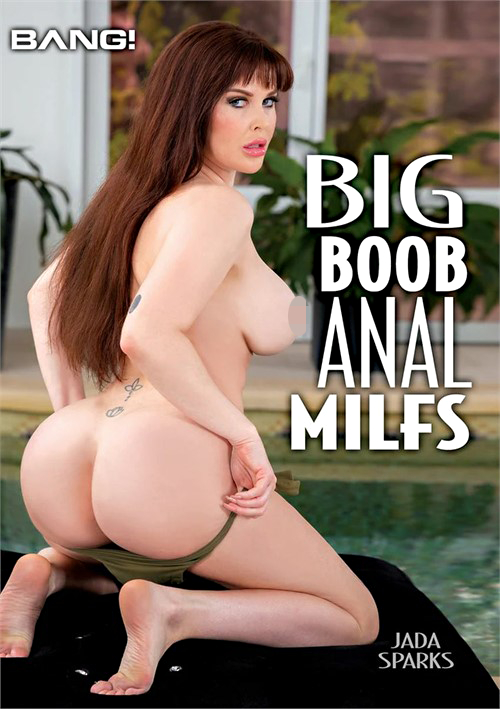 Each sexy woman in "Big Boob Anal MILFs" looks totally different than the others. The tasty ladies, speaking with heavy, enticing Euro accents, all perform anal sex swimmingly, though my faves are luscious Candy Alexa and (mama mia!) Mary Alfie.
Beautiful and bawdy newbie Mary brilliantly shows off her perfect body and joyous attitude during her intense anal sequence. Mary plays a model who gets it on with her photographer in his private studio. Not the most original of scenarios, sure. But this woman? Good grief! From head to toe, she's a knockout. Her hair is long, silky, and a curious combo of red, brown, and blonde. Her tits are (despite the movie's title) not "big," but they're perfect. Perfect! Ditto for her round but not overly so rear. And her face is simply off-the-scale pretty, with big eyes, thick lips, a well-defined jaw, and an all-around exotic aura. Love her! I don't think Mary's really in the MILF category, either. Cougar, perhaps. This sweetheart, by the way, is quite filthy, loving every second, minute and inch of her butt-fucking, while she also does ATMs without cheating. Yes, she's a good blowjob artiste, with a consistent, fantastically upbeat attitude. I think my favorite positions with Mary are doggie (that amazing ass!) and spoon (you just love looking at her spectacular face and scrumptious tits). And to her credit, Mary really works her mouth off, trying her damndest to orally get the dude off, which she (eventually!) does quite suck-cessfully. Good show, Mary!
Candy Alexa herself fully lives up to the movie's title, sporting all-natural big boobs (including mammoth nipples) and being older than her younger male costar. Candy, who delights in getting her derriere fully blown out, plays a librarian who discovers a frisky chap beating off in the stacks. And being a good-natured lass, Candy gives the poor horny soul the real deal, letting him bang her mouth, pussy, and backdoor upon a sofa in this brightly lit, clean, and (thankfully) private section of the library. Candy is a good cocksucker, but it's especially great when she takes it up the ass during doggie, seeing as her butt is just so big, voluptuous and fully built for that position. And like Mary, Candy has a wonderfully cheery disposition.
Somewhere in her early twenties, brunette Diana Rius is definitely the youngest of these "MILFs," while she does, indeed, possess well-sized, all-natural breasts and positively adores up-the-butt sex. There's no storyline in this segment: We just have a bearded dude waiting for Diana to join him on the ol' sofa and get into some semi-rough anal sex. Like her female predecessors, Diana is very chipper. Always a good thing! She also impressively gags/chokes on cock, while her large, hanging hooters look ever so delish as they wildly bounce during reverse-cowgirl-anal.
And we end with probably the MILF-iest of all the MILFs here, with hard-on-inducing, thick, succulent Jada Sparks getting it on with her British hubby after he smoothly convinces her that it's better for them to fuck rather than have him fix the heating element on their indoor swimming pool. She's a delightful pushover. For the record, I love Jada's tight stomach and eye-popping pair of elegant, flowing juggs. I also think she's the best cocksucker in the entire release. Just look at the slow and loving way she sucks to the base of hubby's baseball bat. Wow! Doggie, of course, rocks with such a protuberant posterior, but I much prefer missionary with this curvy treasure. That is, I love checking out her rock-hard tummy, watching her groovy tits shake, seeing that raging boner bury itself in her tight anus, and witnessing Jada's intense expressions of lust simply explode. A great ending to a great gonzo!
From start to finish, "Big Boob Anal MILFs" kicks ass, with all four featured sexy sirens showing their true colors as outstanding dyed-in-the-wool sluts (yes!), while Candy and (va-va-voom!) Mary especially excel. Don't miss it!
Synopsis:
These busty MILFS have been dreaming of anal, and we're here to make their fantasies cum true. Watch as we destroy their tight little assholes with an anal session that they'll never forget.

Mary Alfie: After letting him fuck her asshole hard, she got down on her knees to take his hot cum on her face.

Candy Alexa: Once she deepthroated his cock and got her wet pussy fucked, she wanted some anal.

Diana Ruis: After gagging on a big fat cock, she begged to be fucked hard in her tight asshole.

Jada Sparks: This busty MILF can't wait to get rear-ended, and she wants a load on her big tits too.
Copyright © 2023 Adnet Media. All Rights Reserved. XBIZ is a trademark of Adnet Media.
Reproduction in whole or in part in any form or medium without express written permission is prohibited.