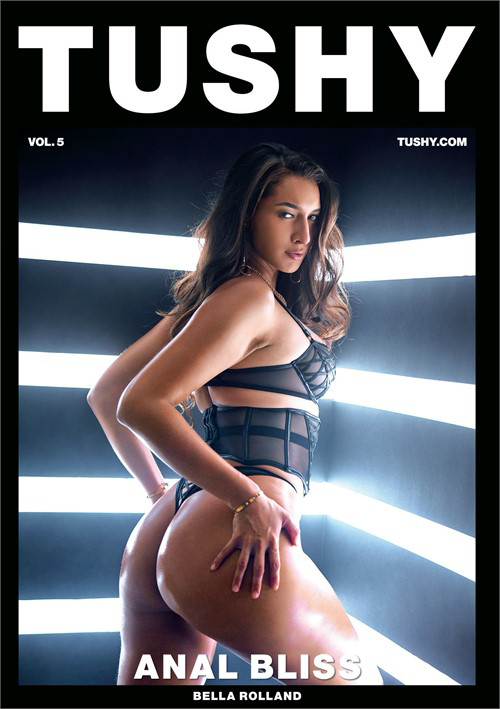 Some truly amazing anal shenanigans wildly unfold with a foursome of delicious buttfuck-minded damsels in this fab fifth volume of "Anal Bliss," from the always reliable folks at Tushy.com.
Derek Dozer directs the first and one of the best sequences featuring ultra-round-and-curvy Bella Rolland getting some serious "AB" loving from Mick Blue. Per Bella's voiceover, whenever she's in town, she makes a point of surreptitiously fucking the husband (played by Blue) of the chick who got her fired from a previous job. Hey, grudges run deep sometimes — as does, thankfully, the blistering ass-fucking between these two fuck buddies. Rolland looks absolutely spectacular all oiled up and shiny, her juicy rump magnificently highlighted during doggie and cowgirl, with raunchy Rolland excelling in both positions, while she doesn't cheat at all during any of her ATMs. Good girl! And check out how her bountiful butt cakes quiver, jiggle, and bubble over during the aforementioned nuclear session of cowgirl-anal. Mama!
On the breathtaking Greek island of Mykonos, superlative spinner Gina Gerson falls for her best girlfriend's pop, played by Christian Clay, in this fiery, picturesque episode helmed by Ilya Broombeeld. Gerson is at first a bit shocked at Clay's forward manner while she's nude sunbathing, but soon succumbs to Clay's charms, letting him buttfuck her via doggie, cowgirl, and reverse-cowgirl right there on the villa's patio overlooking the ocean (while all of the guests are gone, of course). Gerson and Clay soon step inside to finish what they started, with some choice missionary and doggie ensuing, as well as some healthy cocksucking thrown in from time to time. Horny stuff.
One of my all-time favorite XXX directors, Julia Grandi, skillfully oversees the next scene — probably filmed at the dazzling Spanish/European resort of Ibiza — with gorgeous Little Angel (another killer spinner) showing off and completely giving up her valued assets to a lucky young Euro stud. The guy is, actually, her rich father's limo driver, with Angel giving him orders left and right, but in a sweet sort of way, until he gets fed up and quits. She manages to make the dude change his mind by finishing her seduction (he was initially just too blind to see how much she really liked him), fully giving herself to him. There's not a bad position with delightful Little Angel, though it's great seeing her get heartily butt-hammered during doggie and reverse-cowgirl. And Angel is one cum-mendable deepthroater, indeed.
Lastly, in our fourth terrific "AB5" sequence (directed by the returning Derek Dozer), the pretty, extremely luscious Emma Sirus gets intensely anal-yzed by the long, thick love member of good-natured Oliver Flynn. I love the glowing beauty of Emma's strikingly full face. In Emma's own story, her on-screen boyfriend Oliver is obsessing, in a nice way, about her asshole, doing anything it takes to get down there with his huge pecker. She eventually gives the (surprisingly patient) guy what he wants, and it's one sizzler of an episode. Emma looks spectacular (like Bella) all oiled up and shiny; her backdoor performance really shines (literally and figuratively!) during spoon, cowgirl, and doggie, the latter during which Oliver gives her one powerful pounding, before splooging all over that oh-so-picture-perfect face. Additionally, some nice gapes are captured (sometimes in full close-up mode!) during the arousing course of Emma's anal plundering.
Our four young lassies and three talented directors are in top form with "Anal Bliss 5," though I do have a soft spot for both Bella and Emma. Exploring couples and veteran viewers alike will enjoy this picturesque, dynamic, passionate title.
Synopsis:
TUSHY.com knows there's a good time and then there's ANAL BLISS. This series dives to the deepest depths of backdoor delight. Featured cover girl Bella Rolland is one-upping her mortal frenemy by showing her former best friend's man something he's not getting at home. Gina Gerson, Little Angel, and Emma Sirus are all taking their pleasure into taboo territory. Tempting tales, sensational settings, and sumptuous sexual acts: kick back and let TUSHY.com show you ANAL BLISS.
Copyright © 2023 Adnet Media. All Rights Reserved. XBIZ is a trademark of Adnet Media.
Reproduction in whole or in part in any form or medium without express written permission is prohibited.