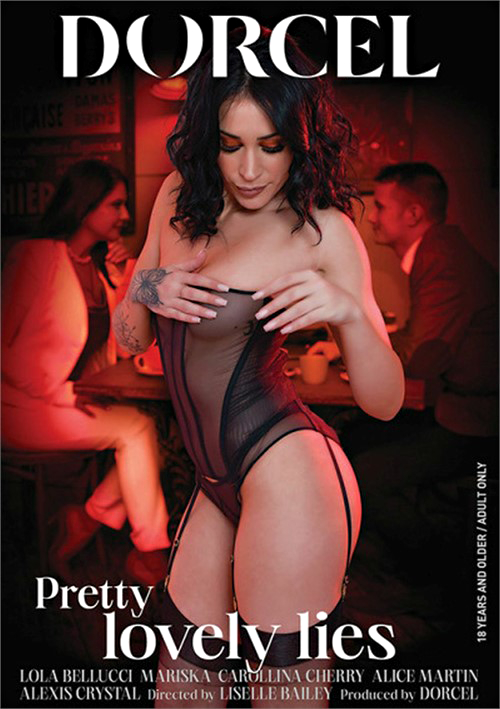 Lana (Lola Bellucci) is a barista who aspires to be an erotic novelist, and her patrons serve as her inspiration. Everyone who comes into her coffee shop has a story of sexual lust just waiting to find its way onto the pages of her novel. At least, in Lola's mind they do.
"Pretty Lovely Lies" is only the second feature from veteran director Liselle Bailey in 2023, but it is one of the best I've seen from Dorcel this year. The cast is led by French coquette Lola in her first leading feature role for Dorcel. She commands the screen both in and out of the bedroom, and the rest of the cast brings their A game, which elevates the entire film.
The story opens with Lana creating a bondage fantasy for Ms. Reese (Carollina Cherry), a high school teacher who always looks tired and runs late. Certain this uptight woman is craving release, Lana imagines that Reese has a moonlight lover who dominates her. Tonight, it's ropes binding her hands and a savage fucking that will leave her drenched in sweat and quivering with pleasure. Her mystery lover (David Perry) gives her exactly what she wants, pleasing her with a dildo first and then gently fucking her mouth before getting down to business.
Lana's Chapter 2 centers around a busy businesswoman (Mariska) who comes in everyday for coffee with a different guy but never seems interested in her companion beyond a cursory level. In fact, she always makes an excuse to leave early, and Lana often wonders where she's going in such a rush — so much so, in fact, that she fantasizes about taking the woman's place. She concocts a complex story filled with money, consorts and taboo sex, and it plays out in her head with Lana fulfilling the role of the boss and Max Deeds being the secret object of her affection.
Another of Lana's naughty chapters takes its inspiration from a perplexing couple that comes in regularly. Alexis Crystal is too young for her beau, and she's well out of his league. Lana's mind conjures up a scintillating tale of a couple who gets off on hotwifing. In this particular fantasy, Alexis' boyfriend chooses two young studs (Marcello Bravo and James Duval) to ravage her while he watches. And ravage her they do, taking turns stuffing her ass to the brim while she gorges her mouth on the other's cock.
Lana gets a shock when her frequent lady boss comes in with a woman, and her mind immediately starts racing. What is the nature of this woman's relationship with this insatiable power woman? Before long, Lana's dirty mind comes up with an answer. Grace (Alice Martin), the new editor, finds herself catching the eye of her boss Naomi, and a business lunch evolves into a private evening with Sam Bourne at a sex club. They take turns riding Sam's cock while bathed in blue light that gives the encounter an erotic air.
The film culminates with Lana finally getting her head out of the naughty clouds in into a scandalous reality. After taking a chance on her career, Lana decides to take another chance at making her fantasies come true with one of her clients. Her dream ends up coming true right in the kitchen of her coffee shop as she and James Duval share a passionate lovemaking session that includes plenty of sensual oral, a kinky doggie on the stove, and some erotic reverse cowgirl on the counter.
This was a fun movie that flowed well and featured great sex. Lola does a great job moving the film forward outside of the sex, and she sets the screen on fire when she's naked as well. This is another strong addition to Dorcel's already strong slate of features in 2023.
Synopsis:
Lana has two passions in life: making the best coffee possible and fantasizing about her customers in these Pretty Lovely Lies.
Copyright © 2023 Adnet Media. All Rights Reserved. XBIZ is a trademark of Adnet Media.
Reproduction in whole or in part in any form or medium without express written permission is prohibited.