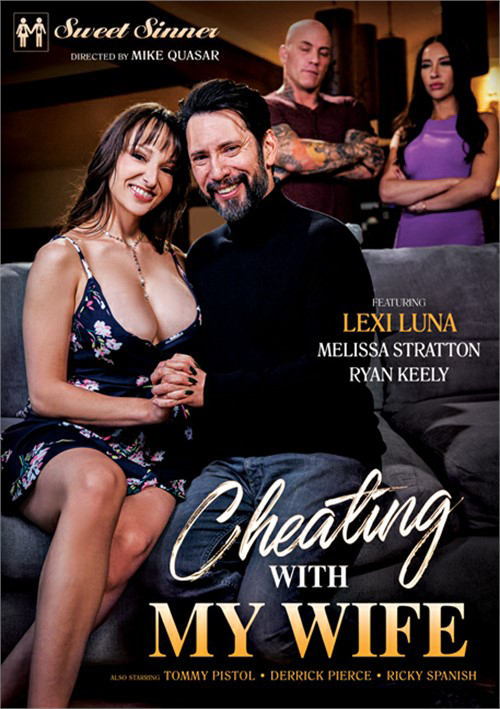 Tommy Pistol and Lexi Luna have reached the end of their eight-year marriage. Lexi is ready to move on with a new man, Tommy has a new woman of his own (a classically trained dancer), and the only things left to hash out are the unpleasant particulars (specifically, the sale of their house). Unfortunately, selling the house turns out to be impossible in the current market, and their lawyer suggests they revisit the house sale in a year or two. How will these two people that despise each other survive such a toxic situation?
Mike Quasar is one of my favorite directors. I like the way he films sex, but it's his storytelling that I find the most intriguing. He has the ability to create characters and stories that audiences can connect with and that make the sex in his feature films far more impactful than what one might find in other projects across the industry. Sweet Sinner is one of the few studios still producing non-episodic features, and Quasar is one of their go-to directors (with good reason). This film tells a good story, boasts a strong cast, and features some scintillating sex.  
After their umpteenth vicious fight, Tommy and Lexi appear to finally be done with each other, and he seeks solace in the arms of his girlfriend Melissa Stratton. I'd not seen Melissa before this film, but with her pouty lips, plump breasts, and toned frame, she's quite the sweet tart. There's a lot of sensuality present between these two, with lots of tender kissing and caressing to start things off. She is comforting to Tommy on both an emotional and sexual level, and you can feel Tommy fucking his frustration out through her. There's also a slight domme element at work as Tommy softly begs Melissa to let him do things like eat her pussy, fuck her, and cum when he can't handle the pleasure any longer.   
Meanwhile, Lexi finds her own relief in her new beau Derrick Pierce, a kind and sweet man who loves being with her but isn't interested in marriage. They have a slightly more intense coupling, with Derrick biting her seductively, grabbing her hair aggressively and making her watch him pump her pussy in missionary, and hammering her pretty good in cowgirl. Speaking of the cowgirl, my God, Lexi Luna has a great ass! The whole scene could have just been that position, and it would have been a huge win.   
Ryan Keely's current plaything Ricky Spanish gives her a hearty fucking in her apartment, and the young stud lives up to his age regarding vim and vigor. Ryan shudders through orgasm after orgasm with a gleeful smile on her face as Spanish pumps away at her pussy. She finishes herself off on his young cock in cowgirl, showing off her ample ass in the process.
The house sale, or lack thereof, turns out to be the catalyst to the hottest scene in the movie. Inflamed by their boiling loathing for each other, Tommy and Lexi tear into each other like wild hyenas. Their sex is all grunting and grasping and moaning, and just fucking the hell out of each other. Case in point: when Lexi finally lowers her sopping-wet pussy onto Tommy's rigid cock, the guttural groan of ecstasy from Tommy is the audible manifestation of the tension releasing between them. Lexi looks absolutely phenomenal in this scene, her amazing ass and tits bouncing in all the right ways while her dirty talk is the stuff of filthy fantasies.
The ending of this release is really unique and comedic. I won't spoil it here, but it's a great concept that should be rewarded with a scriptwriting award come this fall. "Cheating With My Wife 1" is probably Mike Quasar's best comedy, Lexi's best outing in a feature, and another notch on Tommy Pistol's long belt of amazing performances.
Synopsis:
Lexi and Tommy are ending their toxic 8 year marriage and each has moved on with their new partners but when the divorce lawyer tells them their finances are in shambles and they might have to continue to live together for a while, all hell breaks loose. All is fair in love and war in Cheating With My Wife.
Copyright © 2023 Adnet Media. All Rights Reserved. XBIZ is a trademark of Adnet Media.
Reproduction in whole or in part in any form or medium without express written permission is prohibited.