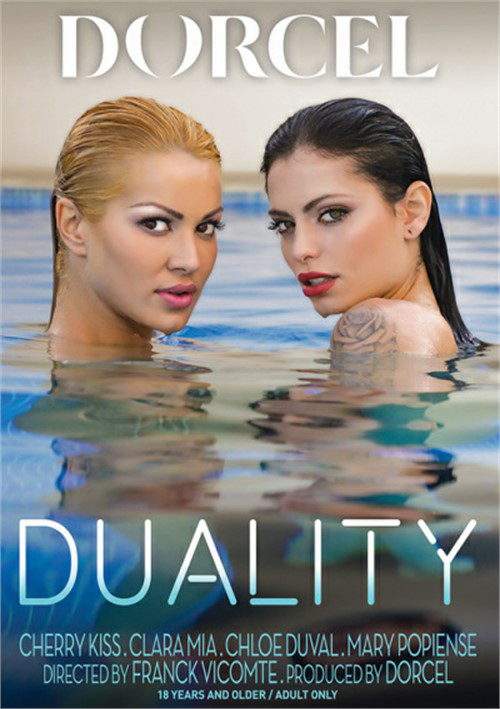 Mary (Cherry Kiss) and her best friend Tania (Clara Mia) are finally taking the vacation of their dreams. While Mary is a little more reserved and cautious, Tania is full steam ahead. But the more time Mary spends in the paradise-like environment, the more her inhibitions begin to loosen. Will Mary succumb to temptation and adopt Tania's carefree lifestyle, or will her dedication to her four-year relationship with Alex (Tommy Cabrio) convince her to keep her head out of the clouds?
Franck Vicomte presents a tale of sexual awakening in this fun feature from Dorcel. Vicomte assembles a good cast (anytime Cherry is part of a cast, you know the film is going to be good), and he weaves a good story into the steamy sex.
After a great afternoon pool party, Tania hooks up with an adventurous couple (Chloe and James Duval) who invite her for an evening threesome. Tania rides James sexily before Chloe offers her sweet asshole up for a good piercing. And goodness gracious, does Chloe look amazing in reverse cowgirl, with Tania flicking her nipples seductively while James' cock is balls-deep in her ass.
Meanwhile, after a night of innocent dancing, Mary decides to take inspiration from Tania's free-spirited nature and fuck the guy (Juan Lucho) who spent the previous night courting her. Against the backdrop of the now-abandoned pool, she rides Juan gleefully before bending over and letting him have a go at her from behind.
An unexpected visit from Alex leads to an incredibly unexpected development in their relationship, and the couple spends the night together entwined in each other's arms. An enthusiastic blowjob is followed by Alex taking Mary's asshole gently from behind, and as usual, Cherry Kiss looks amazing.
Juan reaches out to Mary, forcing the confused young woman to make a huge life decision. Meanwhile, Tania finds a sexy way to spend her evening (starting with a kinky dual blowjob) that ends with a torrid tryst in the flat with Mary Popiense. The 69 is the highlight here, with Tania sending Popiense to Ecstasy Island with her tongue. That said, Mary does give as good as she gets, tantalizing Tania's clit gently as the raven-haired vixen clutches her legs to her stomach. So sensual!
The vacation ends with Mary and Tommy embracing adventure. They invite Juan to join them for a threesome, and the star is, of course, Mary. Gone is the meek, unsure woman. In her place is a wanton, sexual fiend who loves to get fucked. Alex thrashes her pussy good in a chair while Juan watches, and she rewards his patience by sucking the cum out of his balls.
Franck Vicomte avoids some of the standard tropes found in porn features and instead embraces a more liberal view of relationship expectations with this film. Cherry is solid as the lead, Clara is the perfect co-star, and the sex is award-worthy. It should surprise no one when this movie finds itself recognized with some awards nominations this fall.
Synopsis:
They thought they were going to spend a quiet vacation with their friends. Unexpected encounters will upset their plans...
Copyright © 2023 Adnet Media. All Rights Reserved. XBIZ is a trademark of Adnet Media.
Reproduction in whole or in part in any form or medium without express written permission is prohibited.