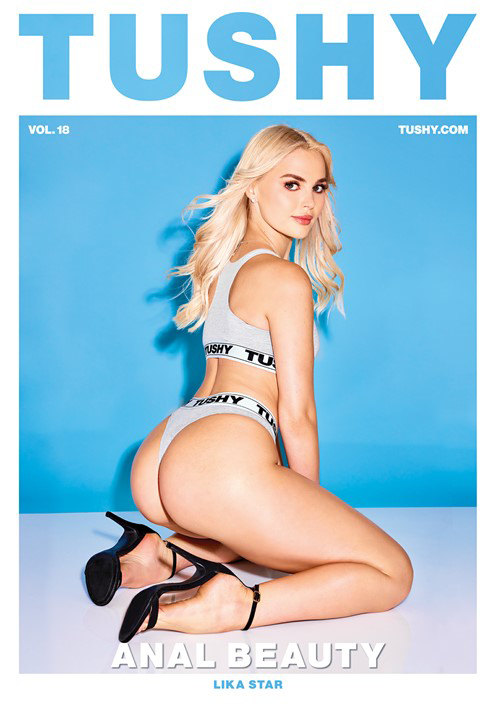 In "Anal Beauty 18," we know precisely where each of the four stories is headed before they even begin: namely, the beautiful young women featured are gonna get their assholes majorly blasted out. And I love seeing what angle Tushy.com will take with each story, so as to end up in said woman's end! Why? Because by framing the anal sex with provocative, erotic, horny situations, it almost always adds to the inherent heat of the sucking/fucking. This electric eighteenth (it's legal!) edition is no exception to the "Anal Beauty" rule!
The storyline in Scene 1 (superbly directed by Lauren Sky, who also helms Scenes 2 and 4) is kinda cute, highlighted by blonde, gorgeous DVD cover doll Lika Star, portraying a romantic, slightly crazy broad (but in a fun way), fucking with Mick Blue's big head before she takes on the little one, in one fiery "Anal Beauty 18" sequence. It's amazing watching Blue face-fuck picture-perfect-looking Star. After reverse-cowgirl-anal, it's spoon-anal with some brilliant gapes (and close-ups!). Lika groans ever so alluringly in her native Ukrainian tongue, with Blue occasionally sticking it up her velvet vadge. Doggie style with Lika's perfect butt is otherworldly. After screaming missionary-anal, with that amazing Lika face in full view — as well as Lika's slinky-but-still-luscious body — Little Boy Blue pastes her pretty face with paste. "Very tasty sperm," she purrs. Wow!
Breathtakingly beautiful spinner Chloe Temple is infatuated with Oliver Flynn, whom she met at a punk concert not long ago. Chloe decides to give the no-nonsense Oliver "something special," meaning some choice ass-fucking. Listen to the freaky, unearthly gurgling sounds she makes while hacking on Flynn's frankfurter back home, leading to some doggie up the butt. And what a vision that tight, compact bubble butt is! "Fuck that little hole," Chloe moans, soon gaping thereafter. "Use me like a little dirty whore," she pants. He does! During spoon-anal, Oliver's prick slips out, with slutty Chloe immediately grabbing that huge prick and jamming it into her hungry anus. "Put it back in! Put it back in!" she anxiously pants. "Yes, gape my little hole!" she whorishly bellows during a return to doggie-anal. And throughout missionary-anal, I've never seen such intense, extreme expressions from a porn starlet! Love it! I also dig how Oliver doesn't overlook her fine pussy. "I want you to fucking drown me in cum," Chloe ultimately begs while he hammers her pussy. Oliver absolutely douses her lovely, laughing face with warm jizz. Awesome!
Blonde hottie Lexi Lore is a video sex blogger who falls for her shy cameraman, played by Dan Damage, who seems a bit nervous about her erotic on-screen shenanigans, before she tells him to kill the camera, then boldly strips in front of him. The slightly embarrassed Damage works up the nerve to go for it; the two then quickly move from living room to boudoir.
We end with superlative Scarlett Alexis going for Clarke Kent, who's totally into extreme sports, which Scarlett calls "extreme shit" in that such demanding activity makes her too exhausted to fuck, causing her to slyly devise a way to "bring (Clarke) down to Earth" and have him fuck her good and proper. "I want you to do something extreme…. in my ass today," she enticingly tells him. He goes for it. Hell, he'd better, especially with such an off-the-scale babe. Alexis is a phenomenal cocksucker, going slow, deep, loud, wet, and nasty. I love watching Scarlett's flawless tits flow during reverse-cowgirl-anal, followed by some brilliant cowgirl-anal, then missionary up the pussy and caboose. "I want your cum dripping out of my fucking asshole," she whorishly requests, before Kent does just that. Scarlett scoops a big batch of the spunk and eats it. Brilliant!
Scarlett, Lika, and especially (good grief!) Chloe are absolutely outstanding in this super-anal, positively volcanic porn-manteau. Run, don't walk, to get it!
Synopsis:
Tushy.com is here to show you the difference between pretty cute and Anal Beauty. Anal Beauty Vol. 18 features the most gorgeous girls getting every last sexual need met. Featured cover girl, Lika Star knows how to keep a man interested. This petite blonde firecracker is every mans dream, but like any dream she takes some wild turns. Chloe Temple, Lexi Lore, and Scarlett Alexis are all inside exploring their backdoor desires. Stunning stories, spectacular settings, and the loveliest ladies: let Tushy.com show you the way to Anal Beauty.
Copyright © 2023 Adnet Media. All Rights Reserved. XBIZ is a trademark of Adnet Media.
Reproduction in whole or in part in any form or medium without express written permission is prohibited.