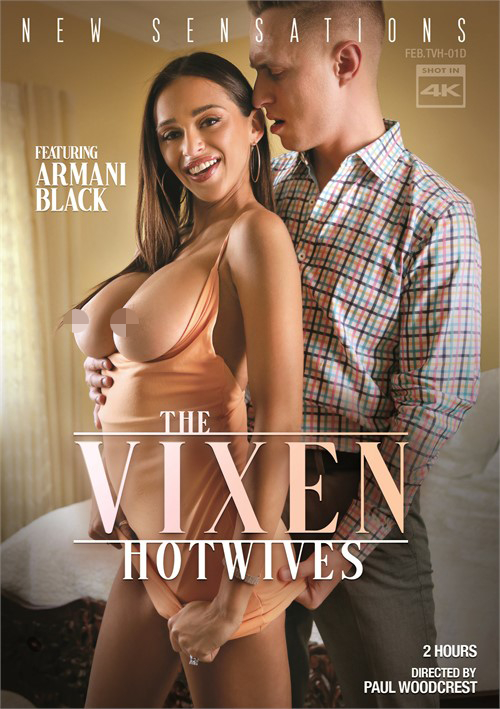 Paul Woodcrest presents "The Vixen Hotwives," a hotwifing fantasy release that showcases the kinky world of wife-sharing.
Armani Black, Alex Mack:
The opening scene opens rather uniquely, with Armani Black having some solo fun with a dildo (in her ass as a bit of foreshadowing) and a Sybian machine. By the time Alex Mack walks in, Armani is ready for everything. He gives her pussy and ass both a good pounding, and she squeals with pleasure like a banshee the entire time. It's raunchy, high-energy and a great way to open the festivities.
Kate Dalia, Danny Mountain:
Danny Mountain is hesitant about fucking his boss' wife, but his superior assures him that everything is OK. When Kate Dalia walks in, she finds Danny ready to follow his orders, and she's more than ready to "help" him. The way Kate looks up at Danny while slurping his cock down is very sexy, and goodness, does he fill her mouth to the brim! She also puts on a masterclass in riding during cowgirl with her hip gyrations. But I think the hottest moment in the scene is when Danny walks her over to the window and fucks her standing. Goodness gracious!
Dharma Jones, Milan Ponjevic:
Dharma Jones' husband is often out of town for work, leaving her home alone regularly. Luckily for him, his brother Milan Ponjevic lives in the same town and will stop by to check on his sister-in-law in his brother's absence. While Dharma is appreciative of her brother-in-law's concern, she's also incredibly attracted to him. After months of being alone with a man so similar in stature to her husband, the sexual tension boils over, and the two share a hot affair. When Dharma tells her husband about her infidelity, he encourages her to continue, glad that she's in good hands. All the standing sex in this scene is off the charts! That includes standing doggie in front of a mirror, standing missionary, and a cherry on top with cowgirl in a chair in front of a full-length mirror. Dharma puts in some serious work here, and it's a joy to watch.
Em Indica, Danny Mountain:
Danny is the lucky recipient of a husband's trust. Em Indica likes to fuck, her husband likes her to fuck, and Danny just happens to be the guy who falls into the lap of their relationship. Em is a right proper fiend in this scene. Every deep thrust of Danny's dick brings an ear-to-ear smile to her face, and her instinct is to clasp Danny's body close to her so she can feel every inch of him. In doggie, she raises her hips to meet his thrusts and shudders as the waves of pleasure cascade through her body. The audience can feel her body gasping for breath in between orgasms, as she's often barely able to utter whimpers of ecstasy. When Danny finally unloads in her pussy, she exhales a sigh of the deepest satisfaction. This scene feels the most emotional and is the most memorable of the film. Great work.
Synopsis:
Meet a new breed of hotwives: The Vixen Hotwives. They are gorgeous and ready for worship. They adore their marriages but they need an ongoing parade of random men to quench their sexual desires. Watch them be satisfied by friends, neighbors, and even the strangers their husbands bring home.
Copyright © 2023 Adnet Media. All Rights Reserved. XBIZ is a trademark of Adnet Media.
Reproduction in whole or in part in any form or medium without express written permission is prohibited.