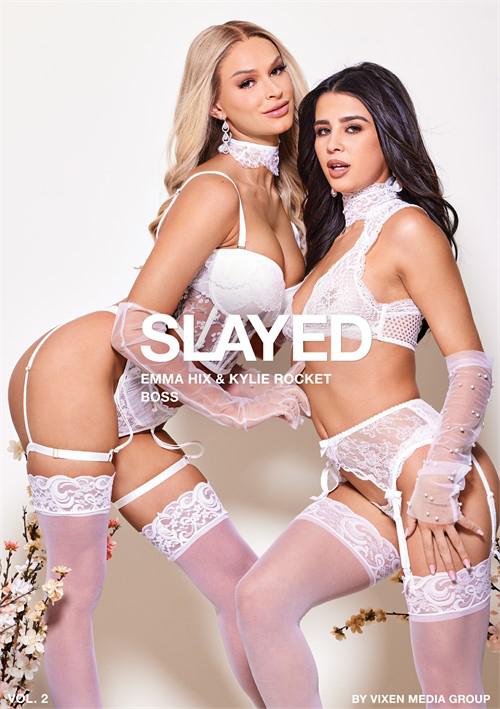 "Boss 2" offers an array of scenes from Vixen's lesbian-centric studio, Slayed, directed by veteran directors Derek Dozer and Laurent Sky.
Emma Hix, Kylie Rocket ("Jitters"):
Emma Hix's wedding is fast approaching, and she's understandably nervous. Her best friend and maid of honor Kylie Rocket has been by her side from the start, and is happy to offer her support. She reassures Emma that she's making the right choice with her marriage, but also suggests that before she takes her vows, she should take one final trip down Orgasm Lane with her. Emma is a surreal performer. Sex just drips off her, and every scene she's in is all the more delicious because of it. The way she rubs Kylie's cunt while kissing her is spectacular. Equally stimulating is watching Kylie rim Emma while fingering her from behind. I freaking love that position. Also, holy boy howdy, the way Kylie grinds her pussy on Emma during the scene's climax is amazing. Another hit scene directed by Derek!
Sophia Leone, Mae Milano ("Spray"):
Laurent Sky directs this scene about two friends who both think they're seducing the other exclusively. One beautiful afternoon during a picnic, they both decide to make their move, spawning a torrid romance. This scene opens with some intense cunnilingus. Lots of close-ups, plenty of tongue-on-the-lips action, and glistening bodies writhing in ecstasy make for a highly erotic scene. Sophia Leone sitting on Mae Milano's face is also a capital moment, and the fact that plenty of ass licking is sprinkled throughout the scene makes this a serious winner.
Aria Lee, Alexia Anders ("Ex Appeal"):
Aria Lee and Alexia Anders are bitter exes who harbor deep resentment for one another. Aria always felt Alexia was lazy, and Alexia felt Aria was too engrossed in the submissive price of glamor. While their spite and vitriol makes for tense interactions, it also builds undeniable sexual tension between them. And one day after a shoot, that tension explodes. The lingerie worn by both ladies in this scene is incredibly sexy, and the dirty way they talk to each other makes the scene even hotter. Aria really knows how to grind her hips (just watch the way she swirls when Alexia is flicking her clit with her tongue), and she doubles down on the move once Alexia starts fucking her with a thick, black, dildo.
Gianna Dior, Izzy Lush ("Neon Dream"):
Music in porn! Why don't more directors use music to enhance their porn? The opening of this scene is, on the surface, a fairly standard tease with Gianna Dior writhing in ecstasy as she fantasizes about a seductive Izzy Lush teasing her from her TV screen. But with the addition of the music, the vibe of the scene is changed drastically. Suddenly, the viewer cannot wait to see Gianna and Izzy together. The anticipation plays out onscreen, as beyond Gianna's early tease, there's no other setup for the sex; there doesn't need to be any because the opening is so hot. Izzy and Gianna talk each other through their sex like horny sluts. Gianna smiles at how tight Izzy's pussy is, and Izzy begs Gianna to keep fingering her to orgasm; Gianna grins wildly at how wet her pussy is, and Izzy moans with pleasure as she nearly fists Gianna. The neon lights in the background bathe both ladies in a purple and red glow that adds the perfect debaucherous tone to the action. You're going to need some ice after this one.
Slayed remains undefeated as the industry's premium lesbian brand. The scenes carry an air of fantasy that isn't often matched in the industry today, and the directors (in this case, Laurent and Derek) tend to do an amazing job capturing the magic.
Synopsis:
SLAYED.com is back to show you who's BOSS. This series answers all your questions about who wears the pants when two girls get together. Featured cover girls Emma Hix & Kylie Rocket have been friends for a long time, but now that Emma's getting married Kylie is ready to deliver some sagely advice: that no woman should get married before trying girl-on-girl. Sophia Leone & Mae Milano, Aria Lee & Alexia Anders, and Gianna Dior & Izzy Lush are all inside taking charge of their sexuality. Powerful stories, upper-echelon production values, and dynamic action: SLAYED.com wants you to get on board with BOSS.
Copyright © 2023 Adnet Media. All Rights Reserved. XBIZ is a trademark of Adnet Media.
Reproduction in whole or in part in any form or medium without express written permission is prohibited.