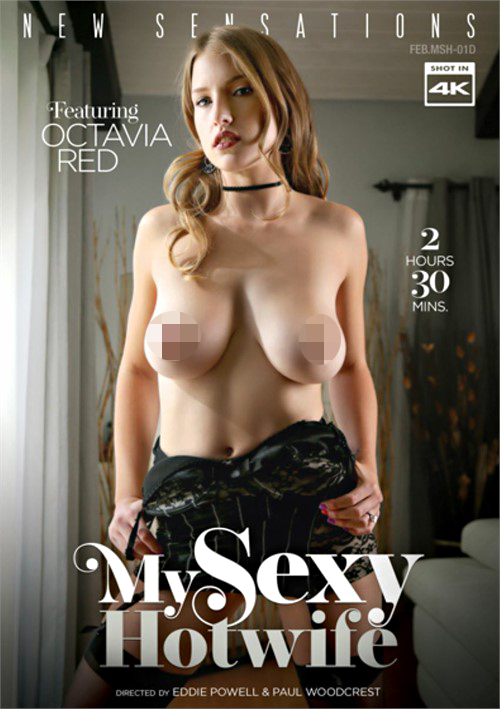 New Sensations directors Eddie Powell and Paul Woodcrest have a penchant for capturing the thrill of the hotwifing kink; this is their second entrant into this particular series. Not only are they comfortable creating this fantasy, but they also have a knack for assembling lusty casts.
Serena Santos and Alex Legend:
Serena pops over to the single neighbor's house to invite him over for a get together, and she just happens to suggest that she'd be okay with a sample of his dick before the big party. Initially hesitant to accept her offer, Alex soon finds himself balls deep in the sultry Latina and the results are spicy! Serena is very pretty, she's got a great set of tits, and good lord that ass! When she mounts Legend and starts riding him, the entire room feels like it's shaking. Then she bends over and lets him take her from behind, but really it's her who does the taking as she flexes her ass in a way that nearly brings Legend to his knees. Goodness!
Octavia Red and Brad Newman:
Brad stops by John and Octavia's house to return the shoes John left in his car, but he's stunned to find Octavia clad in a lacy slip. When she invites him in for a drink to ask if she can talk to him about something that's been on her mind, he cautiously agrees. To his surprise, Octavia reveals that he is her hall pass, meaning once a year her husband allows her to be with whomever she wants. What amazing tits Octavia has! Newman's shock at seeing them fall free of her clothing for the first time will resonate with the audience who will undoubtedly feel the same way. Red's tits are the star of the scene, drawing the viewer's attention no matter what naughty position Newman is fucking her in. That said, viewers are going to lose their minds when they see the modified side reverse cowgirl. Absolutely stunning!
Vanessa Vega, John Strong and Ramon Nomar:
It's Valentine's Day and John has showered his wife Vanessa with a bevy of perfect gifts including a sexy lingerie set. But he's got one final surprise for her; today is the day she gets to fulfill her fantasy of having two men inside her at once. Enter Ramon, and enter the sexual dragon! Vanessa is a fuck machine in this scene. Loud, messy blowjob, deviant laughter and blatant wantonness personified. She fucks with the energy of an Amazon and both studs take full advantage of her willingness to be sex-crazed slut. Dirty talk abounds as Vanessa gets her mouth and pussy fucked by both guys at the same time in multiple positions.
Annabel Redd and Jay Romero:
Another beautiful woman with a set of perfect tits serves as the final course of this four-scene meal. Annabel Redd is voluptuous and seductive, and Jay (her husband's best friend) has no chance of resisting her advances. On top of being deliciously curvy, she's also quite flexible. Jay spreads Annabel all over the couch, opening her in ways the audience will surely enjoy. There's a sensuality to this sex that isn't replicated with the other scenes, and it's a nice change of pace. Jay doesn't hammer Annabel; instead, he's gentle with her, but that gentleness is highly erotic. The tit-fucking is especially sexy, but it's done with soft purpose and sensuality.
The strength of this film is without a doubt the cast. The women in this film all shine in their own ways. Octavia Red and Annabel Redd are both spectacular, Serena Santos is a vision, and Vanessa Vega blows the whole roof off with her sexual acrobatics.
Synopsis:
My sexy hotwife fucks our friends, our neighbors, and even complete strangers! She's insatiable. The only way I could ever please her in the bedroom is by finding handsome men to fuck her right. That's the way I like it.
Copyright © 2023 Adnet Media. All Rights Reserved. XBIZ is a trademark of Adnet Media.
Reproduction in whole or in part in any form or medium without express written permission is prohibited.