Dorcel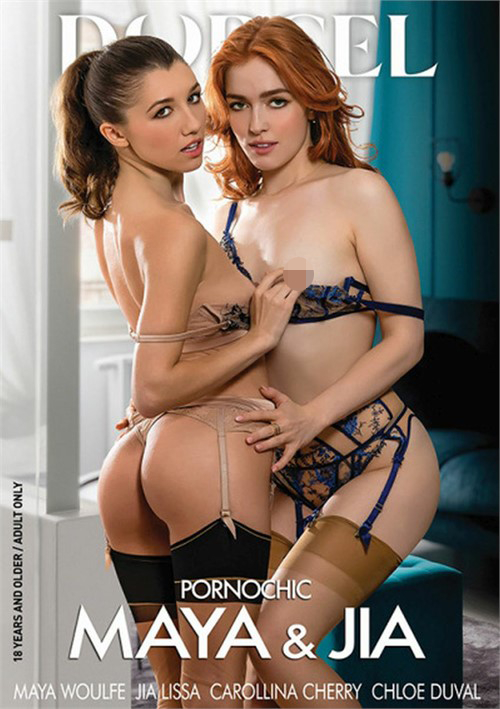 Dorcel's glamour, all-sex showcase series is back with the Russian and American bombshells Jia Lissa and Maya Woulfe as the central performers stepping into the sexual spotlight.
Herve Bodilis' "Pornochic" series shines its glamorous eye towards the future in highlighting two of the most popular up-and-coming stars in the industry. Bodilis pushes Jia and Maya into uncharted sexual territory as his love letter to porn's Golden Age continues.
Jia Lissa and James Duval:
This scene has a simple premise: After a fantastic date, Jia invites James Duval up for a sexual nightcap. Jia is a sexual dynamo who brings the heat every time she's on camera. She blows him sensually (with her wonderful ass up in the air for all to see) before laying back and letting James pump her in a sexy missionary. I love the way Jia looks at him with a wanting smolder as he's thrusting into her. Then, she flips over and puts on a doggie-style clinic. Jia puts some moves on James that would have finished a lesser man instantly. The woman is a fuck queen.
Maya Woulfe and Alex Romero:
Alex Romero and Maya are also retiring to the bedroom after a great date, and like Jia and James, they've got a night of debauchery in mind. Maya is painfully pretty, and I love the way she fucks. She whimpers with pleasure as Alex tongues her pussy hungrily, then throws her head back in ecstasy as Alex pumps her from behind like a madman. It's not long before she offers up her asshole and Alex accepts the gift gratefully, stuffing her tight hole like a jackhammer.
Jia Lissa, Maya Woulfe, James Duval, and Ricki Mancini:
A double date ends in perfect fashion as Jia and Maya bring their respective dates back to their flat for some no-nonsense sex. It is spectacular watching Maya's mouth and pussy get skewered simultaneously while Jia rims her. I mean, that could have been the entire scene, and it would have been worth it. Then, Jia rides Ricki Mancini like the sex champion she is (what a great ass she has!) before letting James fuck her to sweaty orgasmic bliss in missionary.
Jia Lissa and Chloe Duval:
Jia finds out that Chloe Duval is in town and decides to meet up with her since they haven't seen each other in such a long time. Their meeting turns into a torrid midnight tryst that sees Jia melt Chloe expertly with her fingers and tongue. Chloe gives as good as she gets, bringing Jia to multiple cooing orgasms. The lighting in this scene, coupled with the sensual sounds of both ladies getting off, is chef's-kiss perfection.
Carollina Cherry, Maya Woulfe, and Alex Romero:
Maya's friend Carollina Cherry is impressed with her most recent plaything and wants a taste. Luckily for her, Alex has been hoping Maya could find someone to engage in a threesome with them, and Carollina is all game. Things start with Maya getting pumped lovingly by Alex before he turns his voracious attention to Carollina. She rides him like a stallion (my God, she's amazing in this position!) before letting him hammer her desperately. This is a great finish to the film.
It was very nice to see Maya and Jia elevated into the spotlight. Both of these young women have a bright future in the industry, and fans have a lot to be excited about.
Synopsis:
For Maya and Jia, desire and pleasure come first.
Copyright © 2023 Adnet Media. All Rights Reserved. XBIZ is a trademark of Adnet Media.
Reproduction in whole or in part in any form or medium without express written permission is prohibited.