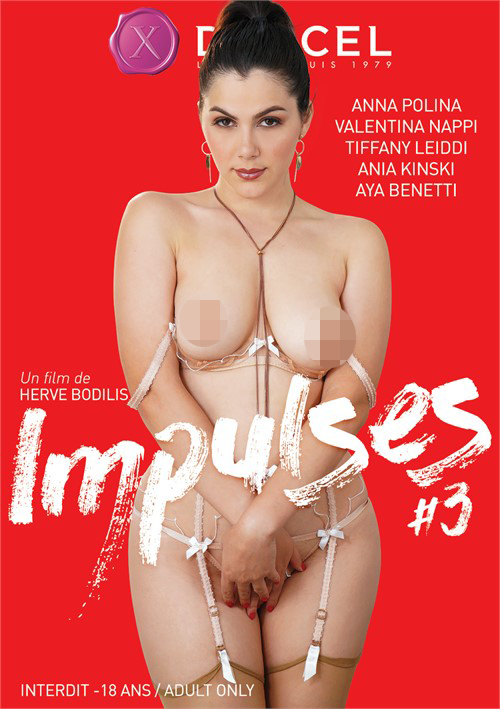 Five scorching scenes expertly helmed by international director Herve Bodilis, with two featuring the always-welcome/ever-nasty princess of lusciousness, Valentina Nappi, and succeeding — along with her four other fetching, filthy female co-stars —in making this X-cursion into intense eroticism a true winner from Marc Dorcel Video.
In scene one, delicious Valentina hooks up at a private party with her "ex", played by Kristof Cale; the two getting down and dirty in one of the joint's empty rooms; but not before a second dick, owned by Ricky Mancini, joins in on the awesome action. Tina's BJ to Cale alone is superb; director Bodilis getting way close (in two different angles!) to the deep, loud, wet oral action, with plenty of appreciated eye contact from naughty Nappi. As she's getting ploughed missionary style by Cale, Nappi starts sucking off Rick-dick, gagging on it frequently and moaning as her perfectly formed puffy pussy is hammered by Cale. She's then doggied by Mancini while gagging on Cale cock. And check out Val's big, juicy, world-class ass. Next, Mancini gives her the missionary treatment, her big boobies wonderfully undulating — that is, when she's not sucking on 'em.
Valentina is totally lost in the moment, particularly when Ricky sticks his dicky in her butthole during missionary and jackhammers her; then it's spoon-anal a la Cale as Val simultaneously sucks on Mancini-meat; followed by a raging session of reverse-cowgirl-anal, with Nappi looking positively extraordinary as she rides Cale. I love the fact that she keeps on her sexy purple garters throughout the scene, as do all of the women in Bodilis' visually striking movie. Ricky next bangs Val doggie, just before Cale blows his nut right onto her awaiting tongue, then she turns quickly around to catch Rick's sperm, which fully coats her mouth. Val's the best!
Tiffany Leiddi is a major babe, though a bit shy, giving a total stranger at an outdoor café, the returning Ricky Mancini, her phone number; Tiff proving quite an animated vixen back at her pad, where Ricky meats up with her. Again, more terrific lingerie. And check out how Tiff expertly jerks Rick's dick with her stockinged feet. Some passionate cowgirl shows off Tiff's terrific tush and marvelously well-augmented boobs. Then it's energized spoon, doggie and missionary; and I just love this upbeat, ever-smiling cutie's deep passionate eye contact with Mancini throughout.
At a restaurant, Kristof convinces his girlfriend, the (thankfully!) returning Valentina Nappi, to get it on with the very alluring Ania Kinski, with the two foxy, fearless femmes going back to Nappi's place for some clam eating; horny Cale soon joining in on the fun, leading to one fiery threesome. The double-suck is fab, with the ladies looking all the more delish with their chic lingerie; Cale pounding away missionary then doggie on Ania, who sucks on Nappi; then it's Nappi's turn, getting it missionary, with a magnificent close-up on her soaking-wet pussy. And wait until you see doggie with Nappi (a movie highlight!); Bodilis getting right in there and fully capturing that awesome ass, as Nappi also gets her tongue way up Ania's twat. The two first-class sluts then suck Cale off to climax, sharing the jizz ever so romantically.
Sexy-as-fuck Anna Polina sluttily gets it on with her husband, played by Axel Reed, and their friend, Jose Lescaf; highlights being Anna chomping down on Jose's huge member, as Reed fingers her doggie style; Reed banging her bountiful booty from behind, followed by Jose doing the same, with Anna's choice cheeks jiggling like mad.
Lastly, unique-looking brunette Aya Benetti plays a somewhat shy manicurist who (as arranged by one of her female clients) gets it on with a stranger, Rayan Benetti (are they related?) at his home; best moments being the lush-assed Aya's riding Rayan cowgirl; getting seriously skewered during missionary; and potently penetrated during doggie — two times, even! Yes!
Yet another topnotch title in the Impulses series from the always intriguing Herve Bodilis; with the beautiful, bawdy, bodacious Valentina Nappi really bringing the whole marvelously arousing movie together. Cheers, Val!
Synopsis:
Why resist your impulses when all you have to do is satisfy them? All women have more or less intense desires and impulses. The only difference is that Valentina Nappi, Anna Polina, Tiffany Leiddi, Ania Kinski et Aya Benetti do everything to satisfy them. These five beautiful women want nothing but uncompromising sex to fulfill all their most intimate fantasies.
Copyright © 2023 Adnet Media. All Rights Reserved. XBIZ is a trademark of Adnet Media.
Reproduction in whole or in part in any form or medium without express written permission is prohibited.