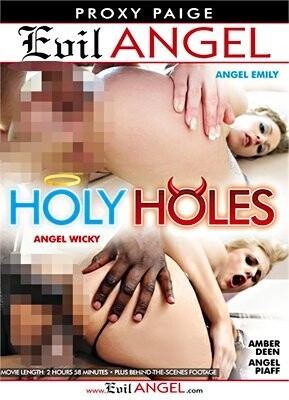 The A's definitely have it — from a starlet named Amber to three dames named Angel — with all of 'em taking it up the A, as well as simultaneously up the pussy in this awesome double penetration (DP) X-travagonzo from scorching-performer-turned-talented-directrix, 29-year-old Proxy Paige, in one of the best pornos of 2019.
Born in Scotland (but not having much of an accent), 33-year-old blonde Amber Deen really gets the intense balling rolling as she gets double-plugged by Ennio Guardi and Christian Clay. Our Scottish girl is an amazing cocksuckette, always working her mouth if there's a prick available (when they're not in her nether holes). And what a taut but luscious body Amber has! It's not long before she's doggie DP'd, and it's simply amazing, with separate ass-fucks taking place in various positions (like spoon, doggie, you name it) throughout the marvelously sleazy scene. Reverse-cowgirl DP isn't far down the line, and it totally rocks, with more cock-gagging following, as well as a double-vadge penetration during doggie, another straight-up doggie DP, with the very lucky pricks soon blowin' their loads into darlin' Deen's hungry mouth.
One of my faves is up next — incredibly juicy 27-year-old Czech tramp Angel Wicky, who has one awesome set of big, all-natural boobies and a scrumptiously marshmallowy buttocks, with Wicky loving every second, minute, inch of her nasty double penetration by two black brothers, Dylan Brown and John Johnson. She first gets her cunt eaten by one bro' while blowin' the other, before the dude eating her pussy starts seriously banging her vadge mish style. Then the (w)hole thing just gets crazy and crazier. Any doggie position with Wicky is fanny-tastic, since her butt is so large and pillowy and just plain delectable! Besides that, when she's doggied, those amazing chest pillows just sway and flop and circulate like wild. Her doggie DP leads to some DVin', with a second traditional doggie DP being long and very rewindworthy. One of the bros then fucks her cunt cowgirl style (more terrific ass jiggling) before he cums inside her twat, followed by another doggie DP, with the other bro (who hasn't yet spurted) soon pussy-pounding her mish style, before he delivers his own cunt-creampie. Wicky's the best! Absolutely future-ex-wife material!
Angel Emily, 21, from France, next gets DP'd by Mike Angelo and Charlie Dean, with a high point definitely being her own doggie double schtuping, which is fast, furious and freaky; her body being so beautifully wiry that she can take those dicks way, way up her various holes; and, lemme tell ya, reverse-cowgirl DP is just as intense as doggie in that the bitch is just so bloody turned on. She also squirts up a storm before the lads squirt all over her; with our girl lapping up and swallowing the dick-snot delivered to her face by one guy, while the other lucky prick butt fucks her doggie style and blasts all over her back. Emily is yet another superlative slut!
And lastly, we have 28-year-old Czech, Ms. Angel Piaff (not to be cunt-fused with rice pilaf), here getting (what else?) hornily DP'd, this slime-time by the returning Ennio Guardi and Charlie Deen, with the her scene highlight absolutely being both her doggie and reverse-cowgirl DPs; like Emily, Piaff is another spinner who has the perfect figure for taking boners deep into her system. Additionally, I adore the individual attention lovely Piaff gives to each prick when she's working her undoubtedly velvety mouth during suck-offs. Great whore!
Wow! Talk about a brilliant friggin' porno, which is, again, one of the best so far this year, with extra-high ultra-slut/-whore/-DP points going to always-watchable Euro vixen Angel Wicky. You go, bitch!
Synopsis:
In Holy Holes, adorable pornographer Proxy Paige presents intense devil's threesomes, wherein insatiable Euro-babes test their sexual limits with multiple massive cocks. Four scenes contrast chic elegance with sinful decadence, delivering graphic sodomy, ass-to-mouth blowjobs and extreme, double-vaginal penetration! Petite blonde Amber Deen, a spunky spitfire with natural tits, spews a streak of dirty talk in her adorable Scottish brogue. Angelo Godshack and Christian Clay fuck her pussy and mouth spitroast-style. Christian spanks her ass pink! She sweats and wails nasty gibberish through her very first double penetration and double-vag stuffing! Bodacious blonde Angel Wicky teases in retro lingerie, soon welcoming two black dudes, Dylan Brown and John Johnson, for a rowdy interracial reaming. The manhandling menage-a-trois climaxes as John and Dylan inject Angel's twat with a hot, thick creampie. Bubbly French babe Angel Emily meets Mike Angelo and Charlie for wild anal shenanigans. The savage session includes slobbery face fucking, raunchy rectal rimming and a creamy cum facial. Petite, cute Angel Piaff greets Charlie and Angelo with worshipful double fellatio. The studs simultaneously cram Angel's crevices and reward her with two hot loads of sperm.