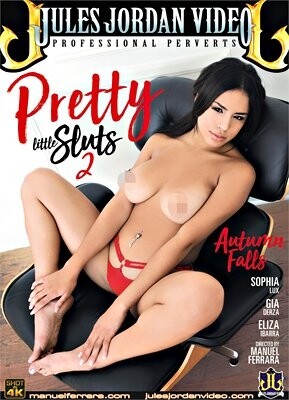 Manny Ferrara shows that he's still got plenty o' life in him (and his dick) by (separately) laying and spraying four tasty young tarts with his veiny French baguette, leading to some truly heated results and a positively blistering ass-fucking finale featuring up-and-coming super slut Gia Derza.
Big-boobed (all-natural, by the way) brunette Autumn Falls is the first to get the Manny treatment after she takes care of the horses in the stable and has a shower. Manny soon enters the indoor scene (along with his cock), with Falls performing a BJ before we are rewarded with some juicy cowgirl humping (amidst a few too many Ferrara mumblings, in my opining); spoon lets us absorb those killer chest orbs; doggie is hard, fast and horny; and it's nice watching Autumn suck her own tits as Manny bangs her mish, before he ejects liquid brie all over her face and tits. A fine little slut, indeed.
Then, it's the turn of pretty brunette (and another all-natch piece o' snatch) Dakota Rain to get down and dirty with our man Ferrara, which she superbly does. I especially like how Ferrara face-fucks Dakota, making her go all the way down to his scraggly balls, with plenty of delightfully rude sounds thrown in from Rain for good slutty measure. Cowgirl lets us get into that big butt of hers; the pleasure-screaming bitch loving a few fingers jammed up her shitter as she's getting pounded. Yes, doggie is choice, but reverse-cowgirl (shot as cowgirl, from Manny's perv-spective) is amazing since it further reveals that succulent Dakota derriere; before, that is, M.F. blasts boy batter into her face.
Next up, blonde Sophia Lux gets the Parisian pud treatment (after perhaps a bit too much slo-mo glam footage of her wearing cut-offs while donning a blasting garden hose, before she gets the wrinkled French version of the latter), with Sophie's pump positions being a notch above her oral X-pertise; our girl looking superb during spoon (check out those cute titties circulating like churning butter), with cowgirl coming in a close second, before she gets a tongue-full o' freaky French foam … and gulps it all straight down her gullet! Good whore!
And, lastly, we get some choice anal dunking from hottie Gia Derza, who most definitely puts in the nastiest scene. It starts, too, with the best blowjob in the gonzo, her suck-off being deep, wet and gnarly. Cowgirl shows off GD's amazing buttcakes, rippling everywhere (she also likes getting those delicious patty cakes spanked), with our girl ecstatically howling during raging missionary, with Manny sticking it into her shit during spoon, followed by reverse-cowgirl anal, doggie anal (a movie highlight, made all the better due to Gia's filthy deepthroating ATMs); then it's cowgirl and missionary anal, with the latter giving us some close up and personal gaping (whew!), followed by a bit o' fast and furious standing anal (yeah!), and then a blast o' (blatt! blatt! blatt!) banana-rama right into Derza's cake hole. Love this whore!
"Pretty Little Sluts 2" is a simple, to-the-point all-sexer from Jules Jordan Video/Manny Ferrara Puductions, with all of the young ladies putting in powerful performances, but the trollop-trophy definitely going to Gia Derza for delivering such a whorishly ass-blasting segment. Gia's definitely the shit, baby!
Synopsis:
Pretty Little Sluts 2. Autumn Falls is a sexy slut that needs a deep dicking. Eliza Ibarra shows off her deep throating skills. Superslut Gia Derza takes Manuel's big cock in her ass. Blonde bombshell Sophia Lux pounds Manuel's pole.