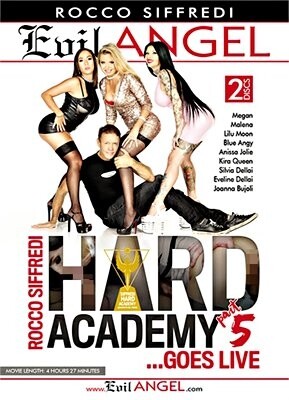 Wow! Talk about an amazing gonzo! With gorgeous, totally nasty women from Poland, Italy, Czech Republic, Russia and Hungary getting their mouths, muffs and (frequently) assholes blasted beyond oblivion, "Rocco Siffredi's Hard Academy 5" is a winner from start to finish, featuring at least 10 women and well over six (count 'em, six!) scenes.
The first double penetration with older-and-bolder sexy-as-fuck Polish blonde Joanna Bujoli is simply off-the-scale amazing. One of the movie's best! It's, actually, a bit hard to tell which woman is which in this overall gonzo, since Rocco never really fully identifies all of the luscious ladies. But I've tried my best to accurately identify the terrific tramps for ya. And, trust me, there's not a bad whore in the house. Not surprising that I can't get enough of Joanna bending over and taking it deep up her juicy ass, sucking two pricks, as well as moaning as she's double penetrated. Incredible slut!
Tattooed brunette fuck monster Megan is next, orally sharing a big black dick with the amazing Ms. Bujoli, before Megan hogs the black stick for herself, with white guys showing up and double-analyzing Megan, as Bujoli continues to suck another white prick, leading to the guy fucking her, too. Joanna just can't get enough! She even likes to kiss!
35-year-old (though she looks way younger!) brunette Russian beauty Lilu Moon next takes on three lucky dicks, with the scorching spinner getting slammed silly in her shitter by the boys and sucking dick like there's no tomorrow. Love you, Lilu!
Next, huge-boobed 27-year-old Hungarian brunette Anissa Jolie is teamed up with 32-year-old Russian dark-haired Kira Queen, who also has pretty big boobies (but not major hooters like Anissa) with the ladies taking on dude after dude. Kira gets her cunt fucked by a white guy, while Anissa adds mouth favors to the threesome, sucking dick and man-ass (nasty, Anissa!). Jolie, by the way, does not mind a cock up her ass. Good girl! Basically, what we have here is these two whores getting gangbanged! Hoor-ray! And I confess having a perverse attraction for voluptuous Anissa, who can really pack meat up her ass. And those big honkin' tits on her? Ohh-la-la! Check out, too, how those same massive mams ripple and roll when she's getting boned missionary style. Anissa's also a total fan o' rimming her men. Such a grand Hungarian hussy!
And we end with an apocalyptic orgy featuring two younger babes (the 25-year-old Czechoslovakian Dellai twins, Eveline and Sylvia) and two older broads (the returning Joanna Bujoli and 48-year-old Hungarian blonde Blue Angy), all of whom take on multiple guys, eat manass and soaking pussy, get buttfucked and double penetrated, but only after the ladies shed off their super-alluring stewardess outfits. Whew!
"Hard Academy 5" is what porn is all about: fetching women (young and old; and, in this case, from Europe and Russia) getting all of their holes reamed silly. Leave it to the true pervs at Evil Angel to deliver such explosive, no-holes-barred raunch. And, of course, I have to give way high points to the outstandingly filthy and blindingly insatiable Joanna Bujoli, as well as the off-kilter attractive, thoroughly dirty, equally gluttonous Anissa Jolie. Love ya, sluts!
Synopsis:
In a live Internet class, porn icon Rocco Siffredi directs experienced ladies along with big gangs of prospective studs in outrageous group sex scenes. The epic Rocco Siffredi Hard Academy Part 5 ...Goes Live includes all manner of carnal knowledge, anal perversity and cum-splattered fun! Stacked blonde Joanna Bujoli, tattooed (and ultra-buxom) Megan and top-heavy brunette Malena take on multiple men in a cluster fuck of double-teaming and anal reaming. Megan enjoys big black cock, double anal penetration and two huge, spermy facials. Joanna licks her face clean! Three dudes abduct cute, all-natural Lilu Moon from her crazy wedding. These groomsmen fuck the bride's mouth, pussy and asshole; they feed her their creamy cum. Naturally voluptuous Euro-girls Kira Queen and Anissa Jolie treat themselves to threesome decadence, interracial intercourse, titty fucking, hard sodomy and a messy creampie. Joanna returns for a lesbian foursome with blonde Blue Angy and the Dellai Twins, Silvia and Eveline, who wear sexy stewardess uniforms. Their horny passengers initiate a blow bang and full-fledged that includes nasty double penetration. The studs cum in pretty mouths and watch spunky ladies swap spermy kisses.