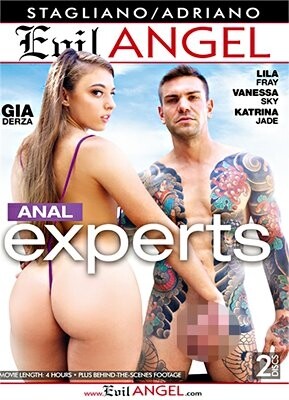 Here's an anal movie that's produced and directed by both John "Buttman" Stagliano and Mike Adriano, making for some pretty potent pud-in-posterior porn.
In the first scene with Gia Derza and Juan Lucho, Stagliano does his POV Buttman thing where he's talking to the girl from behind the camera, squeezing her tits etc., before they move indoors and he films some molten cock-in-ass-cave crammin' between Spaniard Juan and Derza, who's a bawdy broad with one amazing bod. What a deepthroater, too! Just check out all o' that saliva during the BJ. Whew! By the way, you can see Stagliano in the huge living-room mirror as he's filming to the two degenerates, which is a totally intentional effect. After some passionate pussy eating, we get missionary vadge banging, followed by doggie-vadge on a stool, before Juan attacks her butt itself, first with a thin glass dildo, then his own blood-enriched prodder; after which we get mish-anal, numerous gapes, some ATMin' (Gia's head, at one point, upside-down, making oral penetration all the deep and nastier), doggie-bootyhole drillin'; more ATMs; reverse-cowgirl-anus crammin' that's shot as cowgirl/doggie; cowgirl-anal which is my favorite position here in that Derza derriere is jiggling like mad; mish-anal; and (pow!) the pop shot right onto Gia's gluttonous tongue. Superb!
Exotic-looking, cute brunette Vanessa Sky is next, getting her ass blasted by director/performer Mikey Adriano (the four scenes, in fact, flip-flop between those directed by Stagliano and Adriano), with this second episode being one of the movie's most volcanic sequences. During Vanessa's bout of marvelous deepthroating, we're treated to lots of loud, gnarly noises and tons of saliva. Cowgirl-anal is wonderful, with our girl simply beaming. And, indeed, what a terrific smile she has! Mikey soon rosebuds her anus, after which we have ATMs and some doggie-tukus pounding, which is fantastic. For the record, Vanessa has a cute-as-hell face, with such a big mouth and huge lips, both perfect for sucking dick. Mish-anal is just as scorching as any of the other boner-in-booty positions, seeing as Vanessa's succulent, wondrously round ass is so prominent here; great piston action, too, with Adriano soon blowin' dick-batter onto her waggin' tongue.
Another movie highlight is Katrina Jade and her perfect tits and ass cheeks, as our girl gets righteously reamed by Bill Bailey (who, tragically, recently passed away). Kat's another incredible cocksucker, frequently gagging and near-rolfing, as she goes so, so friggin' deep, ultimately getting spittle all over her off-the-scale tits. Mish-vadge is first (with some help from vibes and butt plugs), followed by a wee bit of jackhammer-anal in this same position; then standing-doggie anal, ATMs, with her tits hypnotically swirling as he hammers her mouth; standing reverse-cowgirl anal; spoon-anal, which is out of this world, as I don't know what to watch more: her jiggling ass or circulating tits; then it's doggie-anal, followed by cowgirl-buttfucking which is just as amazing as spoon in terms of that marshmallow Jade ass; back to pounding mish-up-the shit, and a nasty blowjob that leads to Billy's massive eruption of gametes all over Jade's pretty face, a hefty heaping of gunk dripping down onto those award-winning boobs. Whew!
Lastly, it's back to Mike A., slammin' the "A" of cute blonde Lila Fray (who reminds me very much of Sandra Smith on Fox News in the morning … check it out). First up is a filthy fucking BJ, with Lila choking so much that her eyes water; leading to mish-anal (such voluptuous thighs on Lil!), cowgirl-anal (she's got quite the meaty booty, too, doesn't she?) and deepthroat ATMs; during Mikey doggie cornholing of Lil, she shows she knows exactly how to grind and shake that money-maker on her; then it's spoon-sphincter-splitting, with loads of oil (probably the best position, seeing as Fray's meaty rump is so well-highlighted); with Mikey soon blowing bubble cum all over Lila's Sandra-Smith-like face.
Yep, it's four volcanic anal scenes from two masters o' porn, which includes the latest from a living legend, i.e., the one and only John "Buttman" Stagliano. Superlative shit!
Synopsis:
When a fresh, young girl or an experienced backdoor babe feels the need for advanced sodomy training, she'll do well to seek guidance from a virtuoso. Anal Experts combines sessions from two renowned artists of gonzo-style ass play -- a couple of scenes lensed by legendary John 'Buttman' Stagliano and a pair from freaky ass aficionado Mike Adriano. Perky teen Gia Derza deep-throats a mounted dildo while elaborately tattooed Juan Lucho rims her butthole. As Buttman documents the action, Juan spits in Gia's mouth, fucks her pretty face and reams her round ass. Luscious Latina Vanessa Sky offers her phat bubble butt and winking sphincter for Mike's tongue, and she gives him a wet, slobbery, ball-sucking blowjob. After some lube-slathered sodomy, Mike cums in her mouth. Outrageous beauty Katrina Jade teases Buttman in her fishnet dress. Bill Bailey buttfucks the comely, naturally busty vixen, somehow pushing his ball sack inside her pussy! Finally, he plasters Katrina's sexy face with a cum facial. Blonde newcummer Lila Fray sloppily sucks Mike's big, throbbing cock. His relentless anal reaming leaves her young sphincter wrecked and gaping!