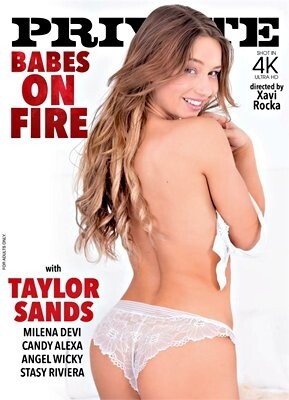 These, for the most part, Russian babes — with a Czech chick and Dutch damsel thrown in to further spice things up — definitely put my cock on fire, what with a thoroughly enjoyable whacking session that's inevitable with such fine-ass foreign female figures, most of whom ever so sluttily (love it!) take it up the ass, all care of the international pervs over at Private.
We begin with tasty DVD cover model, 26-year-old Dutch sweetie Taylor Sands, who gets the wrecked-em/rectum treatment from black brothah Joss Lescaf in one scorcher of an opener, literally and figuratively. Taylor has such a cute face, and is quite the moaner as Joss bangs her during missionary, before burying his black bone into her anus during reverse-cowgirl. Check out that meaty Sands snatch! Damn, girl! Looks like the delicious filling to an Arby's sandwich, baby! Doggie-anal is terrific, with Tail kissing the lucky bastard anytime he asks for it, and even sometimes on her own. Can't beat that! Spoon-anal is fine, too, as is cowgirl-anal, leading to a cute titty-fuck, after which Taylor blows the prick to blast-off stage, the fucker unloading his load all over her perfect set o' all-natural tits. Yes!
Next 23-year-old blonde Russian tart, Milena Devi, plays a horny maid who passionately takes on a brace of extremely fortuitous dicks. I like how this fair-skinned sweetie goes to the base o' boner when sucking off each shaft. Whew! Such a grand cocksuckette. Then it's doggie vadge, followed by reverse-cowgirl, cowgirl and spoon, with Milena never stopping her voracious dick-inhaling. Good whore!
If you love big-titted sluts, then you're gonna fall in lust with 27-year-old buxom Czech Angel Wicky, who first fists herself (yes! you have to see it to believe it!), after which she blows two guys before (ah! ...j ust what we've been waiting for!) they double penetrate the super tramp. First (after some doggie and reverse-cowgirl anal) it's a reverse-cowgirl style DP, then an amazing round of doggie DP, leading to a horny bit of vaginal and anal spoon (with Angel providing plenty of arousing eye contact to her big-dick invader), after which the bastard doing his individual snapper and crapper plugging can't help himself (and I don't blame him!), as he lets his dick-snot erupt all over her choice ass cheeks, with Angel diggin' a little after-lovin' ATM; the other guy then taking a crack at her crack during some scorching missionary-anal, with this horny SOB ultimately uploading his sperm across her velvety-looking vadge. Whew!
Playing yet another filthy fucking maid, 28-year-old red-headed Russian Stasy Rivera is a luscious thing whose best position is definitely spoon, which shows off her delightfully voluptuous figure, as some lucky goober hammers her cunt into near oblivion. Not a bad little cock-choker, either. But my favorite girl appears last, as gorgeous 31-year-old Russian Candy Alexa sucks a luxurious prick and even fucks it with her perfect, big, 100-percent-natural boobies, before she gets doggied in her cunt, after which she's dicked in her shithole via spoon, with her expressions of pain and pleasure being magnificently mixed here; Candy enjoying the act of kissing whenever it's feasible; while cowgirl, reverse-cowgirl and missionary anal are all joys to behold, the latter two bung-holeo positions truly showing off Alexa's incredible tits as they swirl madly about, with the lucky fucker blowing his boy batter all over Lexa's pretty face after he, once again, fucks the hell outta those hellacious hooters. Candy's the best! I wanna marry this broad!
Listen, in terms of fantastic foreign female bodies getting their tonsils, twats and (sometimes even) assholes obliterated, "Babes on Fire" is the ticket. Don't miss this worthwhile ticket to first-class, highly satisfying smut!
Synopsis:
If you want to see the best girls in action you cant miss Private Babes on Fire, an exclusive look at our most hardcore hussies! You should know them already but get ready to see the infamous Taylor Sands in an interracial session and our hot maids Milena Devi and Stasy Riviera in a wild trio. We dont stop there, for all you boob addicts we bring you the busty Candy Alexa in an anal epic and the big breasted blonde Angel Wicky in a hardcore DP play date. It is a fact, these girls are at the top of their game and we have them exhibiting their best work, you cant afford to miss this one!